Capture One LE Bundled with SanDisk Extreme III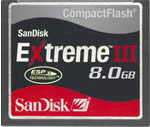 Phase One Press Release
September 20th, 2006, Copenhagen, Denmark:  Phase One®, the world leader in professional digital imaging solutions and SanDisk® Corporation, the world's largest supplier of flash storage card products, are helping photographers to realize the benefits of shooting in RAW. Starting October 16, 2006, for a limited time only, SanDisk will include a coupon in their Extreme packaging for online registration and download of Capture One for free in Europe, Americas and a few countries in Asia. Capture One LE normally retails at $ / € 99. The bundle of the two products will enable photographers that shoot in JPEG to easily join their professional peers in working in RAW. Extreme III users who already shoot RAW images can now process their images in the industry leading Capture One at no additional charge. Purchase of Extreme III cards also offers upgrades from Capture One LE to Capture One PRO at a 15 per cent discount. Upgrades can be purchased through Phase One's on-line store at www.phaseone.com.
Promoting Perfect Photography for the Professional
Location photography specialist and RAW devotee Drew Gardner says, "This move by Phase One and SanDisk is very important to encourage more photographers to experience the benefits of shooting in RAW. I can't overstate how important RAW is to my photography. It gives you the edge over digital photographers who shoot in any other way because RAW gives you such a degree of control and produces images of incredible quality. I make all my amendments in RAW using Capture One."
Phase One knows that RAW has the greatest technical potential to achieve the perfect image and the company is committed to enabling more photographers to take advantage of the benefits of RAW.
The RAW file format has transformed digital photography. A RAW file contains the original, unprocessed data from a camera's image sensor. Unlike shooting in JPEG, where camera settings are recorded and fixed at the time of capture, shooting in RAW enables photographers to make post capture changes to the many exposure settings including the linearity, matrix processing, white point, color balance, sharpening, contrast, brightness, color space and saturation.
A Product Bundle for the Professional Photographer
The Capture One LE license included as an insert in the SanDisk Extreme III card box works for both Windows and Mac operating systems and includes 2 computer activations and one free LE to LE update.
Trine Voss, VP Sales & Marketing for the Capture One product line says: "The superior quality and flexibility of the RAW file format has quickly seen it become the gold standard for digital capture. It gives photographers unparalleled control over the appearance of their final images by enabling them to alter camera settings post-capture. By bundling two complementary and industry leading products more photographers will be encouraged to take advantage of the benefits of RAW and the level of investment photographers must make to attain professional standards is reduced."
Phase One developed Capture One RAW Workflow to deliver unrivalled image quality when photographers process RAW files. It also contains a range of editing, previewing and processing tools that help the photographer to utilize the RAW format to its full potential. All RAW files supported by Capture One have International Color Consortium (ICC) color profiles designed for each camera.
Phase One was the first photographic hardware manufacturer in the world that could use the full bandwidth of SanDisk Extreme III cards. Phase One is also contributing to the testing of SanDisk's recently launched Extreme IV line. 
Customers can find more detailed information on how to download, install and activate the Capture One LE license by referring to the coupon enclosed in the SanDisk Extreme III packaging or at www.phaseone.com/sandisk.
More information about SanDisk's Extreme III cards is available at www.sandisk.com/highperformance.