Cardmedia Announces Super X USB OTG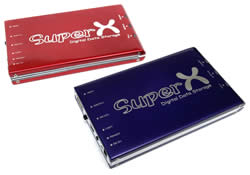 Cardmedia have announced the Super X USB OTG, the second portable storage device with the "On-the-go" label featured on PhotographBLOG today.
Cardmedia (Europe) Ltd Press Release
SUPER X USB OTG DATA STORAGE
- Portable Hard disk -
- USB Bridge -
- OTG connection -
Copy direct from a Digital Camera, USB Pen drive or any USB device to the internal Hard disk or to another USB device!
Cardmedia (Europe) Ltd, has announced the availability of the Super X USB OTG, a new Portable storage device providing from 20 to 80GB of storage.

This portable storage device which allows you to copy directly from a Digital camera, USB pen drive or USB Card reader to the internal hard drive using the USB OTG (On The Go) technology.
The Super X also acts as a USB Bridge which allows you to backup from one USB Storage unit (ie digital camera) to another USB storage device (ie USB pen drive or memory card via a card reader). There will be no need for memory card slots.

The Super X can also be used as a portable USB Bus Powered backup drive without the ac adapter or battery pack. As a stand alone unit, you can power the Super X via the AC Adapter or the 4*AA battery pack.

Tiny and easy to carry, the Super X is supplied in a protective case to carry it alongside the 4 AA battery pack.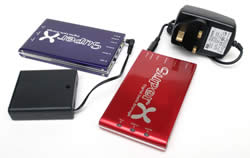 Some features of the Super X are:

·  USB 2.0 + USB 1.1 Compatible
·  One touch backup image / file (all types of files are copied including RAW)
·  Switch to select between USB OTG Hard disk and USB Bridge
·  Stand alone unit - no PC/Mac needed
·  Unlimited storage capability - using a 2.5' Hard disk
·  LED indicates the working status (LED is on when the data is transferring)
·  Supplied with an external battery pack (AA x 4 for 1.5 hours of use)
·  Aluminium casing for heat dissipation and shake prevention
·  Ultra Slim, palm sized design
·  Available in Red and Blue versions
The RRP for the Super X are:
Super X 20GB : £125 incl VAT
Super X 30GB : £129 incl VAT
Super X 40GB : £135 incl VAT
Super X 60GB : £140 incl VAT
Super X 80GB : £169 incl VAT
More information is available from www.card-media.co.uk