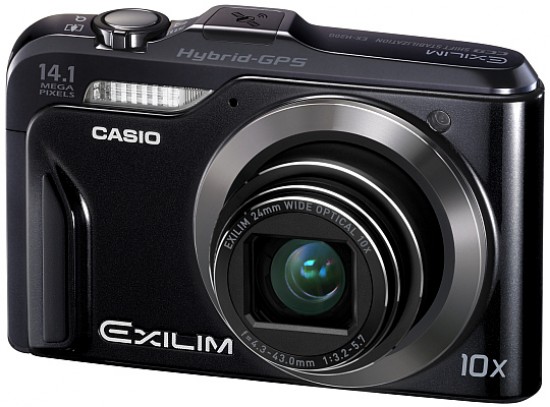 The Casio EX-H20G is a 14-megapixel superzoom camera that combines GPS technology with motion-sensor driven positioning, making it possible to track the camera's position even when there is no satellite signal, such as indoors or under the ground. Casio first demoed this technology back in January when it showed a working prototype of the camera. Thanks to its "hybrid GPS" solution, the Casio EX-H20G can save location information for photos taken indoors and other places with no satellite reception. In addition to this, the camera is pre-loaded with world atlas data and information on about 10,000 landmarks around the globe. The Casio EX-H20G can display the user's location and the photos and movies taken on a map on the screen. Other, more conventional highlights include a 24-240mm equivalent zoom lens, a 3-inch high-resolution LCD screen with good outdoors visibility and a fully automatic Premium Auto function for beginners.
Casio Press Release
Casio Releases Compact EXILIM Camera with Hybrid-GPS World's First Camera Combining GPS with Motion-Sensor Driven Autonomic Positioning

Ideal for Planning, Mapping and Making Travel Memories Displays User's Location and Photos Taken on a Map
Norderstedt, September 20, 2010 — Casio Europe GmbH and its parent company, Casio Computer Co., Ltd., announced today the release of a new model in its EXILIM Hi-Zoom lineup of compact digital cameras with a high-power optical zoom lens—the EX-H20G. A digital camera perfect for traveling, the EX-H20G employs Casio's unique Hybrid-GPS system, which can track a user's position, even while indoors, against map data stored in the camera's internal memory. This enables the camera to display the user's location and the photos and movies taken at any place on the map on the screen.
The EX-H20G offers exciting new ways to use a digital camera. It is equipped with a Hybrid-GPS system that combines a GPS engine with autonomic positioning made possible by a motion sensor, and runs on Casio's original low power consumption technology. The EX-H20G is also the first digital camera capable of tracking a user's position while indoors. This enables users to take a photo with position information no matter where they are. In addition to these features, the camera is pre-loaded with world atlas data and information on about 10,000 sightseeing photo spots around the globe. The camera can display the user's location and the photos and movies taken on the map on the screen.
These functions can dramatically change how people use their digital camera when travelling. The EX-H20G allows users to plan travel while viewing destinations on the on-screen map before departing, and then to confirm their present location, planned destinations, photo locations, photo angles, and route traveled on the map during their trip. After returning home, using computer applications that offer location data such as Picasa and Google Earth, where they and their friends can vividly imagine their travel by making the connection with the locations visited and photos. By integrating camera and map as well as location data and photos, this camera creates a whole new way to enjoy traveling.
Equipped with the new EXILIM Engine HS, the EX-H20G features all of the essential capabilities expected from a camera. When used with Casio's Single Frame SR Zoom function, the wide-angle 24mm optical 10X zoom lens actually offers a 15X zoom range that maintains the image quality needed for 14.1-megapixel high-resolution photography. This represents 1.5 times the range of the optical zoom, with significantly reduced loss in quality. Other features include a three-inch, high-resolution 460K super clear LCD that is easy to view even when outdoors. The EX-H20G also comes with Casio's advanced, fully automatic Premium Auto function for taking beautiful shots of scenery and people with just a press of the shutter button, and various useful functions for traveling such as Slide Panorama, which can take 360-degree photos, as well as auto-time adjustment of travel sites.
Starting with the EX-H20G, Casio is positioning the EXILIM brand as "Amazing Gear"—a brand that never fails to deliver new surprises and excitement. Casio is driving a Digital Image Revolution, creating new value by developing digital cameras that go beyond the limits of cameras in the past.
Your Comments