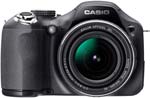 The Casio EX-FH20 camera has a continuous shooting rate of up to 40fps and records movies at 1000fps. Following on from the the world's fastest digital camera, the EX-F1, the new Casio FH20 is a 9.1 megapixel model with a massive 20x zoom lens (equivalent to 26-520mm). The Casio EX-FH20 will be available from October for £399 / $599.
Update: We have a gallery of photos of the Casio EX-FH20 - click the continue link below…
Casio Europe Press Release
CASIO Introduces New HIGH SPEED EXILIM Digital Camera with Ultra High-Speed Burst Shooting Faster Than an SLR
Camera Takes 40 shots per second and records high speed movies at 1000 fps
Norderstedt, September 16, 2008 — CASIO Computer Co., Ltd., today announced the release of its newest EXILIM® digital camera, the HIGH SPEED EXILIM EX-FH20. This remarkable new camera is capable of ultra high-speed burst shooting at 40 fps and can record high speed movies at up to 1000 fps.
In March of this year, CASIO released the EXILIM Pro EX-F1, the world's fastest digital camera*. The EX-F1 is capable of ultra-high speed burst shooting at 60 fps and can record high speed movies at up to 1,200 fps, helping users to catch each decisive moment, and even capturing motion that the human eye cannot ordinarily perceive. These features have created a totally new genre of digital photography and won the respect and admiration of camera enthusiasts and professional photographers alike.
*As at September 16, 2008, based on a CASIO survey for consumer market digital cameras.
While maintaining the ability to perform at speeds unmatched by the world's top digital SLRs, the new HIGH SPEED EXILIM EX-FH20 is designed to appeal to a broader range of users. In addition to simplifying controls by placing all shooting mode settings on a single dial, CASIO also gave the EX-FH20 a 20x optical zoom on a surprisingly compact body, 27% smaller and 28% lighter than the EX-F1. Its speed and ease of use truly puts this camera in a class of its own. In recognition of these unique characteristics, with today's release of the new EX-FH20, CASIO has launched the new HIGH SPEED EXILIM series, which includes this camera and the even faster EX-F1. CASIO expects the revolutionary capabilities of its HIGH SPEED EXILIM cameras to generate entirely new applications for digital photography.
9.1 effective megapixels and a high power, wide angle zoom lens
The EX-FH20 is equipped with a 26 mm-equivalent wide angle zoom lens that can close in on subjects with a powerful 20x optical zoom. The camera also features a CMOS shift anti-shake function to support power-zoom shots.
Never miss a photographic opportunity, with high speed burst shooting up to 40 fps
The EX-FH20 can capture action in high definition, 7 megapixel (3072 x 2304 pixel) images with ultra-high speed burst shooting at up to 40 fps. Users can select from seven burst settings, allowing them to capture from 1 fps up to 40 fps in a single burst. Further, users can prerecord up to 40 still images not just at the instant they press the shutter button, but before! Even if they press the shutter a little late, they will still catch that vital moment.
High speed movie recording at up to 1,000 fps
The EX-FH20 can record high speed movie footage of motion too fast for the human eye, for ultra slow motion playback. Users can select from recording speeds of 1,000 fps, 420 fps or 210 fps and can also switch from the standard speed of 30 fps to high speed recording at 210 fps during recording at the touch of a button. The EX-FH20 makes it easy to capture critical moments on video.
High Speed Anti-Shake function
This function corrects images by automatically synthesizing multiple images captured during high speed burst shooting.
High Speed Night Scene setting
With or without a tripod, this feature ensures that high speed night shots come out clear and beautiful.
HD Movie function
The EX-FH20's HD Movie function records at 1280 x 720 pixels, at 30 fps.
Number of Effective Pixels 9.10 million
Image Sensor 1/2.3-inch high-speed CMOS
Total Pixels 10.29 million
File Format Still Images RAW (DNG*1), JPEG (Exif Version 2.2, DCF 1.0 standard, DPOF compliant)
Movies AVI format, Motion JPEG, IMA-ADPCM (monaural)
Built-in Flash Memory (Image Area) 31.9MB
Recording Media SDHC Memory Card, SD Memory Card, MultiMediaCard, MultiMediaCardplus compatible
Number of Recorded Pixels Still Images RAW, 3456 x 2592, 3456 x 2304 (3:2), 3456 x 1944 (16:9), 3264 x 2448, 3072 x 2304, 2560 x 1920, 1600 x 1200, 640 x 480
STD Movies 640 × 480 (30 fps)
HD Movies 1280 × 720 (30 fps)
Hi-Speed Movies (HS) 480 × 360 (210 fps, 30-210 fps), 224 × 168 (420 fps), 224 × 56 (1000 fps)
Recording Capacity
(With Still Image at Maximum Image Size Setting) Still Images (JPEG) Built-in Flash Memory Approx. 5 shots (Fine) / 10 shots (Normal) / 16 shots (Economy)
SD Memory Card 1GB*2 Approx. 170 shots (Fine) / 322 shots (Normal) / 478 shots (Economy)
Movies Recording Time Maximum Recording Time per File: 10 min.
Built-in Flash Memory Approx. 8 seconds (HD) / Approx. 10 seconds (HS 1000 fps)
SD Memory Card 1GB*2 Approx. 4 min. 22 seconds (HD) / Approx. 5 min. 14 seconds (HS 1000 fps)
Operating Speed Shutter Release Time Lag*3*4 Approx. 0.01 second
Image Playback Approx. 0.1 second/image
Shot to Shot Time*4*5 Approx. 0.8 second
High-speed Continuous Shutter Maximum 40 frames per second at 3072 x 2304 pixels
Maximum 30 frames per second at 3264 x 2448 pixels
Flash Continuous Shutter Maximum 5 frames per second (up to 10 images) at 3264 x 2448
Lens Construction 14 lenses in 11 groups, including aspherical lens
F-number F2.8 (W) to 4.5 (T)
Focal Length f=4.6 to 92.0mm
35mm Film Equivalent Approx. 26 to 520mm
Zoom Optical Zoom 20X
Digital Zoom 4X (80X in combination with optical zoom)
HD Zoom 108.0X (image size: 640 x 480 pixels)
Focusing Focus Type Contrast Detection Auto Focus
Focus Modes Auto Focus, Macro Mode, Super Macro, Manual Focus
AF Area Spot, Free or Tracking
AF Assist Lamp Yes
Focus Range*6 (From Lens Surface) Auto Focus Approx. 40cm to ? (W)
Macro Approx. 12cm to 50cm (W)
Super Macro Approx. 1cm to 12cm
Manual Focus Approx. 12cm to ? (W), Approx. 1cm to ? (zoom lens position: super macro)
Exposure Exposure Metering Multi-pattern, center weighted, spot by imaging element
Exposure Control Program AE, Aperture Priority AE, Shutter Speed Priority AE, Manual Exposure
Exposure Compensation -2EV to +2EV (in 1/3EV steps)
Shutter Type CMOS electronic shutter, mechanical shutter
Shutter Speed*7 Auto 1 to 1/2000 second
Aperture Priority AE 1 to 1/2000 second
Shutter Speed Priority AE 30 to 1/2000 second (high-speed continuous shutter: up to 1/40000 second)
Manual Exposure 30 to 1/2000 second (high-speed continuous shutter: up to 1/40000 second)
Aperture*8 F2.8 (W) to F7.9 (W)
Aperture Priority AE/Manual Exposure F2.8 (W) to F7.9 (W)
White Balance Auto WB, Daylight, Overcast, Shade, Day white FL, Daylight FL, Tungsten, Manual WB
Sensitivity (SOS)*9 Still Images Auto, ISO100, ISO200, ISO400, ISO800, ISO1600
Movies Auto (Hi-Speed Movie when in Manual Exposure mode: ISO100,ISO200,ISO400,ISO800,ISO1600)
Other Recording Functions Image Stabilization Mechanism CMOS-shift image stabilization
Prerecord Still Images Maximum speed: 40 fps, maximum recording capacity: 40 images
Prerecord Movie Yes
YouTube™ Capture Mode Yes
BEST SHOT Yes: 18 scenes
High Speed Anti Shake Yes
High Speed Night Scene Yes
Digital Panning Yes
Multi-motion Image Yes
Move Out Continuous Shutter Yes
Move In Continuous Shutter Yes
Face Detection Yes
Self-timer 10 seconds, 2 seconds, Triple Self-timer
Built-in Flash Flash Modes Auto, Flash Off, Flash On, Red Eye Reduction
Flash Range*6 Approx. 0.4 to 7.0m (W), approx. 1.3 to 4.4m (T)
Flash continuous shutter*10: Approx. 0.6 to 2.3m (W), approx. 1.3 to 1.4m (T)
Finder Monitor Screen 3.0-inch TFT color LCD (Super Clear LCD), 230,400 dots (960 × 240)
Electronic Viewfinder 0.2-inch LCD, Equal to 201,600 dots
Timekeeping Functions Date and Time Recorded with image data
On-image Time Stamp Function Yes
Auto Calendar To 2049
World Time 162 cities in 32 time zones, city name, date, time, summer time
Input/Output Terminals USB/AV port, AC adaptor connection (DC-IN)
USB Hi-Speed USB
Microphone Monaural
Speaker Monaural
Power Requirements AA-size alkaline battery (LR6) x 4, AA-size rechargeable Ni-MH battery (HR6) x 4, AC adaptor
Battery Life Number of Shots*11
(CIPA Standards) Approx. 230 still images (alkaline battery), approx. 400 still images (rechargeable Ni-MH battery)
Continuous Playback
(Still Images) Approx 5 hr. 20 min. (alkaline battery), approx 6 hr. 20 min. (rechargeable Ni-MH battery)
Dimensions (Excluding Projections) 122.6 (W) x 81.4 (H) x 84.5 (D)mm
Weight (Excluding Battery and Accessories) Approx. 483g
Bundled Accessories AA-size alkaline battery (LR6) x 4, USB cable, AV cable, strap, lens cap, cap holder, CD-ROM
*1.  DNG file format is one type of RAW image file, and it is recommended by Adobe Systems for use as a standard image file format.
*2.  When using Panasonic (Matsushita) Pro High Speed 1GB SD Memory Card.
*3.  When using built-in memory.
*4.  With built-in flash off.
*5.  When set at maximum image size and normal image quality.
*6.  Range is affected by optical zoom.
*7.  May differ according to camera setting.
*8.  Aperture changed by optical zoom or recording mode.
*9.  SOS: Standard Output Sensitivity.
*10. In 5 shot flash continuous shutter mode.
*11. Auto Mode, standard brightness monitor setting.
EXILIM and BEST SHOT are registered trademarks of CASIO COMPUTER CO., LTD.
YouTube is a registered trademark of YouTube, LLC.
Any other company or product names are registered trademarks or trademarks of those companies.
Further information on www.casio-europe.com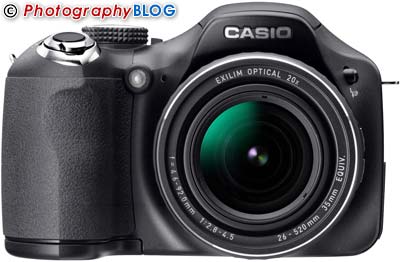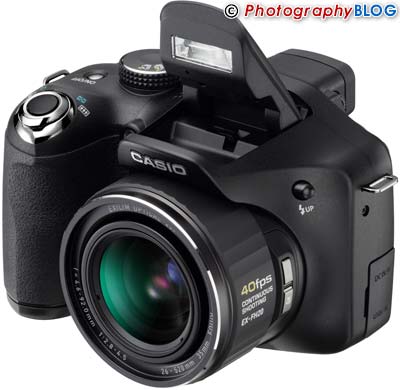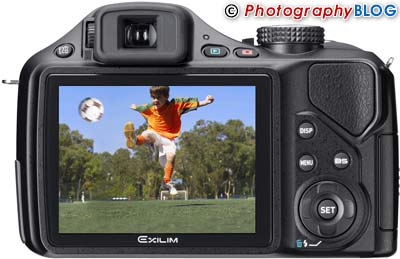 Your Comments