Casio EX-S770 "X is everywhere" Website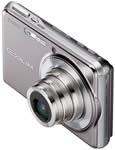 Casio Europe Press Release
Mysterious X symbol: photographic evidence wanted - great rewards - High-tech digital camera discovered in pharaoh's grave!
Norderstedt, 16 October 2006 - Enigmatic signs and incredible discoveries are holding the world in suspense: mysterious X symbols are appearing everywhere and confounding the experts. Scientists discover a modern digital camera in the grave of an unknown pharaoh and in other amazing places. What's the connection between the two phenomena? Will this riddle change the history of mankind for ever? Fans of conspiracy theories and the paranormal will find possible explanations on the website www.x-is-everywhere.com. Popular supernatural cliches and theories are applied to the X phenomenon with humour and an original twist, and to accompany the launch of the new EXILIM card EX-S770 from CASIO. At the heart of the site is the appeal to all users to send in photographic evidence of the X symbols. Attractive prizes can be won as a reward.
Out of this world? Or is it the work of a mysterious secret society? It's easy to wonder when looking at the product features and the design of the new EXILIM EX-S770 from CASIO. It's compact, ultra-light and equipped with a range of functions for professional and leisure use under all conditions - underlining the claim that "X is everywhere"; X being the EX-S770 of course. The corresponding online event, lasting for several weeks and and taking place throughout Europe, turns this slogan into a witty, intelligent and interactive website. Every week on www.x-is-everywhere.com incredible new evidence will be revealed and outrageous theories put forward.
The fictional research team, "TEAM X" is attempting to get to the bottom of the "X-mystery" and is supported in its quest by Toshiba and EXILIM, both makers of innovative technology products. But "TEAM X" also needs the help of the online community: photographic evidence is required showing the X symbol in every conceivable context. Only then will the experts be able to uncover the secret. Visitors to www.x-is-everywhere.com are also called on to sign an online petition for an official enquiry into the "X conspiracy".
Those visitors bold enough will take part in a prize draw, with attractive rewards including a trip to the mysterious land of the pharaohs, notebooks and large format LCD TV screens from Toshiba as well as Microsoft Xbox 360 packages.
The search for the truth starts on www.x-is-everywhere.com on 12 October and runs to 9 January 2007. X is everywhere - can you see it?