Casio Exilim EX-S500 Announced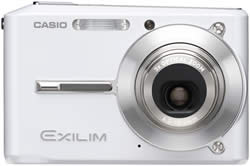 Casio Exilim EX-S500 is announced today. The Casio EX-S500 is a 5 megapixel digital camera with a 3x optical zoom and a 2.2 inch LCD screen. The thin and compact Casio EX-S500 also offers an anti-shake system, 33 different 'BESTSHOT' scenes and can record up to an hour's worth of movies. The Casio Exilim EX-S500 will cost £299 and is available in July in silver or white.
Casio UK Press Release
Tell your story with the Casiology inspired EX-S500
The slim and stylish new CASIO EXILIM CARD EX-S500 with 5 megapixels and high quality movie function
London, 9th June 2005 - Those clever CASIOLOGISTS have once again been working hard to bring the world what is perhaps the coolest, most stylish digital camera ever released. The CASIO EXILIM CARD EX-S500 is so small and stylish that it will quickly become a part of your life you just can't live without.
Thinks big, looks small
The card sized EX-S500 thinks like a big camera. It's packed with the kind of functions that only its plumper competitors would even consider. For a start, it's got 5 megapixels - that means perfect pictures every time. It incorporates a 3x optical zoom too - pretty impressive for a camera that's so thin you'll forget you're carrying it. You won't have any problems showing your photos or movies off either - the EX-S500 has a massive 2.2" screen on its back. Perhaps best of all though, you're not limited to taking snaps - the camera can record up to an hour's worth of movies* (that's pretty hot). So if you're at a party, on the beach; at a gig or just fooling around at home, then this tiny camera will become your constant companion.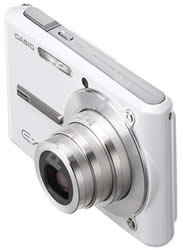 Inspired by CASIOLOGY
CASIOLOGY is the inspiration behind CASIO's products - from the initial design through to the finished item. It means CASIO creates products that use precision and technology that not only perform better but actually open up possibilities for the user. For the EX-S500, CASIOLOGY means that CASIO goes further than just making sure the camera is packed full of the best technology, it adds features that make using a camera so easy you don't even have to think about it. There is an anti-shake system so there's no need to worry about conditions, 33 different 'BESTSHOT' scenes because fiddling around with buttons takes time and you don't want to miss a thing and it even contains a video camera so everything's in one simple device. CASIOLOGY products make life easier so they can be part of your life.
Where can I get one?
The CASIOLOGY inspired, CASIO created EX-S500 is available from July in classic silver or über-cool, limited edition white from CASIO stockists. Check out www.casio.co.uk or call +44 (0)20 8450 9131. It's a snip at a RRP of just £299. Can you live without one?
*Using a 1GB SD card in 'Normal' mode with MPEG-4
About CASIO
Casio Electronics Co. Ltd. is one of the leading consumer electronics companies in the world. Since its establishment in 1957, Casio has been at the forefront of the development of electronic calculators, timepieces, digital cameras, mobile presentation devices, musical instruments, LCD TVs, pagers and other communications devices. Casio's corporate activities are guided by the motto: "Creativity and Contribution."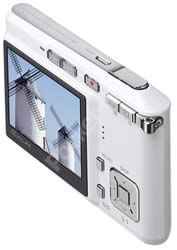 Casio Europe Press Release
Photo and movie fun in checkcard format:
The new EXILIM EX-S500 with 5 megapixels and movie function

Norderstedt, June 2005 – Quickly grab your digital camera and the snapshot is perfect. But can't the situation be conveyed a little more vividly in moving images? The new EXILIM Card EX-S500 von CASIO can do both. The ultra-slim and multifunctional digital camera is quick to hand, records high-quality movies in MPEG-4 format and takes impressive photos with 5 megapixels and 3x optical zoom. The big 2.2-inch TFT colour display leaves nothing to be desired and provides fantastic film and photo pleasure.
The elegant EX-S500 is available in three trend colours. The variation "Brilliant Grey" stands for understatement, "Nordic Silver" provides gloriously clear moments and "Latin Orange" brings Southern European awareness of life closer. The design of the camera in checkcard format sets stylistic trends and causes a sensation not just among lovers of digital photography.
The clear lines of the EX-S500 make it simple to use: every function can be selected and operated with only one hand. The change from photo to movie mode is possible without complicated menu-adjustment by pushing the "Direct Movie Button" resp. the shutter release. The high-quality MPEG-4 movie format in VGA size, which takes 30 pictures per second, provides the movie quality. Despite classic lens design with 3x optical zoom, CASIO has succeeded in building a particularly flat1 and fast camera. The EXILIM EX-S500 is ready for operation in only 1 second2 and fits into every trouser pocket or handbag, thus making it the ideal companion for spontaneous photo and film situations.
The EX-S500 is the first digital camera in the company's history to have an Anti-Shake DSP (Digital Signal Processor) for photo-stabilisation. Contrary to traditional optical stabilisation systems, the CASIO's specially developed Anti-Shake DSP balances out trembling hands, prevents blurry photos through a self-movement of the motif, and also provides sharp images even with a combination of both causes of error.
The integrated flash and the new Autofocus auxiliary light provide good photos even in bad light conditions. A large number of integrated BESTSHOT motif programs optimise the picture during sport or close-up shots, for example. For the first time they are equally planned for the photo and movie function and are activated through the practical BESTSHOT button directly next to the display. Once pressed, a clearly structured multiscreen appears on the large display with all pre-set photo scenarios. The function that allows photos with up to 5 megapixels to be taken and stored during movie recording deserves a special mention, as does the editing of a movie, the so-called "MOVIE EDIT", or zooming while the movie is being played back, "MOVIE enlargement playback", are new, helpful additional functions of the super-compact camera.
The new and fast EXILIM Engine provides maximum utilization of the EX-S500. It allows the compact structural shape as well as a high photo and movie quality at simultaneously low energy consumption. Together with the SUPER LIFE battery it provides the camera with the necessary power – once loaded, up to 200 shots3 are possible.
The USB docking station with high-speed USB 2.0 is used for the transmission of the image data on to the PC and supports PictBridge and USB Direct Print Standard. Movies and photos in fantastic quality can be very easily viewed directly on television by means of the AV output at the docking station or the optionally available AV cable – so there's nothing more standing in the way of your photo fun at home.
USB cable, extensive software on CD-ROM and hand carrier straps are included in the delivery scope, as are SUPER LIFE battery and docking station. A fast-charger, portable AV cable for connecting the camera directly to the television set as well as camera bags and neck straps, a media case for storing memory cards and other accessories are optionally available in the latest EXILIM look.
The EXILIM Card EX-S500 is available from retailers from July 2005.
Image Deletion:  One image, all images
Recording Element: 1/2.5" CCD-Chip (5.25 MP total / 5.0 MP effective)
Lens: F2.7 (W) - 5.2 (T), f = 6.2 (W) – 18.6 mm (T) (equivalent to approx. 38 -114 mm for 35mm cameras), 6 lenses in 5 groups, including aspherical lens
Zoom: 3x optical zoom, 4x digital zoom (12 times both with optical and digital zoom), lens cover
Aperture: F2.7 / 4.3, automatic
Focus Mode: Contrast-AF (Spot, Multi), manual focus (MF), Pan Focus, macro, auto macro, infinity, AF Assist light
Focus Range: Normal: 40cm -
Macro: 17cm – 50cm
Manual: 17cm -
Light Metering: Multi Pattern, Center Weighted, Center Spot
Exposure: Programmed-AE
Exposure Compensation: -2 up to +2 EV (1/3 EV units)
Shutter: CCD electronic shutter, mechanical shutter
Shutter Speed: Normal: 1/8 - 1/2.000 sec.
(above shutter speeds do not apply when using a BEST SHOT scene).
Sensitivity: AStill ISO 50 / 100 / 200 / 400 (automatic/manual)
Movie: Auto
White Balance: Automatic, fix (6 modes), manual switching
Self-timer: 10 sec. / 2 sec. / triple self-timer
Recording functions: Single image, BESTSHOT, movie with sound, single image with voice, voice recording, macro, self-timer, continuous shooting
Additional functions: Flash Assist function, Icon Help function
Microphone / Speaker: Monaural
Audio Recording Time: Audio Snapshot: Approx. 30sec. / image
Voice Recoding: Approx. 25min. (within built-in memory)
After Recording: Approx. 30sec. / image
Flash System: Auto, manual-on, manual-off, Red Eye-Reduction
Flash Range: Approx 0.4m - 2.8m (W) / Approx. 0.4m - 1.4m (T)
Monitor/Viewfinder: 2.2 inch TFT color display (84,960 pixels – 354 x 240)
Playback Functions: Playback zoom, Resize, Trimming, Movie Playback, Movie Edit, 9-image screen, Rotate, Calendar Screen, Slideshow (Photo Stand), Customizable Startup screen, Image Roulette
Timekeeping Functions: Date and time recorded with image data; auto calendar up to 2049
World Time: 162 cities (32 time zones); city names; date and time
Others: USB-DIRECT PRINT, PictBridge, Auto power off, RGB histogram, favorites folder
Communication: USB 2.0 Hi-Speed compatible
Input/Output Terminals: USB-Cradle with AC-Adapter, AV connection (NTSC/PAL compliant) via cradle
Power Requirements: Rechargeable Lithium-Ion battery NP-20 (incl.), docking station with integrated power supply and charging function
Battery Life
(with Li-Ion battery): Normal Recording*(1) – Approx 100 min., up to 200 shots (CIPA)
Continuous Recording*(2) - Approx. 100 min., up to 410 shots
Continuous Playback*(3) - Approx. up to 160 min.
Voice recording*(4) - Approx. 160 min.
Continuous movie recording*(5) - Approx. up to 80 min
Dimensions: 90 x 59 x 16.1 mm ( W x H x D, excluding protrusions)
Weight: Approx. 115 g (w/o Lithum-Ion battery and Memory-Card)
Standard Accessories: USB docking station, AC-Adapter for docking station, hand strap, rechargeable Lithium-Ion battery (NP-20), CD-ROM, USB-Cable, AV-Cable