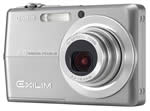 PMA 2006: The Casio Exilim EX-Z600 is introduced. 6 megapixels, 3x zoom lens, 2.7 inch LCD.
Casio Press Release
Stylish New Casio EX-Z600 Features Big 2.7-inch Super Bright LCD - Dramatically Improved Display Nearly 3X Brighter, Easier To See Outdoors

January 23, 2006, Tokyo, Japan - CASIO Europe GmbH, in conjunction with its parent company CASIO COMPUTER CO., LTD. announced the release of the latest addition to its EXILIM ZOOM digital camera series with the EX-Z600. The latest evolution in this popular series offers 6.0 megapixel high resolution photos in a stylish, compact, and pocket-sized package. The extra large 2.7-inch Super Bright LCD of the EX-Z600 is approximately three times brighter than the previous EX-Z500 model, producing an impressive luminance of 1200 candelas per square meter. This significant advancement makes the LCD of the Casio Exilim EX-Z600 easier to see, especially when viewed in the sunny outdoors. In auto mode, the LCD automatically adjusts to the brightness of the surrounding environment. The EX-Z600's Super Life Battery now has an even longer battery life, supporting a staggering 550 shots per charge.
The EXILIM line is a culmination of CASIO's core technologies of miniaturization and digital technology resulting in a smaller, higher resolution camera-the established trend leader in stylish, quick responding, large LCD, and long battery life digital cameras. The EX-Z600 includes the latest version of the EXILIM Engine, featuring the Anti Shake DSP, which along with the Auto Macro and Quick Shutter functions, considerably reduces the incidence of blurred photos due to moving subjects or shaking hands.
New to the EX-Z600 is the Rapid Flash function, which enables three consecutive high speed flash photos in only one second, allowing you to completely capture the moment without losing precious seconds between shots. The EX-Z600 includes Revive Shot, used to take still images from old album photos for long term preservation and enjoyment. Revive Shot digitally revives faded colors and automatically adjusts for obliquity, even when photos are shot while still in the album. The EX-Z600 is equipped with a BEST SHOT Button, allowing convenient one-touch access to this popular feature that offers 32 different scene selections, including Anti Shake and Revive Shot, for hassle-free photos every time.
The EX-Z600 embodies CASIO's continuing commitment to offer digital camera users cutting-edge technology and convenient user-friendly functionality in a small, stylishly designed package. Providing the freedom to take high quality pictures and movies anywhere, anytime, the new EX-Z600 makes taking memories as easy and fun as making them.
EXILIM ZOOM EX-Z600 Main Features
Highly Efficient, Advanced Performance
  * 6.0 megapixel high resolution CCD and retracting 3Xoptical zoom
  * Extra Large 2.7-inch TFT LCD display now approximately 3X brighter (approximately 1200cd/m2-compared to EX-Z500)*
  * Super Life Battery allows up to approximately 550 still images per charge on CIPA standards**
  * High quality images, high speed, and long lasting battery in a miniaturized package with EXILIM Engine image processing module
  * The Anti Shake DSP (Digital Signal Processor) reduces blurring caused by shaking hands or moving subjects
    * At maximum brightness, measured at the center of the display
    ** Auto Mode, standard brightness setting
Numerous Easy to Use Functions
  * "Rapid Flash" enables three consecutive flash photos in one second
  * The "Soft Flash" function reduces flash brightness when taking flash photos
  * "Revive Shot" refreshes faded colors of old album photos, bringing them back to life in digital format
  * The "9-Point Multi AF" clearly indicates areas in auto focus when photographing subjects with multiple focus points
  * The "Quick Shutter" function reduces mistakes by enabling simple and easy high-speed focusing
  * The "Auto Macro" mode allows for automatic switching between macro mode and auto focus mode
  * The "Flash Assist" mode compensates for poorly illuminated areas of the shot
  * The 32 scene "BEST SHOT" function enables selection of the appropriate camera setting for still photos via an easy to understand sample image menu
  * The "Angle Correction" function corrects oblique shots to look as if they were taken from the front during image viewing
  * "Color Restoration" enables digital enhancement of faded colors in old photos during image viewing
  * The USB cradle functions as a charger as well as a simple way to connect the camera to personal computers and other AV equipment
Enhanced Quick Responsiveness
  * Once powered on, the camera is ready to take pictures in approximately 0.9 seconds*
  * After the shutter is snapped, pictures are taken almost instantly, with only an approximately 0.005 second** release time lag
  * High-speed image viewing at approximately 0.1 seconds intervals
  * The "Direct On" buttons allow quick startup of both shooting and viewing modes
  * A one-touch "BEST SHOT" button allows selection of the appropriate mode for any shot
    * using internal memory, with internal flash turned off
    ** with internal flash turned off
Movie Functions
  * Movies recorded in VGA (640 x 480 pixels) at 30 frames per second (Motion JPEG)
  * Using the "Motion Print" function, movies can be converted into a series of nine or one single image for printing
  * Movies can be zoomed in during playback
  * The "Movie Editing" function offers three options (beginning, middle, end) for cutting unwanted scenes from a movie
EXILIM ZOOM EX-Z600 Specifications
Imaging Element: 1/ 2.5-inch square pixel color CCD (Total pixels; 6.180.000, Effective pixels 6.000.000)
Image Files Format: Snapshots; JPEG (Exif Ver.2.2), DCF and DPOF compliant
Movies: AVI (Motion JPEG)
Audio: WAV
Recording Media: 8.3 MB Built-in flash memory, SD Memory Card, MultimediaCard
Image Size(Pixels): Snapshots: 2.816 x 2.112 / 2.816 x 1.872 (3:2) / 2.304 x 1.728 2.048 x 1.536 / 1.600 x 1.200 / 640 x 480
Movies: 640 x 480 (HQ / Normal) / 320 x 240 (LP)
Lens/ Focal Distance:  F2.7 (W) to 5.2 (T), f=6.2 to 18.6 mm (equivalent to approximately 38 to 114 mm for 35 mm film), 6 lenses in 5 groups, with aspherical lens
Zoom: 3x optical zoom, 4x digital zoom (12x in combination with optical zoom)
Focusing: Contrast Detection Auto Focus, Focus Mode: Auto Focus, Macro mode, Pan Focus (PF), Infinity mode, manual focus, AF Area: spot, multi, AF Assist Light
Approximate Focus Range*: Auto Focus: 40 cm -
Macro: 15 cm to 50 cm
Infinity Mode:
Manual: ca 15 -
*(Using optical zoom causes the above ranges to change)
Light Metering: Multi-pattern, center-weighted, spot by CCD
Exposure Control: Program AE
Exposure compensation: -2EV~+2EV (1/3EV units)
Shutter: electronic shutter, mechanical shutter
Shutter Speed: Normal 1/8 to 1/2000 second
Aperture: F2.7/F4.3, auto switching (using optical zoom causes the aperture to change)
White Balance: Auto WB/ fixed (6 modes) / manual switching
Sensitivity: Snapshots: (automatic/manual)* / ISO50/ISO100/ISO200/ISO400
Movies; Auto
* Max ISO sensitivity is 800 when taking pictures with Anti Shake or High Sensitivity
Recording functions: Single image, BEST SHOT, movie with sound, single image with voice, voice recording, macro, self-timer, continuous shooting
Self-timer: 10 seconds. 2 seconds, Triple Self-timer
Built-in Flash: Flash Modes: Auto Flash, On, Off, Red eye reduction, Soft-Flash
Flash Range: ca. 0.15 to 2.8 m (W) / ca. 0.4 to 1.4 m (T)
Continuous shooting: ca. 0.7 to 1.6 m (W) / ca. 0.4 to 0.8 m (T)
Monitor: 2.7-inch TFT colour LCD (153.600 Pixel, 640 x 240)
Timekeeping Functions: Date and time…Recorded with image data; Auto Calendar to 2049
World Time: 162 cities in 32 time zones, City, Date, Time, summer time
Input/Output Terminals: Cradle connector
USB: USB 2.0 (Full-Speed) compatible
Microphone/Speaker: Mono
Power Requirements: Rechargeable lithium ion battery NP-40 (incl.), docking station with integrated power supply and charging function (CA-29)
Battery life: Rechargeable lithium ion battery (NP-40)
Battery life: Approx. 550 snapshots (CIPA Standards, Auto Mode, standard brightness setting)
Continuous playback: approx 9 hr. 20 min. (snapshots)
Continuous recording: approx 4 hr. (movie)
Continuous recording: approx 10 hr. (voice recording)
Dimensions: 88.5 x 57 x 20.5 mm (W x H x D, excluding protrusions)
Weight: Approximately. 112g (excluding battery and accessories)
Bundled Accessories: USB docking station (CA-29), AC-Adapter for docking station, USB cable, AV cable, hand strap, rechargeable lithium ion battery (NP-40), CD-ROM