Casio Exilim Zoom EX-Z350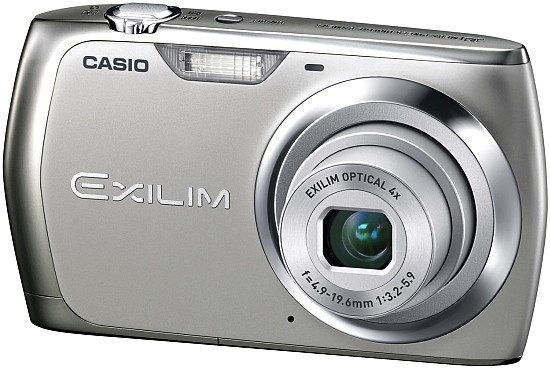 Casio Europe has just announced a new compact camera, the 12.1-megapixel Casio Exilim Zoom EX-Z350. Featuring a 27-112mm equivalent zoom lens and a 2.7in, 230,400-pixel rear screen, the Casio Exilim Zoom EX-Z350 comes with 23 scene modes anda YouTube Capture Mode for videos. The EX-Z350 is available now throughout Europe, priced at €149.
Casio Press Release
High performance for a low price:
The new EXILIM Zoom EX-Z350 from CASIO
The digital camera offers high quality features in combination with elegant design
Norderstedt, 17 May 2010 - To kick off the summer season, CASIO Europe GmbH presents a new model in the EXILIM world with the EXILIM Zoom EX-Z350. The camera impresses with its compact design as well as its style and elegance in five popular colors.
The main advantage of the EXILIM Zoom EX-Z350 is also the high-quality technical features, making the camera something extraordinary in its class: 12.1 megapixels, a 4x optical zoom as well as a 27 mm wide-angle lens provide the photographer with opportunities that, up to now, were only offered by camera models in a higher price class. Added to this is the 6.9 cm (2.7 inch) TFT color display with 230,400 pixels that takes up most of the room on the back of the camera.
The EXILIM Zoom EX-Z350's Easy Mode takes care of all the work for photographers who just want to push the shutter release and do not want to deal with any pre-settings. Particularly practical: the face detection function identifies faces in both motifs with individual people as well as group shots and automatically determines the best possible setting. Moreover, the EX-Z350 comes with 23 BEST SHOT programs for many situations, so that photos and movies always turn out perfectly. From "landscape" to "portrait" to "sport" or "children" - the camera automatically chooses the optimal program and turns taking photos into child's play.
With the help of exclusive software, the well-known YouTube™ Capture Mode makes uploading videos very simple for users. This allows videos to be quickly and easily uploaded to the popular Internet platform in the optimal size and quality.
The EXILIM Zoom EX-Z350 is now available in the shops in five trendy colors.
Further information at http://de.exilim.eu, http://life.exilim.eu or www.casio-europe.com.
CASIO in general
CASIO is a leading international manufacturer of consumer electronics. In line with the principle of "creativity and contribution," the company has been dedicated to developing products that stand out for their cutting-edge technology and innovative design ever since it was founded, in 1957. Today, the product palette of CASIO around the world includes watches, digital cameras, mobile phones (not in the EU), electronic dictionaries, calculators, musical instruments, projectors, cash register systems, handheld terminals, and electronic components such as LCDs (not in the EU). In total, CASIO Computer Co., Ltd. employs a staff of more than 12,300 people worldwide. The company ships more than 100 million products each year, and in the fiscal year from April 2008 to March 2009 alone, CASIO posted net sales revenue of 518 billion yen (about 3.8 billion Euros). You will find news and product information about Casio at www.casio-europe.com.
Your Comments