Casio EXILIM ZOOM EX-Z850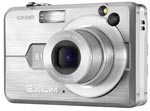 PMA 2006: The Casio EXILIM ZOOM EX-Z850 camera is announced. 8.1 megapixels, 3x optical zoom lens, manual exposure and advanced flash options. Available from the beginning of March.
Casio Europe Press Release
High Resolution 8.1 Megapixel Images Highlight Casio EX-Z850 - New Digital Camera Offers Big Performance In A Small, Sleek Package

February 21, 2006, Norderstedt - CASIO Europe GmbH, in conjunction with its parent company CASIO COMPUTER CO., LTD. announced the release of the latest addition to its EXILIM ZOOM digital camera series with the stylish, compact, and high-resolution EX-Z850. Offering high quality 8.1 megapixel photos, the EX Z850 includes a 3X optical zoom, and offers both manual aperture and shutter speed priority AE options for advanced users who prefer to create customized images. The impressive 2.5" Super Bright LCD generates approximately 1,200 cd/m2 of luminescent output, making the monitor even easier to view when outdoors. The Casio EX-Z850 includes the latest version of the EXILIM Engine, featuring the Anti Shake DSP which considerably reduces the incidence of blurred images due to shaky hands or moving subjects, so you only have to worry about which shots to take, not how they will come out. In response to user's high demand, the Casio EX-Z850's Super Life Battery supports 440 shots per charge, providing convenient, long-lasting usability.
Notable new features on the EX-Z850 include flash functions for a variety of settings and situations, including; Rapid Flash, which enables three flash photos in only one second to completely capture a given moment; Soft Flash, which prevents overexposure of subjects photographed up close; and High Power Flash, which ensures that subjects are properly illuminated even when photographed as far away as approximately 12.1 meters. The EX-Z850 also includes Revive Shot, which refreshes faded colors of old photos by bringing them back to life in digital format, automatically adjusts for obliquity even when photos are shot while still in the album.
The EX-Z850 represents the latest technology and functions the EXILIM digital camera line has to offer. Easy to use automatically or customizable to user specifications, this camera offers the stunningly high quality images and versatility that comes only from CASIO.
EXILIM ZOOM EX-Z850 Main Features
Highly Efficient, Advanced Performance
  * 8.1 megapixel CCD and retracting 3X optical zoom lens enable high resolution photography
  * Large 2.5-inch, super bright TFT LCD display with 1200cd/m2 brightness* for easy viewing outdoors; also includes optical viewfinder
  * Super Life Battery allows up to approximately 440 still images** , per charge on CIPA standards
  * The EXILIM Engine features the Anti Shake DSP, which reduces blurring caused by shaky hands or moving subjects
  * Once powered on, the camera is ready to take pictures in approximately 1.0 second***
  * After the shutter is pressed, the image is recorded almost instantly, with only an approximately 0.005 seconds**** release time lag
  * High-speed picture playback of approximately 0.1 seconds interval
  * Subjects appear brightly on the display monitor even under low light conditions, enabling easy shot composition
  * Manual aperture and shutter priority AE options can be set quickly via a convenient mode dial for customized photographs
    * Set at maximum brightness, measured in center of screen
    ** When display is set at standard brightness
    *** Using internal memory, with internal flash turned off
    **** With internal flash turned off
Numerous Easy to Use Functions
  * White LED light enables both still images and movies to be taken in low light conditions and acts as an AF assist light
  * "Rapid Flash" enables three consecutive, high speed flash photos in only one second
  * "High Power Flash" compensates for objects to be taken in poorly illuminated areas up to 12.1m away*****
  * "Soft Flash" prevents over exposure when taking shots in Macro, etc.
  * "Revive Shot" refreshes the colors of old, faded photos and saves them in digital format
  * Zoom Continuous Shutter creates a shot within a shot—user selects area of image to zoom, taking 2 images with a single press of the shutter
  * The 34 scene "BEST SHOT" enables selection of the appropriate camera setting for still images via a sample image menu
    ***** using ISO1600
High quality multi-use functions
  * The "Quick Shutter" function reduces mistakes by facilitating simple and easy high-speed focusing
  * The "Auto Macro" mode allows for automatic switching between macro mode and auto focus mode
  * The "9-Point Multi AF" clearly indicates areas of focus when photographing subjects with multiple focus points
  * The one-touch "EX" button allows easy manual adjustment of multiple camera settings on one simple screen
  * The "Direct On" button allows quick startup in both shooting and playback modes
  * Equipped with a cradle for charging batteries and easy connections to AV equipment / PCs
EXILIM ZOOM EX-Z850 Specifications
Imaging Element: 1/1.8-inch square pixel color CCD, 8.32 million total pixels, 8.1 million effective pixels
Image Files Format: Still images: JPEG (Exif Ver 2.2), DCF 1.0 standard, DPOF compliant
Movies: AVI (MPEG-4)
Audio: WAV
Recording Media: Internal flash memory (image area 8.0 MB), SD Memory Card, MMC compatible
Image Size(Pixels): Still images: 3264×2448, 3264×2176 (3:2), 2816×2112, 2304×1728, 1600×1200, 640×480
Movies: 640×480 (HQ), 640×480 (Normal), 320×240 (LP)
Still images:
Pixels Resolution File Size Approximate Memory Capacity (Images)
Internal memory (8.3MB) SD Memory Card* 256 MB
3.264 x 2.448 Fine 4.8 MB 1 48
Normal 3.18 MB 2 72
Economy 1.63 MB 4 140
640 x 480 Fine 360 KB 20 625
Normal 240 KB 30 938
Economy 120 KB 57 1.742
Movies:
Pixels Recording Time File Size Frames/ sec Approximate Memory Capacity
Internal memory (8.3MB) SD Memory Card* 256 MB
640 x 480 (HQ) Maximum recording time per file: 10 minutes 4.0 MB/sec. 30 Approx. 16 sec. Approx. 8 min. 21 sec.
640 x 480 (Normal) 2.1 MB/sec. 30 Approx. 31 sec. Approx. 15 min. 52 sec.
320 x 240 (LP) 2.45 MB/sec. 15 Approx. 27 sec. Approx. 13 min. 34 sec.
*  When using Panasonic (Matsushita) 256 MB card
Lens/ Focal Distance: 7 lenses in 5 groups, with aspherical lens; F2.8(W) to F5.1(T); f= 7.9(W) to 23.7(T)mm (35mm conversion: approx. 38(W) to 114(T)mm)
Zoom: Optical 3X, digital 8X (24X when used together)
Focusing: Auto Focus with contrast detection,
Focus Modes: Auto Focus, Macro mode, Pan Focus (movie only), Infinity mode, manual focus
AF area: selectable spot AF, multi AF, free AF; AF Assist Light
Approximate Focus Range:
Auto Focus: 40 cm to
Macro: 10 cm to 50 cm
Infinity Mode:
Manual: 10 cm -
* Using optical zoom causes the above ranges to change
Exposure Control: Light metering: Multi-pattern, center-weighted, spot by CCD
Exposure: Program AE, Shutter Speed Priority AE, Aperture Priority AE, Manual Exposure
Exposure compensation: -2EV to +2EV (1/3EV units)
Shutter: CCD electronic/mechanical shutter
Program AE: 1/2 to 1/1600 sec., Shutter Speed Priority and Manual Exposure AE: 60 to 1/1600 sec., Aperture Priority AE: 1 to 1/1600 sec.
Above Shutter speeds do not apply when using a BEST SHOT scene
Aperture: Program and Shutter Speed Priority AE: F2.8 to 8.0 (Brightness converted); auto switching
Manual Exposure and Aperture Priority AE: F2.8 / 4.0; auto switching
Using optical zoom causes the aperture to change
White Balance: Auto WB/ Fixed (6 modes) / Manual
Sensitivity: Still images: Auto* / ISO50 / ISO100 / ISO200 / ISO400
Movies: Auto
* Max ISO sensitivity is 1600 when the BEST SHOT Anti Shake or High Sensitivity scene is being used
Recording Functions: Still images; audio snapshot, macro, self-timer, Continuous shutter (normal speed, high speed, Flash continuous, zoom, multi), BEST SHOT, movie with audio (MOVIE BEST SHOT, Short Movie, Past Movie), voice recording
Self-timer: 10 seconds. 2 seconds, Triple Self-timer
Built-in Flash: Flash Modes: Auto Flash, ON, OFF, High Power Flash, Soft Flash, Red eye reduction
Flash Range: approx. 0.1 to 4.3 m (W), 0.5 to 2.4 m (T)
Flash Continuous Shutter: approx. 0.4 to 3.3 m (W), 0.5 to 1.8 m (T)
Viewfinder: Monitor screen and optical viewfinder
Monitor: 2.5-inch TFT color LCD, 115,200 pixels (480×240)
Timekeeping Functions: Date and time: Recorded with image data, Auto calendar: To 2049
World Time: 162 cities (32 time zones) worldwide, city name, date, time, summer time (daylight savings time)
Input/Output Terminals: Cradle connector
USB: USB 2.0 (Hi-Speed) compatible
Microphone/Speaker: Monaural
Power: Rechargeable lithium-ion battery
Battery life: Approx. 440 images (CIPA Standards)
Continuous playback: approx. 7 hours (still images)
Continuous recording: approx. 3 hours 20 minutes (movie)
Continuous recording: approx. 8 hours 20 minutes (voice recording)
Dimensions: 89 mm (W) × 58.5 mm (H) × 23.7 mm (D) (excluding projections; 19.9 mm at thinnest part)
Weight: Approx. 130 g (excluding battery and accessories)
Bundled Accessories: Rechargeable lithium-ion battery, USB cradle, USB cable, AV cable, Strap, AC power cord, Special AC adaptor, CD-ROM
EXILIM is a registered trademark of CASIO COMPUTER CO. LTD. Any other company or product names are registered trademarks or trademarks of those companies.
Specs are subject to change w/o notice