CES 2010 - Editor's Picks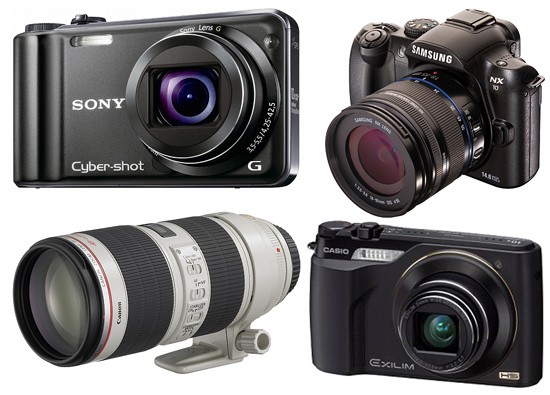 Over the past week we posted over 50 CES-related articles, mostly product announcements, so don't blame yourself if you are feeling a little overwhelmed and wondering if there have been any major pieces of news among these. We've just put together a list of what we thought were the most interesting photography-related products announced before or at this year's Consumer Electronics Show. But before we delve into these, let's summarise in a few words the main tendencies that emerge from this avalanche. Firstly, the sheer number of digital compact cameras announced was way beyond expectations. In some cases, the companies didn't even bother to highlight the differences between the models in any detail, or indeed differentiate the cameras in any meaningful way. Secondly, it's evident that certain features that used to come at a premium are now must-haves in entry-level models too. These include HD video, at least 4x zoom and image stabilisation. While there still are 3x zoom models with VGA video recording and no optical or mechanical image stabilisation, these are becoming the exception rather than the rule. Thirdly, 2010 has brought the almost total victory of the SD card, with both Olympus and Sony giving in to the trend. While Sony is still making Memory Sticks, it has announced its own branded SD/SDHC cards, and made all of its new compacts capable of reading them. Olympus apparently said goodbye to its xD cards and also made its newest cameras compatible with SD. Meanwhile, CES 2010 also saw the appearance of the first SDXC cards and SDXC host devices.
After these general tendencies, let us now see the products that have grabbed our attention the most.
Canon EF 70-200mm f/2.8L IS II USM



With Nikon's having released the AF-S Nikkor 70-200mm f/2.8G ED VR II in the summer of 2009, it was expected that Canon would respond to the challenge. Its reply is the new EF 70-200mm f/2.8L IS II USM, announced just before CES. Canon has improved optical performance on the new EF 70-200mm f/2.8L IS II USM lens by redesigning the internal elements, incorporating a fluorite element and a fifth UD element. The use of the fluorite element and five UD elements helps minimise secondary chromatic aberrations and produce better image quality with improved contrast and resolution through the entire zoom range. Along with its redesigned optical elements, the new lens design features improved AF speed due to a new focusing algorithm and Canon has reduced the minimum focusing distance through the entire zoom range. In short, a classic, almost legendary lens just got better. Whether - as one of our readers thought - Canon will go on to update all of its f/2.8 zooms and include IS in the 24-70mm f/2.8 lens is a secret of the future, but the new 70-200mm zoom is definitely coming. Read the announcement here.
Samsung had announced its "hybrid" NX system a long-long time ago, and there was a consensus that if the Korean company wanted to keep photographers interested, it would have to announce something tangible at CES 2010. And it did. Enter the Samsung NX10, a compact camera with a 14.6-megapixel, APS-C sized sensor, VGA-resolution electronic viewfinder and interchageable lenses. A 3" AMOLED screen, Supersonic Dust Reduction, HD movie recording and a slew of manual controls complete the picture. The Samsung NX10 is expected to sell for £600 with an optically stabilised standard zoom lens, £650 with a fast normal prime, and about £750 kitted with both of these lenses. Read the full story here.
Sony released the most compacts at CES, risking that people would skip over its most interesting announcement, that of the Sony Cyber-shot HX5 (apparently called HX5V in North America). This camera can be considered the successor to last year's H20 - which we liked so much in our review - in that it's a pocketable snapper that packs a massive 10x zoom lens with image stabilisation. Among the few criticisms we levelled against the otherwise excellent H20 was a lack of true wide angle and the camera's reliance on Memory Stick PRO Duo cards. The HX5, with its 25-250mm equivalent zoom lens and SD/SDHC card support, addresses both of these issues, and goes further - much further. With integrated GPS and compass on board, this camera is one of the true standouts of CES 2010, not to mention that it offers 1080i Full HD video recording, an enhanced Sweep Panorama mode and a back-illuminated EXMOR R CMOS sensor that defies the megapixel madness by staying at a healthy 10.1 million pixels. Read more here.
Casio showed a little more constraint than Sony in terms of the number of cameras announced. Their most interesting product is the Exilim EX-FH100, a high-speed, high-zoom camera with a continuous shooting speed of 40 frames per second (fps) at almost full resolution, and a dizzying frame rate of up to 1,000fps when recording a movie. With a lens boasting a 35mm equivalent focal range of 24-240mm, and a new in-camera HDR function called High-speed Lighting, the Casio EX-FH100 can be considered a direct competitor of the Sony HX5. Some sources even quote raw (DNG) support, although Casio did not include this piece of information in its press release.
Photosimile 5000 Desktop Studio



The Photosimile 5000 desktop photography studio integrates a 28 x 28 x 28" light box with a Canon SLR camera and PC software to simplify and automate business photography. The device features 6500K light bulbs, an automated camera positioning system and built-in turntable that holds up to 25lbs. The camera and light box connect to a PC via USB. Photosimile 5000 software controls the studio, camera location, turntable movement, camera settings, picture taking and processing workflows. Read the full product announcement here.
Your Comments