Classic Camera Series from PielFort Albums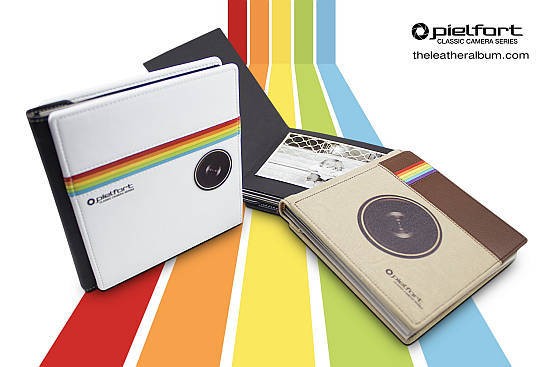 PielFort Albums have created a new series of hand-made mini albums inspired by a range of classic cameras. The idea came from a collaboration of PielFort Company with designers and bloggers - each blogger came up with a concept inspired by a classic camera, and the best desings were turned into actual products by PielFort's craftsmen in their Ubrique, Spain-based workshop. For more information, visit the website below.
Website: PielFort Albums
Pielfort Press Release
Albums PielFort, Classic Camera Series
The leather artisanal photo album company has created a special edition of small size analogical album designed as classical cameras of all time. These small artisanal albums are made with all the luxury and details quality of the PielFort Company's classical photo albums.

A shared idea.
This original idea aroused from the collaboration of PielFort Company with some designers and bloggers of the net. Each blogger designed a concept of album inspired by a photo classic and PielFort's craftsmen applied to produce it in their workshop in Ubrique, Spain.

A different size.
The proliferation of photo social networks and the passion for aesthetic of analogical photo cameras require this type album for small size pictures or Polaroid pictures. Le size 12 x12 cm is compatible will all analogical picture formats, regrouping all your memories safely and analogically.

An exclusive serial.
The serial is compound of three models of white, black and brown color. These models are available on our web page theleatheralbum.com. Each one inspired by emblematic photo cameras of yesteryears. In this way, PielFort pays a tribute to the world of photography to which, the company owes its success.

The experience of a company.
Founded 40 years ago by a leather craftsman amateur of photography, PielFort has become a reference worldwide in the sector of luxury photo albums and leather accessories. All its albums and accessories are 100% handmade by craftsmen in Ubrique, Spain.

Thousands of customers trust us. We can underline among others, royal families and celebrities around the world such as the Spanish Royal Family, the Moroccan Royal Family, the Kennedy Family,the legendary photograph Harrison Funk and also Fred Marcus, the photograph "par excellence" of the New-York jet-set.
Theleatheralbum.com
Your Comments