Cokin Rethinks its Creative Filter System Brand Identity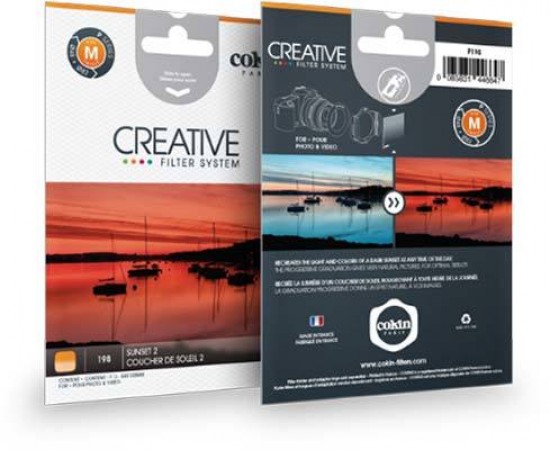 Cokin has unified all its existing creative products (A Series, P Series, Z-Pro Series and X-Pro Series square filters) under the new range name "Creative Filter System." Additionally, the company has devised new size markings borrowed from the clothing industry, new pictograms, packaging and colour coding for the products. Their new SlidePack is billed as "a revolutionary and environment-friendly" packaging solution that is approximately 55% smaller and 60% lighter than the previous one. Moreover, the design of SlidePack prevents the filter from dropping out unexpectedly. The first product line-up to adopt the new packaging is the P Series (now called the M size range).
Cokin Press Release
Cokin rethinks its range of creative filters.

New brand image. New packagings.
Cokin announces a new step in its renaissance, by simplifying its range of creative products.
For years, we used "creative filters" as a generic name. Today, CREATIVE FILTER SYSTEM (CFS) becomes the official name of our range of creative products.
All the existing Cokin creative products (A Series, P Series, Z-Pro Series and X-Pro Series) are unified under this new range name. Until now, dealers had to explain the difference between each systems. However, what makes a customer decide between the different systems is the size of their lenses rather than the features of each. That's why, instead of four different products (A, P, Z-PRO, X-PRO), it will be easier to explain CREATIVE FILTER SYSTEM as one product, available in four sizes (S, M, L, XL). Moreover, the use of "textile" denomination of sizes (S, M, L, XL) helps having a clear overview of the range. As of today, Cokin CREATIVE FILTER SYSTEM range will look like this:
Cokin also presents a more comprehensive brand identity, with pictograms and color code, to help customers understanding what system is recommended to them. Pictograms give information on the new size denomination, the previous name of the series, the minimum and maximum diameters of available adaptor rings for this size.
As a reminder, the CREATIVE FILTER SYSTEM logo carries four dots (• • • •) echoing colors of each size, for customers to understand these items are part of the same range.
This overhaul wouldn't be complete without a total rethinking of our packaging, to replace the long-lasting 35 years plastic box which protected Cokin creative filters since 1978.

After extensive research and development, Cokin is proud to announce SlidePack™, a revolutionary and environment-friendly new packaging for its best-selling M Size (ex-P Series) filters. SlidePack™ is approximately 55% smaller and 60% lighter than the previous packaging, and is only made of recyclable material to reduce Cokin footprint and help preserving the world that gives us so beautiful pictures.
We've also learnt a lot about users expectations. This new packaging is more user-friendly. The filter slides in an out of the packaging with only one hand. Made of thick carton and overpacked in a ready to pegboard polyethylene strong sleeve, SlidePack™ is very protective. The inner part of SlidePack™ is coated with a microfiber cloth. Not only does it prevent the filter from being scratched, but it cleans it each time the filter slides in and out. Moreover, the design of SlidePack™ prevents the filter to drop unexpectedly. It has never been so easy to use a Cokin filter.
The first 22 M size (ex-P Series) filters to adopt the new SlidePack™ are:
1.     001 Yellow
2.     002 Orange
3.     003 Red
4.     007 Infrared (89B)
5.     020 Blue (80A)
6.     120 Gradual Neutral Grey G1
7.     121 Gradual Neutral Grey G2 (ND8) - 0.9
8.     121L Gradual Neutral Grey G2 Light (ND8) - 0.3
9.     121M Gradual Neutral Grey G2 Medium (ND4) - 0.6
10.   121S Gradual Neutral Grey G2 Soft (ND8) - 0.9
11.   121F Gradual Neutral Grey G2 Full (ND8) - 0.9
12.   122 Gradual Blue B1
13.   123 Gradual Blue B2
14.   123S Gradual Blue B2 Soft
15.   124 Gradual Tobacco T1
16.   125 Gradual Tobacco T2
17.   125S Gradual Tobacco T2 Soft
18.   152 Neutral Grey ND2 - 0.3
19.   153 Neutral Grey ND4 - 0.6
20.   154 Neutral Grey ND8 - 0.9
21.   197 Sunset 1
22.   198 Sunset 2
Every SlidePack™ will carry a brand new graphic design and a never-seen before picture that will bring some fresh air to the range. Packagings of S (ex-A Series), L (ex-Z-PRO Series) and XL (ex-X-PRO Series) as well as those for adaptor-rings and filter-holders will adopt the new CREATIVE FILTER SYSTEM graphic design in a close future.
You can download the marketing and communication package with all the logos, before-after pictures, press release in PDF format, pictograms by clicking here. Whenever you use one the before-after or packaging pictures, we ask you to never forget adding the photographer's credit, which is indicated in the file name or on the packaging itself.

Named after its founder Jean Coquin, a famous french photographer of the 70's, Cokin is the inventor of the innovative CREATIVE FILTER SYSTEM (adaptor ring + filter-holder + filters), the most popular filter system in the world.
Your Comments