Corbis Images Unveils CRAVE iPad App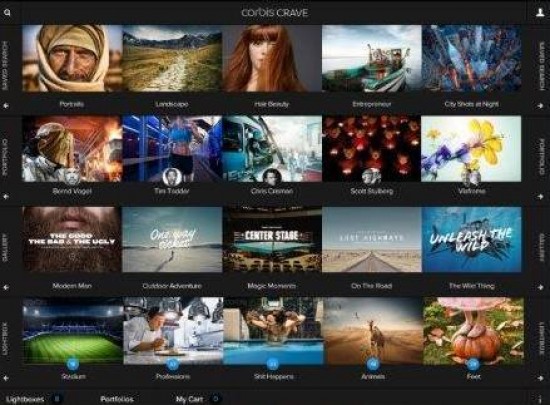 Corbis Images have launched Corbis CRAVE, a premium photo viewing iPad app and accompanying website. Basically, Corbis CRAVE is a digital boutique featuring expertly curated imagery from industry-leading commercial and editorial photographers. "Corbis CRAVE provides creative directors and art buyers a search and ideation experience tailored to their unique and specific needs whether they're accessing the collection on their iPad or through the website," said Edie Tobias, senior vice president of commercial products at Corbis. The CRAVE app is available as a free download from the iTunes App Store.
Website: Corbis CRAVEhttp://corbiscrave.com/
Corbis Press Release
Corbis Images Unveils CRAVE iPad Application and Website Featuring Gorgeous Imagery for Creatives

Corbis CRAVE delivers innovative search and ideation capabilities for creative professionals
NEW YORK, NY (May 14, 2013) – Corbis® Images (www.corbisimages.com), a leading digital content and services provider for the creative and entertainment communities, today announced the launch of Corbis CRAVE, a premium image discovery experience developed exclusively for iPad® and as an accompanying web experience.
Corbis CRAVE is a digital boutique featuring expertly curated imagery from industry-leading commercial and editorial photographers.

"Corbis CRAVE provides creative directors and art buyers a search and ideation experience tailored to their unique and specific needs whether they're accessing the collection on their iPad or through the website," said Edie Tobias, senior vice president of commercial products at Corbis.

For creative momentum on the go, the Corbis CRAVE application for iPad puts the finest images front and center and gives creatives powerful search and lightbox functionality to advance their creative visions whether face-to-face with a client or waiting to catch a flight. 

Corbis CRAVE is also a venue for creative professionals to explore and be inspired by the work of some of the most sought-after commercial photographers in the world via featured portfolios - while providing a seamless user experience as they develop their own projects from storyboard to execution.

The CRAVE App can be downloaded from the Apple iPad App Store by clicking here.

Access to the CRAVE website can be found here: http://corbiscrave.com/
Your Comments