Corel Updates for Microsoft Windows Vista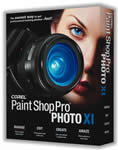 Corel Press Release
Corel Will Deliver New Products and Optimize Current Offerings for New Windows Platform
Maidenhead, UK - 25 October 2006 - Corel Corporation (NASDAQ:CREL; TSX:CRE), the maker of Corel® WordPerfect® Office, CorelDRAW® Graphics Suite, Corel Paint Shop Pro® Photo, Corel Snapfire*, Corel Painter* and WinZip®, today announced that it will release Windows Vista versions of each of its major products. "Corel is pleased to announce our commitment to Windows Vista by offering a full array of products for this new operating system. Each of these products will deliver the trademark ease of use, powerful feature performance and outstanding value for which Corel products are known," said Shawn Cadeau, vice president of global marketing for Corel."This commitment to deliver outstanding applications for Windows Vista makes Corel software the ideal choice for customers and partners who are planning the move to this new operating system."
Selected Corel products, including the new Corel Snapfire, Corel Snapfire Plus, and Corel Paint Shop Pro Photo XI are currently available as Windows Vista-ready applications, based on the latest pre-release versions of Windows Vista. If required, these products will be updated upon the release of Windows Vista to ensure customers receive the optimal experience on the new OS.
Major Corel product lines, including Corel WordPerfect Office X3 and CorelDRAW Graphics Suite X3, will be updated immediately following the release of Windows Vista. Windows Vista-related updates will be available as free downloads from www.corel.com.
Additional Corel products, including Corel DESIGNER Technical Suite, Corel Painter and Corel Painter Essentials, will be upgraded with Windows Vista compliance in future releases. Corel is also working closely with hardware partners to ensure that the latest versions of its software are available on Windows Vista-equipped PCs.
"The potential of Microsoft Windows Vista is tied in part to the commitment of leading global ISVs such as Corel to develop their products for the operating system," said Dave Wascha, director of marketing for Windows Vista at Microsoft Corp. "Corel has a long and fruitful history of developing world-class products for the Windows platform, and with its commitment to Windows Vista, we are pleased that Corel is continuing this tradition."
For more information on Corel products please visit www.corel.com.
About Corel Corporation
Corel is a leading global packaged software company with over 40 million users. The Company provides full-featured, easy-to-use productivity, graphics and digital imaging software and enjoys a favorable market position among consumers and small businesses. The Company's award-winning product portfolio features popular, globally recognized brands, including CorelDRAW® Graphics Suite, Corel® Paint Shop Pro®, Corel Painter*, Corel DESIGNER®, Corel® WordPerfect® Office, WinZip®, and iGrafx®. With hundreds of industry awards for leadership in software innovation, design and value, Corel's products have built a loyal following of customers and partners around the globe. Corel's products are sold in over 75 countries through an international network of resellers and retailers, original equipment manufacturers (OEMs), and Corel's global websites.
© 2006 Corel Corporation. All rights reserved. Corel, the Corel logo, WordPerfect, CorelDRAW, Paint Shop, Painter, Snapfire, iGrafx, DESIGNER, and WinZip are trademarks or registered trademarks of Corel Corporation and/or its subsidiaries. All other product, font and company names and logos are trademarks or registered trademarks of their respective companies.