Cyclopital3D Unveils Accessories for FinePix Real 3D W3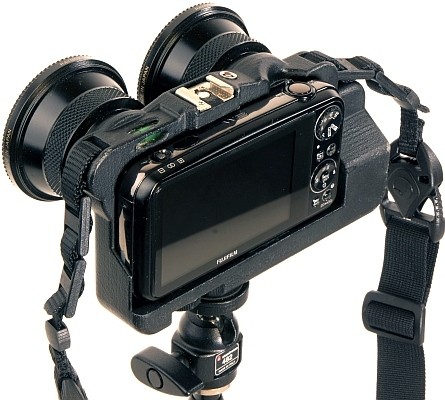 Cyclopital3D has introduced a unique line of accessories for the Fujifilm FinePix Real 3D W3 camera. The new accessories enable users to attach add-on macro, wide-angle and fish-eye conversion lenses to their cameras. Also available is a stereo base extender for the W1 and W3, which uses perfectly aligned high-quality mirrors to effectively increase the stereo base of the camera to 225mm for great 3D photos of faraway subjects. The accessories are available through the website below.
Website: Cyclopital3D
Cyclopital3D Press Release
Capture Amazing 3D Close-ups & Wide-angle Photos and Video
FORT COLLINS, CO, May 25, 2011. Cyclopital3D launches a unique line of accessories for the Fujifilm FinePix Real 3D W3 camera that enable the attachment of a Close-up adapter, Macro lens or Wide-Angle or Fish-eye Auxiliary Lenses!
The Cyclopital3D Macro adapter enables photographers to capture amazingly immersive 3D macro shots, such as insects and flowers. The Auxiliary Lens Adapter enables the attachment of UV/IR filters, lens shades, or wide-angle lenses that can double the field of view captured by the camera. The adapters also include neck strap anchors and a hot-shoe mount & trigger for external or studio flash units.
Anyone can create 3D photos and video with ease using the Fuji W3 camera and the new accessories developed by Cyclopital3D! These unique products expand the creative potential of any 3D photographer and can be found at www.cyclopital3d.com.
Your Comments