Distributor Intro2020 Supplies a Sizeable Headwind of Product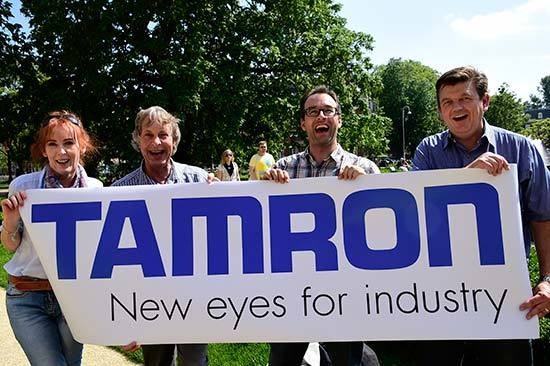 If you're not directly aware of Maidenhead, UK based photographic distributor Intro2020, you'll certainly be au fait with most if not all of its 28-strong brand offerings. These include lens brands: Samyang photo and video lenses, Tamron photo lenses and Tokina Cine Lenses. Filters from Hoya, Kenko and Cokin and many other leading brands such as Velbon tripods, Metz flash, plus photographic bag ranges including Tamrac and Interceptor.
With responsibility for distributing all these in the UK, Intro2020 is constantly in touch with product developers in Japan and the Far East, and decided to share some of its current and future offerings with PhotographyBlog across a recent press trip to Amsterdam and back.
Present were MD Jim Mackay, Marketing Manager Jane Nicholson and product specialists General Sales Manager Peter Mott and Tamron Manager Jeremy Martin.
We were given plenty of time to try out the new jack-of-all-trades Tamron 16-300mm f/3.5-6.3 telephoto zoom lens designed for APS-C DSLRs, plus the likes of a Hoya Super Pro1 Revo Filter SMC UV(0) screwed onto the front, the latter with the aim of achieving sharper results in the early summer haze.
Intro2020 MD Jim Mackay is unsurprisingly something of an evangelist for the products that make up his company's offerings, which can be tracked down to your local re-sellers like Jessops and many other major UK retailers. Of those he singles out Samyang lenses as "a huge success. Some 50% of Samyang sales are also to video users which will climb in future to, we believe, 30% of our total business. As an industry then we cannot ignore the video market." Mackay also believes that an increasing number of cameras – such as the Panasonic Lumix DMC-GH4 and Sony A7S – offering 4K-resolution video will also have a notable effect. "That will have a hit on stills photography because people will be just be grabbing their photos from the video feed." In short, "there's a hell of a lot more business going to come from the video market. If retailers want to increase their revenue think video – don't just sell cameras, sell microphones, as the profit comes in selling accessories."
Intro2020 teased that it would shortly be introducing its own CCTV product to the market offering Full HD colour night vision and that inevitably "all the time we're looking at new products."
A case in point is a new Hoya waterproof filter, which in being 'hydrophilic' actually repels water, meaning that photographers don't have to keep giving it a wipe. For obvious reasons the filter is also said to be gaining interest from the broadcast market.
According to MD Mackay, Intro2020 sells more tripods to its network of re-sellers than anyone else in the UK, and has the notable Velbon brand on its books.  "We sell thousands of those and very few come back," he adds.
Other little tools with obvious appeal to photographers include the Lens Pen (illustrative videos for which can be found at www.lenspen.com). Designed to clean greasy fingerprints and smears from your camera lenses, it can also be used to buff up the LCD screen of your DSLR or tablet if so wished. The advantage here is that since Lens Pen is not a wet cleaning solution, it can be taken in hand luggage on planes. It actually uses what Intro2020 refers to as 'invisible carbon' to clean, and as well as standard black variety there is a white pen version available, the thinking being that it will be easier to find in your gadget bag.
Another cleaning product that Intro2020 markets is the Sensor Klear Loupe Kit. Now, self cleaning your camera's sensor may be reasonably controversial in terms of voiding possible manufacturers' warranties, but the team insists that it's something you can do yourself at home – adding that you don't need to clean all of the sensor all of the time and that for camera dealers offering a sensor cleaning service is an opportunity to make real cash, especially with mirrorless product with a short flange back meaning that there is perhaps more chance of accidentally touching a sensor with your fingers when swapping lenses. Admittedly the product cannot clean oil or sand out of the sensor – if that happens it's a call to the manufacturer instead – but for everyday grime buying a sensor kit for around £50 and having a go yourself, or a camera shop charging £50 for the same service, could be the solution. Canon or Nikon may never endorse such a product, but no less an authority than NASA apparently has.
If, like us, your back starts to ache when you've been lugging around a DSLR and lens most of the day, an alternative is provided in the Cotton Carrier Hand Strap. This is a simple strap that attaches to the screw thread at the bottom of your DSLR, the other end looping through the strap lug at the camera top and held in place using Velcro. Having tried it out for a day's shooting with a Nikon D4S it's actually quite comfortable, even if your hand does eventually get a little warm and sweaty if you've secured it particularly tightly. Not only is the strap obviously adjustable in situ once it has been attached to your camera, but because of this it will continue to be workable even if an extra battery grip has been added. Suggested retail price is £24.99.
Photo enthusiasts may be even more enthused by the fact that Intro2020 is the official UK distributor for the Korean company Samyang, in particular its manual focus prime lenses. There are five new lenses to speak of, including a 50mm f/1.4 and 12mm fish eye lens coming August with more on the way. The company itself has been around and producing optics since 1972. The distributor suggests that Samyang lenses make good matches for photographers who also shoot video – or videographers – because manual focus and aperture rings on the lenses means no operational noise. Incidentally, its Tokina lenses are also 4k compatible.
"We've been quite surprised how well video lenses have been selling in the market place and the core photographic retailers are now selling video product," underlines Jim Mackay. "The focal lengths of the lenses are all quoted in full frame 35mm. The manual aspect of Samyang brings people back to the core passion of photography and that dovetails nicely with the popularity of retro type cameras. We believe customers are wanting to get back in control of their cameras."
In addition there are two new lenses for summer 2014 from the Tamron brand that Intro2020 is stocking and supplying to the UK market. These are the previously announced 16-300mm f/3.5-6.3 Di II VC PZD Macro for APS-C cameras, which we were able to try out and is priced at £529, plus the 28-300mm f/3.5-6.3 Di VC PZD for full frame 35mm cameras, for which the cost is still to be decided.  Tamron is also famous for its products such as the super zoom 18-270mm, which is described as the world's most compact 15x zoom.
These new lenses compliment the existing range of Tamron lenses, including the 150-600mm, which is selling at less than £1,000, plus the 90mm portrait lens, and a 24-70mm f/2.8 zoom with image stabilization. The full range of Tamron lenses can be seen on www.tamron.co.uk. Intro2020 described the Tamron lenses as potential 'game changers' and described them as 'SP' Super Performance optics, that possess VC optical image stabilization, USD Ultrasonic Silent Drives, full time manual focus ability, a drip resistant weather sealed design (with rubber seals both at the back of the lens and within the lens construction) and 9-rounded blade aperture. With customers seeking out lighter weight lenses when making their choice these days, according to Intro2020, further peace of mind is supplied via the fact that all Tamron lenses are protected by a five year UK warranty upon registration.
Another brand that Intro2020 markets in the UK is the CamRanger 'camera control system', which has been available since 2012, has been achieving a good level of sales and offers Canon and Nikon compatibility. This unit plugs into your camera via its USB port and offers Wi-Fi for remote control and viewing from up to 150ft away.
Added to the range and with immediate availability is a new CamRanger PT (Pan and Tilt) Hub and Head Kit, retailing for around £250 for which "sales have been exceptional" according to Intro2020's Jerry Martin. This is being bundled with the CamRanger by certain dealers for £500 all in.
Velbon tripods were also covered by Intro2020, the manufacturer's ethos being a maximum amount of height from a minimum amount of gear. One of the newer items here is the UT-63D 'ultimate travel' tripod. This is an aluminium tripod with low level capabilities, lockable legs, and is described as "pretty much all the tripod you'll ever need," Another strong seller, according to Intro2020, the tripod also comes with its own travel case for an SRP of £199.
Also flagged up from the Velbon range was the V4 beam arm, which is sold as a separate item at retail for £84.99, a Velbon Super Mag Slider at £199.99 and an EX Macro tripod at £30.
Further accessories include the Hoya filter range mentioned at the outset of this article. Hoya is pitched as the world's largest optical glass manufacturer, and a brand leader for filter sales (Intro2020 also has the Cokin and Kenko brands). Unsurprisingly ND filters are a huge part of its market, and Hoya markets its own under the 'PRO ND' filter brand. These are going from "strength to strength" according to its distributor, which believes that filters are important for the commercial aspects of the photographic (not to mention video-graphic) industry.
Readers will further be aware of the colourful and waterproof Interceptor shoulder bag range, launched to the UK market at The Photography Show back in March this year, and for which Intro2020 told us that pink has been a big seller, followed by the orange. It has also been asked for further colours including a deep green by photographers who are also bird watchers, one advantage of the Japanese designed, Chinese manufactured range being that they don't obviously look like camera bags and that other products can be stashed in the bag alongside photographic gear, with adjustable and removable inner dividers allowing this to happen. Prices range from £39.99 to £49.99.
New products in each of the categories they already have are being promised by Metz in time for Photokina – another product strand that Intro2020 distributes, and for which there is a range of LED lights, that are not just ideal for video but also for macro close up stills work, in that there are dimmable.  There are several options in 480, 160 and 320 Lux products, at a suggested retail price of £90, £40 and £70 respectively. There are also softboxes to mount on your flashgun from £25 to £30 approximately.
Battery chargers are another useful accessory no self-respecting photographer should be without, and fulfilling this requirement there is another of intro2020's long list of brands in German manufacturer Ansmann. Key products here include a 3-in-1 Travel Adapter that retails for around £18, plus an LED torch. Intro2020 describes Ansmann chargers as "caring and sharing" in that they can closely monitor battery charging and can charge AA batteries in situ, or other devices via USB connection.
Though you may not have known it, high class Steiner binoculars are also supplied by Intro2020, who claim that they are the biggest seller of nautical binoculars in the UK. New here are the Steiner SkyHawk 3.0 binoculars, with prices ranging from £319.99 to £429.99. Described as "the most attractive SkyHawk binoculars ever" and as the name suggests aimed at birdwatchers and naturalists, each model comes with a soft carrying case, neoprene carrying strap, objective lens covers and a rain protection cap.
With video making with a DSLR on the rise, as we have noted, Intro2020 has a few products on offer from Japanese manufacturer Azden, including a stereo two-channel microphone and a shotgun one-channel microphone. These are carried by UK retailers including WEX, Jessops, LCE and Park Cameras. With 'SM' indicating stereo mic, and 'SG' shotgun mic, available for boosting the sound performance of your DSLR when recording video are the SMX-5, which is described as a simple to use, basic stereo microphone at £69. The next step up is its biggest seller in the SMX-10, which is a stereo mic with built-in noise reduction that retails for £99, followed by the SMX-20 a smaller, shorter mic with anti shock mount – which is described as a broadcast quality mic. These are joined by the SGM 990 DSLR shotgun mic, and a couple of wireless microphones in the WLMX Pro, a good option at £200 – in fact Intro2020 claims that "there is nothing else in the market place at this price" – and the best option of the 41-frequency 330 UHF broadcast quality microphone at £660. Further options for those wanting to get serious include audio mixers, with prices around £339 for a mixer that runs off four AA batteries. "Shooting videos for fun is a growing market which has arrived on the back of the popularity of GoPro cameras. We need to bring sound back to retailers and give them a new revenue stream; imaging has to tie into sound," believes Intro's Jim Mackay.
Continuing this theme, Intro2020 is distributing Tokina video/cinema lenses, including a 11-16mm lens that offers users the ability to enjoy a silent zoom and de-coupled aperture settings, as well as 4K video compatibility. Said lens is available for APS-C cameras, Canon EF and Micro Four Thirds fit, and comes with a suggested price tag of £1350.  In addition there is a 16-28mm full frame lens at £4,200 that is more cine video related and available for Canon EF mount.
Additional Intro2020 distributed products include exposure meters in the Germany manufactured Gossen and the made in Japan Polaris (via the Apsen Corporation), which the distributor has recently brought back into the UK. The latter retails for around £150, and the company says that the "bottom end" of the meter market remains buoyant. The Gossen meter meanwhile comes with a promised quality finish and couple of extra features, namely that photographers can work according to f stops rather than shutter speed and can measure contrast. It's also described as nice and small and easy to operate and sells for around £200.
We're on to the home run now, and among the last three products to flag up is the Canon and Nikon only Phottix Strato TTL  5-in-1 flash system. This is an off-camera full TTL system offering up to 1/8000th sec with wireless remote control, enabling the control of flash heads and various flashguns. This is available for around £124 as a kit including transmitter and receiver, or the receivers are available separately for £65. It has a 100 metre range and the technology is described as "reliable".  Alternatively there is the Canon and Nikon compatible, USB equipped Mitros+ flashgun from Phottix, which is being pitched as the "ultimate TTL flash system out of the box" by the distributor. And it comes with a nice bag!
The second-to-last product range to mention comes in the shape of camera bags from Tamrac, recognizable for its logo that is based on the shape of a Californian pine tree. Its UK distributor tells us that the bag market has slightly changed in terms of customer profile, due to the popularity of mirror-less cameras, meaning that there is greater demand for shoulder bag style product. New here are a couple of 'Mirage' lightweight backpacks ideal for the SLR or mirror-less camera at £89 and £99 each. Its recently launched Apache bag range made out of sail cloth is also claimed to be doing very well, with the Explorer the entry level DSLR bag. The bags are covered by a five year warranty, which even includes the zips.
The final current product available via Intro2020 to outline here is the 'Snoot Boot' – a bag/pouch for lenses that is cylindrical in shape and retails for a suggested £26.99. This is manufactured using neoprene and is available in a whole range and variety of sizes (9 in total) to suit. Offering some sort of product symmetry, the WB XXL size easily fits the new Tamron 150-600 zoom lens.
Your Comments