DIWA Gold for Panasonic LUMIX DMC-G1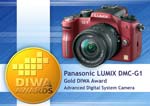 DIWA (Digital Imaging Websites Association) has honoured the Panasonic LUMIX DMC-G1 with a prestigious Gold Award. Kai Thon, test manager of DIWA Labs, commented: "Our unbiased, computer generated lab measurements reveal that the G1 delivers premium overall image quality, and the LUMIX G VARIO 14-45mm / F3.5-5.6 ASPH. / MEGA O.I.S. Standard zoom lens outperforms any of its rivals. The G1 may look simple, but it acts and performs on par with most comparable D-SLR's."
DIWA Press Release
First system camera without mirror proves its quality
DIWA (Digital Imaging Websites Association) honours the Panasonic LUMIX DMC-G1 with a DIWA Gold Award. The prestigious DIWA Awards are issued on the basis of scientific test results from the DIWA Labs and evaluations on more than 200 different criteria carried out by DIWA members. The revolutionary and ultra-compact 12.1 Megapixel Panasonic LUMIX G1 is the first camera featuring the Micro Four Thirds System standard, and the first mirrorless system camera of its kind. Instead, a large, high resolution electronic viewfinder and a 3-inch vari-angle LCD monitor provide permanent Live View. Yet, the G1 challenges today's most compact digital SLR cameras in terms of size and weight. DIWA experts also appreciated the camera's outstanding image quality, smart design and innovative possibilities.
A new segment of digital cameras was created with the introduction of the 12.1 Megapixel Panasonic LUMIX DMC-G1, a revolution in the fast growing digital imaging market. The Micro Four Thirds System standard makes the mirror obsolete, thus keeping the camera ultra compact, yet offering the advantage of interchangeable lenses. The traditional mirror reflex optical viewfinder has been replaced by two Live View options; a 1,440,000-dot equivalent high resolution electronic viewfinder, and a 3-inch vari-angle high resolution LCD monitor. Apart from its unique construction features, DIWA experts also praise the small and light-weight body of only 385 grams. Extensive analysis from the DIWA Labs show that the Panasonic LUMIX G1's image quality matches comparable D-SLR cameras in most respects. Thanks to its remarkable Intelligent Auto mode, the camera automatically optimizes any setting according to the situation and the lens integrated MEGA Optical Image Stabilizer automatically compensates for every shake or bump. Dust that may have entered the camera during lens change is effectively removed by the built-in Dust Reduction System to secure spotless images.
DIWA Labs test conclusion Kai Thon
Kai Thon, test manager of DIWA Labs, concludes: "The announcement of the Panasonic LUMIX DMC-G1 created deserved attention and curiosity, and it's a pleasure to confirm that the G1 surpasses even the most optimistic expectations. Our unbiased, computer generated lab measurements reveal that the G1 delivers premium overall image quality, and the LUMIX G VARIO 14-45mm / F3.5-5.6 ASPH. / MEGA O.I.S. Standard zoom lens outperforms any of its rivals. The G1 may look simple, but it acts and performs on par with most comparable D-SLR's. Novices may enjoy excellent images thanks to Panasonic's amazing "iA" fully automatic program mode, a setting that challenges even the most experienced users."
About DIWA
The Digital Imaging Websites Association (DIWA) is a fast growing group of independent Web-based specialist publications dedicated to digital imaging. DIWA harnesses the collective talent and expertise of its members, resulting in industry awards that command unparalleled confidence and value, both for consumers and the industry alike. DIWA awards come in the form of bronze, silver and gold medals for various product categories.
DIWA Test scoring procedure
DIWA product test awards are exclusively decided through the analysis of multiple test scores from different DIWA testers, testing different samples of the same product. A very detailed and comprehensive standardized scoring procedure is employed, tailored carefully for each category of product. Multiple testing eliminates the chance of an isolated, unrepresentative product sample or test error or a hidden bias from affecting the trustworthiness of the overall result. DIWA is also unique in its policy in issuing awards for deserving products throughout the year, culminating in annual best of the year Platinum medal awards in all product categories.
DIWA Awards members
• Czech Republic: www.fotoaparat.cz
• Germany: www.digitalkamera.de
• Hungary: www.fotovilag.hu
• Netherlands:  www.letsgodigital.org
• Norway: www.digit.no
• Poland: www.fotopolis.pl
• Slovenia: www.e-fotografija.com
• Spain: www.nuevafotografia.com
• United Kingdom: www.photographyblog.com
DIWA multi-lingual Web site
At the heart of the DIWA organization is its multi-lingual Web site, www.diwa-awards.com, with links to the latest reviews published by DIWA member publications. The site also archives DIWA awards and is designed to aid consumers in their choice of imaging products. Unbiased test results by DxO Analyzer of the image quality are available at: www.diwa-labs.com
Your Comments