DIWA Gold for Sony Alpha 100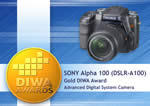 DIWA Press Release
Last summer, Sony launched their first digital SLR camera; the 10.2 Megapixel DSLR-A100. Numerous DIWA web sites have tested and evaluated the camera's improved Super SteadyShot CCD shift image stabiliser, automatic sensor dust removal, D-Range Optimizer, Zone Matching metering and many other fine features. The Alpha 100 also delivers high image quality, a user-friendly design, and excellent value for money.
Amsterdam, January 9th, 2007 : DIWA (Digital Imaging Websites Association), a world-wide organisation of collaborating websites, today announces a DIWA Gold Award to the Sony Alpha 100 for high overall performance at a most competitive price.
Sony's purchase of Konica Minolta's camera division gave the electronics giant a flying start into the fast growing D-SLR market. Based on the popular Dynax/Maxxum/Alpha single-lens reflex cameras from Konica Minolta, the Sony Alpha 100 could instantly offer a full range of high quality lenses and accessories. Moreover, their well renowned partner Carl Zeiss of Germany also participates in building the Sony Alpha system. Photographic perfection through simple handling is a key element to the Alpha 100, according to the DIWA experts. To make this possible, the Alpha 100 is equipped with several unique technological advances to satisfy newcomers as well as experienced photographers. First of all, the original CCD Shift Image Stabiliser has been improved to allow handheld shooting with up to 3.5 steps longer shutter speeds than normal, ensuring sharp images in most situations. The sensor even shakes to remove potential dust particles. Other highly efficient features are the Dynamic Range Optimizer and the Zone Matching system, both designed to make shooting in difficult lighting conditions easy for anyone.
Inside the large and bright viewfinder, 9 focusing points are displayed and an Eye-Activated AF system starts focussing the instant your eye is placed to the viewfinder eyepiece. With the successful aim to make the Alpha 100 one of the fastest cameras in its class, Sony designed the new BIONZ image processor. Thanks to its power and clever algorithms, image processing is fast enough to allow continuous 10 MP burst shooting at 3 fps, and incredibly fast USB 2.0 High Speed image download. Camera control information and image playback are available on the detailed and bright 2.5" LCD-screen. Obviously, all shooting modes are on hand, including six scene programs, as well as RAW+JPEG formats and sRGB/Adobe RGB colour space and many other advanced settings.
Test results from the international DIWA group of experts concluded that Sony could hardly have made a more promising debut than with the Alpha 100. Overall camera performance and a competitive price tag were highly rated issues in the sophisticated DIWA Score Board, with a total sum qualifying for a DIWA Gold Award.
About DIWA
A fast growing independent, authoritative, industry organization
The Digital Imaging Websites Association (DIWA) is a fast growing group of independent Web-based specialist publications dedicated to digital imaging. DIWA harnesses the collective talent and expertise of its members, resulting in industry awards that command unparalleled confidence and value, both for consumers and the industry, alike. DIWA awards come in the form of bronze, silver and gold medals for various product categories.
Unique bullet-proof test scoring procedure
DIWA product test awards are exclusively decided through the analysis of multiple test scores from different DIWA testers, testing different samples of the same product. A very detailed and comprehensive standardized scoring procedure is employed, tailored carefully for each category of product. Multiple testing eliminates the chance of an isolated, unrepresentative product sample or test error, or even hidden bias, from affecting the trustworthiness of the overall result.
Awards throughout the year
DIWA is also unique in its policy in issuing awards for deserving products throughout the year, culminating in an annual best of the year Platinum medal awards in all product categories.
DIWA Awards members:
- Canada: www.photoxels.com
- Czech Republic:  www.fotoaparat.cz
- Germany:  www.digitalkamera.de
- Hungary: http://www.fotovilag.hu
- Netherlands:  www.letsgodigital.org
- Norway:  www.digit.no
- Poland:  www.fotopolis.pl
- Slovenia:  www.e-fotografija.com
- Spain:  www.nuevafotografia.com
- Turkey:  www.diginorm.com.tr
- United Kingdom:  www.photographyblog.com
The DIWA multi-lingual Web site
At the heart of the DIWA organisation is its multi-lingual Web site, www.diwa-awards.com, where you can find links to the latest reviews published by DIWA member publications. The site also archives DIWA awards and is designed to aid consumers in their choice of imaging products.
For further information about DIWA please visit our Web site - http://www.diwa-awards.com - or email us at [email protected]
Your Comments