DIWA Innovation Award for Casio Exilim Pro EX-F1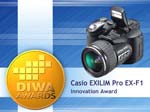 DIWA (Digital Imaging Websites Association) has given a DIWA Innovation Award to the Casio Exilim Pro EX-F1 camera. The EX-F1 is capable of ultra-high speed shooting of 60 frames per second for 6 megapixel still images. Kai Thon, DIWA's test manager, says: "Casio initiated the digital amateur photo age about a decade ago with its legendary QV-10. Since then, digital cameras have gradually become faster, even amateur models are nowadays capable of shooting several frames per second. With the EX-F1, Casio more than tenfold the top speed of the currently fastest competitor. That's truly innovative!"
DIWA Press Release
Another milestone in Casio's legacy as a leading contributor to the digital imaging world will be set this year. With the Casio Exilim Pro EX-F1 megazoom camera, ultra-high burst shooting speed will be available to the consumers for the first time. This remarkable achievement has now received the prestigious DIWA Innovation Award.
Amsterdam, 6. March 2008: Exploring new ideas and being innovative is more important than ever for manufacturers to get attention in today's competitive digital imaging market. DIWA Awards recognise these strives and honour innovative technological achievements in areas such as image quality, performance and ergonomics, as well as storage, user interface etc. However, true innovations should break new grounds and be more than just marginal improvement.
DIWA (Digital Imaging Websites Association), a world-wide organisation of collaborating websites, today has the pleasure of announcing a DIWA Innovation Award to the Casio Exilim Pro EX-F1 megazoom camera. Its extraordinary High Speed image capturing capabilities introduce a new and exciting feature to the amateur market and open a world of new possibilities to the photographer.
Since the initial announcement of the Casio Exilim Pro EX-F1 last year, the camera has received deserved acclaim, and its true potential was first demonstrated at the recent PMA 2008 convention in Las Vegas. The EX-F1 is capable of Ultra-high speed shooting of 60 frames per second for 6 MP still images, and 1,200 fps high speed movie recording. Such shooting speeds have previously only been available in professional scientific equipment, but the EX-F1 makes it available to the mass consumer market for the first time. It can even shoot images before the release button is pressed! This true innovation elevates the Casio Exilim EX-F1 to a position high above any other camera in its price range. Add to this a fast 12x zoom lens with 5 cm macro, high-speed flash of 7 fps, fully automatic and manual controls, RAW file format, Face Recognition, High Definition movie with stereo sound, 2.8" widescreen LCD, and much more.
Kai Thon, DIWA's test manager, says: "Casio initiated the digital amateur photo age about a decade ago with its legendary QV-10. Since then, digital cameras have gradually become faster, even amateur models are nowadays capable of shooting several frames per second. With the EX-F1, Casio more than tenfold the top speed of the currently fastest competitor. That's truly innovative!"
About DIWA
The Digital Imaging Websites Association (DIWA) is a fast growing group of independent Web-based specialist publications dedicated to digital imaging. DIWA harnesses the collective talent and expertise of its members, resulting in industry awards that command unparalleled confidence and value, both for consumers and the industry alike. DIWA awards come in the form of bronze, silver and gold medals for various product categories.
DIWA Test scoring procedure
DIWA product test awards are exclusively decided through the analysis of multiple test scores from different DIWA testers, testing different samples of the same product. A very detailed and comprehensive standardized scoring procedure is employed, tailored carefully for each category of product. Multiple testing eliminates the chance of an isolated, unrepresentative product sample or test error or a hidden bias from affecting the trustworthiness of the overall result.
Awards throughout the year
DIWA is also unique in its policy in issuing awards for deserving products throughout the year, culminating in annual best of the year Platinum medal awards in all product categories.
DIWA Awards members
• Czech Republic: www.fotoaparat.cz
• Germany: www.digitalkamera.de
• Hungary: www.fotovilag.hu
• Netherlands: www.letsgodigital.org
• Norway: www.digit.no
• Poland: www.fotopolis.pl
• Slovenia: www.e-fotografija.com
• Spain: www.nuevafotografia.com
• United Kingdom: www.photographyblog.com
DIWA Awards multi-lingual Web site
At the heart of the DIWA organisation is its multi-lingual Web site, www.diwa-awards.com, where you can find links to the latest reviews published by DIWA member publications. The site also archives DIWA awards and is designed to aid consumers in their choice of imaging products. Unbiased test results by DxO Analyzer of the image quality are available at: www.diwa-labs.com
DIWA contact details
For more information about DIWA, please visit our website: http://www.diwa-awards.com or send us an email: [email protected]
Your Comments