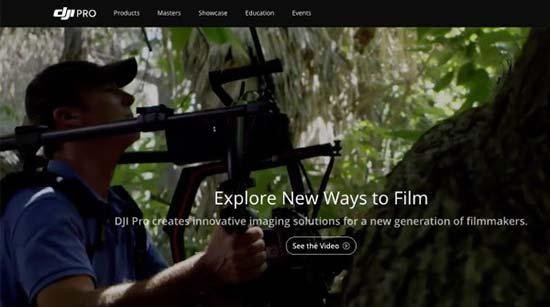 DJI has launched the new DJI Pro website for cinematographers and filmmakers around the world.
DJI Europe Press Release

DJI Launches DJI Pro Website for Professional Cinematographers and Filmmakers

DJI, the world's leader in creative camera technology, today launched the new DJI Pro website https://pro.dji.com. Since the introduction of the Z15 three-axis aerial gimbal in 2014, DJI has been committed to providing reliable and easy-to-use tools for creative visionaries. The DJI Pro website continues that commitment, providing a comprehensive user experience for cinematographers and filmmakers around the world.
"Since the creation of the first Phantom to the Inspire and Ronin series, DJI has been dedicated to creating intuitive tools for every level of filmmaker," said Ti Xie, Public Relations Director at DJI. "With the launch of the DJI Pro website, we now have a dedicated location where customers can learn about the application of our professional products and we also provide a learning-based platform for users to receive the latest information. We will continue to make more reliable, industry-leading tools for our growing customer base."
DJI Pro is dedicated to professionals using DJI's advanced aerial and gimbal technologies, such as the Inspire and the Ronin series. The new website consists of five categories:
Product Information: Explore DJI products.
DJI Masters Program: Learn from professional cinematographers with unique insights into the industry as well as the innovative imaging technology they use. Watch the DJI Master film on the pioneer of aerial photography and film-maker Yann Arthus-Bertrand, learn how Claudio Miranda, or Rodney Charters use the DJI Pro line.
Showcase:Find out how DJI products are being used on film sets.
Education: Learn about how to setup and use each product.
Events: Get the latest info on DJI, local events, workshops and more.
To learn more about DJI's professional products, please visit http://pro.dji.com.
DJI is a global leader in developing and manufacturing civilian drones and aerial imaging technology for personal and professional use. DJI was founded and is run by people with a passion for remote-controlled helicopters and experts in flight-control technology and camera stabilization. The company is dedicated to making aerial photography and filmmaking equipment and platforms more accessible, reliable and easier to use for creators and innovators around the world. DJI's global operations currently span across the Americas, Europe and Asia, and its revolutionary products and solutions have been chosen by customers in over 100 countries for applications in filmmaking, construction, emergency response, agriculture, conservation and many other industries.
Your Comments