Doug Harman's Guide to Digital Photography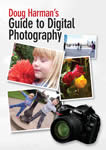 US3 Media Press Release
Want to learn how to take better digital photographs, get the most from your equipment, and retouch images on a PC? Doug Harman's Guide to Digital Photography DVD is an easy to follow visual guide that walks beginners and photo hobbyists through the key steps. A range of digital cameras and digital photo techniques blend with inspirational images to illustrate the basics of digital photography. Beginning with an examination of the types of digital cameras available, the 'hands on' programme takes the viewer outdoors to capture a winning shot, then moves into the digital darkroom, where the basics of connecting your camera to a computer, using a printer and image editing are expertly explored.
Not just for Christmas, Doug Harman's Guide to Digital Photography is a recommended companion both for those starting out in digital photography, and for hobbyists who want to learn that little bit more about their passion.
The first photography DVD release from US3 Media in association with Screen Icon, Doug Harman's Guide to Digital Photography is priced at £13.99 and available for purchase via dedicated site www.digitalphotographydvds.co.uk
Doug Harman
A long-standing expert on the subject of photography, Doug's a regular contributor to a broad range of national consumer publications including What Digital Camera, Amateur Photographer, Professional Photographer and Photography Monthly. He is also author of the best-selling Digital Photography Handbook and Snap It! (A guide to using your camera phone), plus a founding editor of the authoritative technology reviews web site www.best4reviews.com .