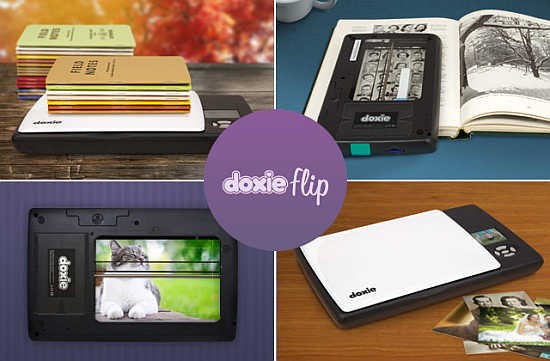 The Doxie Flip is new battery-powered, cordless A6 scanner that flips over to perfectly capture photos, The scanner features a
clever transparent scanning window and quick release removable lid, so you can place it directly on old photo albums, fragile originals, and other objects that are otherwise difficult to scan and see through directly to what you're scanning. For large originals, Doxie's patented AutoStitch feature (available this December with a free software update) takes multiple, overlapping scans and stitches them together, so you can scan everything – even large surfaces and huge framed prints. The new Doxie Flip is available starting today for $149 / €139 / £119.

 
Website: Doxie
Doxie Press Release
Doxie Flip. Scan your story.
Introducing a new kind of Doxie – it's not for going paperless.
The new Doxie captures your creativity and history in an inventive new way. We've reimagined the old flatbed scanners of the past to bring you something special: an incredible, battery-powered mobile scanner that flips over to scan everything.
It's the ideal way to scan and preserve old photo albums, keepsakes, sketchbooks, drawings, Field Notes pocket notebooks, and much more – everywhere you go.
Say hello to the new Doxie Flip. Available today for just $149.
Scan everywhere. Doxie Flip is cordless, battery-powered, and just about the size of a book. It's perfectly designed and sized to capture photos, memories, old photo albums, creative ideas, keepsakes, and pocket notebooks. Every scan looks amazing. Once you've scanned, download from the included SD card to the Doxie app to organize and share.
Flip Doxie over, see through, and scan everything. True to its name, Doxie flips over to scan everything. Doxie features a clever transparent scanning window and a lid that pulls right off, so you can flip Doxie over and safely place it directly on your originals. Look through to line up your scan perfectly. For big surfaces, Doxie's patented AutoStitch feature stitches multiple scans together into one giant image (free software update coming in December). 
Capture notebooks and sketches. Doxie is ideally designed for capturing pocket notebooks - scan sketches, notes, and artwork with amazing clarity. It's the perfect companion for Field Notes™ brand pocket notebooks. And for a limited time, buy Doxie direct from Doxie USA and get our exclusive Field Notes custom edition.
Doxie Flip scans your story. Now shipping. Doxie Flip captures your creativity and history. It's available starting today for just $149 (or about that price worldwide) – in stock now from online retailers in the USA, Canada, Continental Europe, and the United Kingdom.
Doxie Flip is now in stock worldwide.
Your Comments