DSLR Camera Prices Falling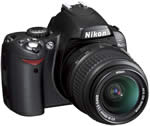 The price of DSLR cameras is steadily falling, according to a recent report by Futuresource Consulting. The average selling price of DSLRs in Europe has dropped by 1.6% (20 Euros) in the past ten weeks, to just over 1,250 Euros. The largest decreases have been in the in the 6-7 megapixel segment, with the Nikon D40 (pictured) now 7% cheaper than 10 weeks ago. Interestingly the recently launched Olympus E-420 is already 4.5% cheaper. "...large like for like price declines did have a significant impact on the market in 2007, with overall digital camera shipments growing 25% globally. In terms of 2008 growth the DSLR market outlook looks particularly strong, with Futuresource projections showing growth of 19% to 8.9m units, equating to €5.4Bn worldwide, this despite the credit crunch." commented James Wells, Futuresource Consulting.
Futuresource Consulting Press Release
Focus on Digital SLR Market Movements
According to Futuresource Consulting's weekly price tracker system, the average selling price (ASP) of Digital SLR cameras across EMEA has witnessed a decline of 1.6% (20 Euros) in the past ten weeks, dropping to just over 1,250 Euros as of last week.
"Our price tracking system shows that some of the largest decreases in ASP appear in the 6-7MP pixel segment," says Adam Cox of Futuresource Consulting. "This group has seen a decline of nearly 8%, just short of 50 Euros, over the past 10 weeks.
"With most newly-launched DSLRs occupying the 10MP segment, which is experiencing relatively slow price erosion, older models such as the 6.1MP Nikon D40 are remaining price competitive. In fact, over the past 10 weeks this particular model's ASP has decreased by more than 7%."
The 10+MP segment now accounts for the bulk of the DSLR market, and the average selling price is dropping relatively slowly: less than 3% in the last ten weeks. The Olympus E-420 is a strong example of a DSLR camera from this segment, and it has witnessed a decline in ASP of just over 4.5%.
"Continued aggressive pricing of compacts and DSLRs is having an impact on the value of the camera business," says James Wells, Futuresource Consulting, "although as margins continue to be squeezed, the industry will find it increasingly difficult to rely on price cutting to encourage consumers to upgrade.
"However, large like for like price declines did have a significant impact on the market in 2007, with overall digital camera shipments growing 25% globally. In terms of 2008 growth the DSLR market outlook looks particularly strong, with Futuresource projections showing growth of 19% to 8.9m units, equating to €5.4Bn worldwide, this despite the credit crunch."
Source: Futuresource
Your Comments