DSLR eBook Series Expands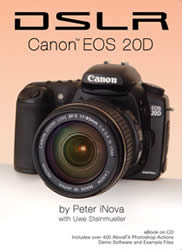 Digital Secrets Press Release
Drawing on the twin facts that every camera model is unique and every photographer has his or her individual levels of expertise, the DSLR series of premium eBooks is growing. Professionals and advanced enthusiast photographers will appreciate the depth and sharply focused insights these eBooks bring. All of the titles are the modern outgrowth of the most highly acclaimed camera eBooks in all of digital photography.

Authors iNova and Steinmueller introduce the fourth in the DSLR eBook shelf of interactive digital photography titles, completing the series on the Canon affordable digital single lens reflex cameras. The eBook series is read on both Windows and Macintosh computers with equal ease. Although each title concentrates on the unique features of a specific model of camera, the whole eBook covers the science, technology, art and creative aspects of digital photography as applied to that particular camera. Interactive features achieve demonstration, illustration and hyperlink functions from elements embedded right in the text and images.
You can learn more about all of these eBooks while saving $6.50 on all forms of shipping (making US delivery free) here: DSLR eBooks
All four volumes go well beyond the camera manuals exploring each camera button-by-button, feature-by-feature and menu-by-menu with an eye toward the creative photographic relevance of every option. Interactive images embedded in the pages present A/B/C examples—and even animated movies that show how these DSLRs can shoot more than just still images. The eBook format is visually ultra-resolution. All images are displayed with as much as 400% enlargement possible on a computer screen before pixels can be resolved—far higher resolution than any printed magazine or book.

The first in the series was DSLR: Nikon D70, a deep investigation and analysis of digital photography with this world-class camera that led one Nikon executive to write, "The D70 eBook is done incredibly well. Better than anything we've seen. I'm asked to review a good deal of these (third party publications) and yours smokes them". That eBook has gone on to become a Best Seller. Canon's Digital Rebel, Digital Rebel XT and 20D cameras have now followed suit.

"Each of these eBooks brings the advanced enthusiast and professional photographer a wide range of techniques, secrets and non-obvious procedures that will help them with almost every photograph," said Peter iNova, author and original designer of the photographic eBook format, "The camera manuals tell you what each button does; we try to give you insight into when and why you need that attribute or function or nuance.

"Our goal for the series is to cover the leading digital cameras that are marketed to the discriminating DSLR system photographers, both enthusiast and professional. These eBooks are not like manuals, because they take long, detailed examinations of their subject cameras specifically for their wider role in digital photography."

Each eBook includes a penetrating study of vision, optical principles, digital imaging history and digital darkroom techniques before getting into the subject camera. The biggest section of each eBook is the camera operations chapter where every feature is seen in the context of image gathering and adding to a photographer's graceful implementation of solutions to imaging challenges.

"These days,'" said iNova, "it's 'so many buttons; so little time.' And I mean that in the literal sense. Anybody who has shot sports or kids knows that there isn't time to fuss with the camera. You have to know when to push each button and why. We try to relate every function and option to how it helps your shot right this instant."

For the advanced enthusiast and professional photographers a second included volume, RAW Materials by Uwe Steinmueller, gives penetrating insights into digital photography's greatest file format.

Included in the camera operations chapter is a large cross-reference evaluating lenses both from the manufacturer and third-party sources. Recommendations and cautions abound.

Advanced photographers will appreciate sections that deal with the science of light and vision, the computation (and handy charts) of depth of field and the diffraction issues that can reduce lens performance dramatically.

"We try to instill a gut-level appreciation of the twenty or so rules photographers should never break, while emphasizing the thousand or so creative options that will help," said iNova.

To aid in a photographer's expanding experience base, a 22-page self-directed digital photography course gives the reader a wide range of challenges and clues on how to become one's own best critic. Other chapters present solutions to photography's most frequent and most vexing puzzles. Issues of printing, special effects, lighting and eye training are widely discussed.

Each eBook comes with original Photoshop software routines customized for the subject camera. Hundreds of them can be loaded into the full versions of Photoshop for immediate implementation.

These are iNovaFX Photoshop Actions that are recordings of long strings of operations and settings. When 20 to 100 or more steps are precisely followed, Photoshop can achieve some amazingly useful results.

"You can't write that many steps on a page and expect people to follow each and every step without a single stumble," said iNova, "that's what computers are for. So we include the entire current suite of exclusive iNovaFX Photoshop Actions with each eBook. Now there are over 500 of them."

Some iNovaFX Actions are generic and can be used with any digital images. Nearly 200 of them are specific to the camera, adapted to or re-written for individual color characteristics, individual lenses or retailored for a specific camera mode that may not appear on other models.

There are Actions that correct, enhance, convert, embellish, frame and filter images, plus others that defy categories. Color correction, complex barrel distortion correction, ISO push processing, noise reduction, chromatic aberration fixing—all are included. Along with these are many that perform functions previously only achievable with glass filters. Cross star effects, grad filters, atmospheric haze elimination, vignette effects, polarized skies—all can be performed in Photoshop 6, 7, CS and CS2 with the right iNovaFX Action. Adding to these are a large number of digital darkroom effects and print preparation Actions, too. The chapter describing them is over 30 pages long.

Professional photographic illustrators will also appreciate the 108 Actions that convert color images into graphic results that emulate B&W film treatments, change photographs into graphics, paintings, sketches and effects that transcend previous wet darkroom image interpretations.

Owners of Photoshop Elements will appreciate the expanded chapter of PSE iNovaFX adaptations for that program in the Canon eBooks. Twenty pages of step-by-step techniques describe over 60 useful formulas for that program.

New in the Digital Rebel XT and EOS 20D eBooks are a series of Actions that emulate recent Hollywood major effect movie visual treatments. One can experiment with effects from The Aviator, Sky Captain and the World of Tomorrow and Sin City. There are even Actions that absolutely flatten out fisheye lenses, print up to 16 different pictures on a single letter page and turn your digital image into what looks like a sheet of 4 x 5 sheet film.

DSLR: Nikon D70, DSLR: Canon Digital Rebel, DSLR: Canon Rebel XT and DSLR: Canon EOS 20D are available now with the 20D eBook shipping on November 7, 2005 and pre-orders being gathered now. Each eBook contains from 485 to over 500 pages in two volumes with over 500 iNovaFX Photoshop Actions and 1200+ images, charts, tables, animations and illustrations. Macintosh and Windows Adobe viewing programs are included along with numerous demo programs, tutorial and practice images.