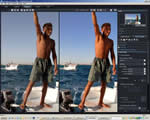 PMA 2007: DxO Optics Pro 4.2 adds SmartVibrancy, a new intelligent color feature which selectively intensifies the colors in an image. This free upgrade for all existing version 4 users also includes Flickr connectivity (available in the near future), Windows VISTA support and more. Pricing of full versions of DxO Optics Pro v4.2 remains unchanged.
DxO Press Release
New DxO Optics Pro v4.2 Extends Color Capabilities with Unique SmartVibrancy Feature
Las Vegas, Nevada - March 8, 2007 - PMA 07 Booth #J271 - DxO Labs today announces the immediate availability of the new version of its flagship product - DxO Optics Pro 4.2 - for both Windows and Macintosh computer systems. Enriched with exclusive features and supporting VISTA - Microsoft's latest operating system, DxO Optics Pro v4.2 software demonstrates DxO's continued commitment to providing photographers worldwide with an unrivalled set of digital imaging software tools.
SmartVibrancy: Stunning colors under control by DxO
A new intelligent color feature makes its debut in version 4.2 - SmartVibrancy - which selectively intensifies the colors in an image to make it more appealing while avoiding undesirable side effects. Digital photographers will often modify color saturation or the tone-curve of an image to achieve more pleasing results. But without spending considerable time on each image, such an approach can quickly lead to overstated and unsatisfactory results. Developed by DxO Labs, SmartVibrancy overcomes this difficulty by acting selectively on different colors thus preserving key values such as skin-tones.
Increasing SmartVibrancy in DxO Optics Pro v4.2 enables photographers to:
Give more zest and visual energy to images that are otherwise too dull.
Reduce the effect of atmospheric haze which often makes images seem "flat".
Deepen skies and produce more creative and appealing impressions without incurring exaggerated color shifts, especially on skin-tones.
SmartVibrancy can also be decreased to rescue images where the original displays over-saturation, especially of faces and other skin-tones.
Free DxO plug-in for automatic Flickr export
In addition, DxO Optics Pro v4.2 has become web-enabled thanks to a free plug-in allowing automatic login, tagging and uploading of processed images to the widely popular Flickr photo-sharing website. The whole process of sharing DxO processed photos on the World Wide Web thus becomes easier, faster and smoother. This feature will be available in the near future.
Microsoft VISTA compatibility and other improvements
Version 4.2 of DxO Optics Pro also brings full compatibility with the Windows VISTA operating system. Finally a number of user interface improvements in particular for the perspective correction tools have been implemented in version 4.2 and the precision available when making geometric adjustments has been increased. These can now be made in increments of 1/100th of one degree.
Pricing and availability
DxO Optics Pro v4.2 is available immediately from the DxO Labs e-store (www.dxo.com) as well as from selected distributors and resellers worldwide. Version 4.2 is a free upgrade for all owners of DxO Optics Pro v4.0 or later. Upgrades are available on www.dxo.com.
Pricing of full versions of DxO Optics Pro v4.2 remains unchanged:
DxO Optics Pro v4 Starter: € 64, £ 49
DxO Optics Pro v4 Standard: €124, £ 99
DxO Optics Pro v4 Elite: € 249, £ 199
(All prices are excluding sales taxes)
Operating System Requirements
DxO Optics Pro 4.2 is available for Windows 2000, XP or VISTA as well as for Apple Macintosh OSX 3.9 or later. On Apple Macintosh, DxO Optics Pro 4.2 is available as a universal binary and optimized for Intel-Mac processors.
 
About DxO Labs
DxO Labs offers products and solutions ensuring excellence in digital imaging. DxO Labs develops and licenses intellectual property serving the entire digital imaging chain: licensing of optics and silicon architectures for embedded still and video image processing; image quality evaluation and measurement tools and methodologies; image quality enhancement software for consumers. The company's key customers and partners include:
Consumer electronics manufacturers such as digital camera vendors and cameraphones vendors;
Imaging components suppliers: camera module manufacturers, sensor vendors, and processor vendors;
Demanding photographers, as well as photography journalists and imaging experts.
DxO Labs' product portfolio is steadily finding a place at the heart of advanced consumer electronics and world-class industry imaging systems where "Image Science by DxO" becomes a reference for quality.
For more information, visit DxO Labs online at www.dxo.com.
In the UK and Ireland, DxO Optics Pro is distributed by Alpha-Digital Services http://www.alphadigitalservices.co.uk
Your Comments