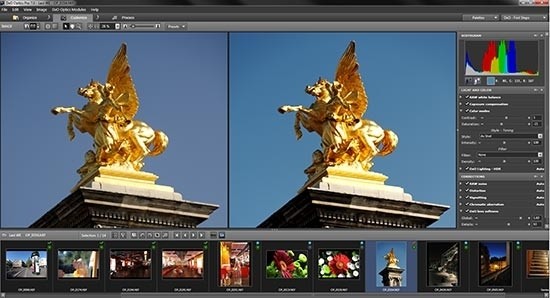 DxO Labs have released DxO Optics Pro v7.5, which functions as a native 64-bit application under both MacOS and Windows. Thanks to this, DxO Optics Pro 7.5 can handle much larger files, among them those of the Nikon D800. Additionally, the interface of the Windows version has been enhanced with numerous new features-
Website: Dxo Online Store
Dxo Press Release
DxO Optics Pro v7.5: support for the D800 and increased performance
23/05/2012
Substantially revised to function as a native 64-bit application, DxO Optics Pro v7.5 offers much faster previews and processing, and handles much larger files, for increased productivity.
DxO Optics Pro v7.5 is now faster overall, including quicker processing, and can handle much larger files, among them those of the Nikon D800 and its 36-megapixel full-frame sensor*.
*Given the file sizes of the D800, this camera is supported only by the 64-bit version of DxO Optics Pro v7.5. (Requires a 64-bit system.)
The lab: the secrets of DxO optical corrections
Thanks to its library of more than 6,000 optics modules, DxO Optics Pro automatically corrects all optical flaws such as distortion, vignetting, chromatic aberrations, and lack of sharpness - with a level of incomparable quality.
DxO optics modules are developed in our labs through a scientific calibration process for each combination of cameras and lenses. They contain tens of thousands of digital data points about the intrinsic limitations of each piece of equipment. This allows DxO Optics Pro to apply corrections that are perfectly tailored to each image.
Enjoy an exclusive behind-the-scenes video visit to our laboratory and discover the different steps of DxO Labs' calibration process.
Numerous improvements to the interface
The interface of the Windows version of DxO Optics Pro v7.5 has been enhanced with numerous features to make it even more pleasant to use.
The Move/Zoom palette has been optimized and aligned with that of the Mac version to permit better image visibility.
New for Windows:
  * The image filter menu has been improved to allow easier and quicker photo selection.
  * With Windows 7, it is possible to see the processing progress in the task bar.
  * Many other small improvments, notably additional keyboard shortcuts.
An improved activation system
DxO Optics Pro v7.5 is equipped with a new activation system that is more flexible for customers. Using fewer memory resources, the application start-up in Windows is much faster, making everyday use easier.
Your Comments