EISA Award for Tamron 17-50mm Lens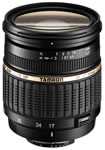 Tamron Press Release
Honor Marks Tamron's 8th Time to Receive This Most Prestigious and Internationally Recognized Award
August 17, 2006, Omiya, Japan — The SP AF17-50mm F/2.8 XR Di II LD Aspherical (IF) (Model A16), a lightweight, compact and fast zoom lens designed for exclusive use with digital SLR cameras equipped with APS-C sized image sensors, which was launched by Tamron on May 15, 2006, has been selected as the winner of the EISA Photo Award – European Consumer Lens of the Year 2006-2007. The lens was highly evaluated by the editors-in-chief and technical editors of leading photographic magazines in Europe as an easy-to-use, high performance and fast standard zoom lens featuring the latest optical design technologies.
The digital lens covers the focal length range equivalent of 26-78mm when converted to the 35mm format and provides a wider angle of view than ordinary standard zoom lenses while featuring an F/2.8 fast maximum aperture and a minimum focus distance of 0.27m (10.6") over the entire zoom range.
About EISA Awards
EISA Awards are given each year to the best products in photographic, audiovisual, video and mobile product categories as voted by EISA (European Imaging and Sound Association) panels consisting of editors-in-chief and technical editors of 52 leading and influential magazines in 19 European countries that specialize in photography, audio, video and mobile electronics products. The EISA award is recognized as one of the most prestigious international awards a product in the said specific categories can receive.
MAIN FEATURES
? Lightweight, Compact Fast Standard Zoom Lens is Designed Exclusively for Digital SLR Cameras, with 17mm Wide Angle Coverage
Exclusive design for digital SLR cameras achieves a fast standard zoom lens that covers virtually the same angles as focal lengths of 26-78mm when converted to a 35mm format. The wide-angle focal length is established at 17mm (26mm equivalent) to obtain a wider angle of view than ordinary standard zoom lenses, while maintaining the remarkably lightweight and compact size of the earlier full frame zoom lens model. Since the lens is designed exclusively for APS-C sized digital cameras, the image circle diameter has been reduced. Moreover, careful adjustments to the design have achieved a lightweight, compact body with a filter diameter of ?67mm, overall length of 83.2mm (3.3")*, and weight of 430g (15.2oz.)* .
* Values given are for Nikon mount.
? Optical System Uses Special Glass, and Is Optimized for Digital SLR Characteristics to Enhance Optical Quality in a Compact Design
The use of XR (Extra Refractive Index) glass in an innovative way optimizes the overall distribution of optical power, and also reduces various aberrations to the absolute minimum while achieving remarkable compactness. In addition, suitable positioning of two hybrid aspherical elements serves to maintain imaging performance and to shorten and compress the entire optical system. Furthermore, an LD (Low Dispersion) glass element is used to accomplish effective compensation of on-axis and lateral chromatic aberrations, a critical factor for enhancing optical quality in digital photography, in order to achieve outstanding optical performance over the entire zoom range.
? Minimum Focus Distance of 27cm (10.6") over the Entire Zoom Range Affords a 1:4.5 Macro Capability
The new lens achieves a minimum focus distance of 27cm (10.6") over the entire zoom range, one of the best in its class among fast standard zoom lenses with an F/2.8 maximum aperture throughout the entire zoom range used exclusively for digital SLR cameras with APS-C sized image sensors. The maximum magnification ratio of 1:4.5*1 at the 50mm setting is the top level in its class.
*1 Since APS-C sized image sensors are smaller than 35mm film, the 17-50mm can fill the frame with almost the same scope as a lens with a Max. Mag. Ratio of 1:3.0 on a 35mm SLR camera.
? Internal Surface Coating to Reduce Ghosting and Flare
By employing "Internal Surface Coatings" (i.e., multiple-layer coatings on cemented surfaces of plural elements) and new multiple-layer coating technology on ordinary elements, ghosting and flare due to the reflections that occur when light enters through the front element and reflections caused by the imagers themselves are reduced to the absolute minimum.
? Large Aperture in Lightweight, Compact Design Thanks to New Mechanical Devices
Complicated mechanisms are built into the compact body, thanks to new mechanical devices, for excellent portability and ease of use. In addition, a complex triple cam structure where cam's zoom and focus within a three-layer lens barrel has been further developed to improve AF focus precision for close-in shots and torque irregularity when zooming in and out. Additionally, the engineering of the lens has been completely redesigned to downsize its parts and to increase their precision and durability, in order to accommodate the complex structure incorporated into the new SP AF17-50mm F/2.8 XR Di-II LD Aspherical [IF].