Eleven Photography Campaigns Awarded at 50th D&AD Judging Event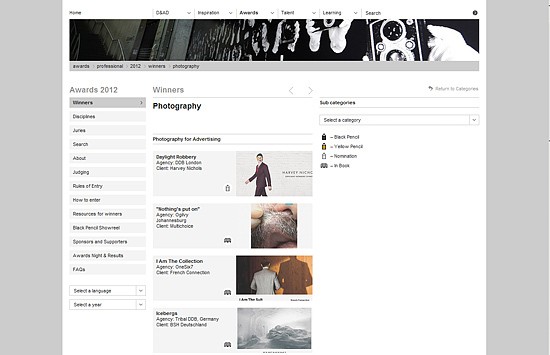 Eleven of the best photography campaigns were recognised with In-Book awards and Nominations at the Fiftieth Annual D&AD Awards. Work included in the D&AD Annual came from around the world, with entries from Germany, Australia, the Netherlands, the US and the UK capturing the jury's attention. David Stewart, Foreman of the Photography Jury at D&AD 2012 said, "The thing that makes D&AD interesting – and at the same time challenging – to judge, is seeing photography in the context of a finished piece of advertising or design work. The entries I've been particularly pleased by this year have been those images that add a new or different dimension to the piece of work they sit in the context of, demonstrating photography's continued power to take a creative insight or thought and make it manifest."
Press Release
Eleven Photography campaigns take In-Book and Nomination awards at fiftieth annual D&AD judging event
Eleven of the best photography campaigns were recognised with In-Book awards and Nominations at the Fiftieth Annual D&AD Awards. The work has been selected from around the world by a top-class jury led by professional, award-winning photographer, David Stewart.
Work included in the D&AD Annual came from around the world, with entries from Germany, Australia, Netherlands, United States and the UK capturing the jury's attention.
However, there was only one campaign that was recognised with a Nomination: DDB London's "Daylight Robbery" for Harvey Nichols "Summer Sale" campaign. DDB London and Harvey Nichols will now have to wait until Thursday's Yellow Pencil Results Night (which takes place on the evening of 19 April) to find out whether the work has been awarded a coveted top-award.
Work given In-Book status and included in the D&AD Annual 2012 is:
·      "Nothing's Put On" by Ogilvy Johannesburg for Multichoice/M-Net (South Africa)
·      "Icebergs" by Tribal DDB, Germany for Bosch No Frost Technologie (Germany)
·      "Blow Up" by Pool (Australia)
·      "TEDxAmsterdam" by WE ARE Pi (Netherlands)
·      "Conductors of the Moving World" by Hans Seeger for Little Brown Mushroom Books (UK)
·      "I am the Collection" by OneSix7 for French Connection (UK)
·      "Teenage Pre-occupation Posters" by David Stewart Photography for Browns Editions (UK)
·      "Gee Up" by This is Real Art for Universal Music (UK)
·      "Flower Power by Stella Pye for The Times Eureka Magazine (UK)
·      "Top Boy" by Channel 4 (UK)
Professional photographer, David Stewart, who has been regularly recognised in the D&AD Annual and is Foreman of the Photography Jury at D&AD 2012 said:
"The thing that makes D&AD interesting – and at the same time challenging – to judge, is seeing photography in the context of a finished piece of advertising or design work. The entries I've been particularly pleased by this year have been those images that add a new or different dimension to the piece of work they sit in the context of, demonstrating photography's continued power to take a creative insight or thought and make it manifest.
"If there is any one trend I would pick out, it's the increased use of post-production in image-making. While there is some evidence of this as a clumsy over-reliance on technology, I have also seen it used more subtly in work this year – to intelligently enhance the quality of the work, rather than detract from the photographers' individual stamp."
Tim Lindsay, Chief Executive of D&AD added:
"David Bailey was one of those who founded D&AD fifty years ago and photography has always been close to the heart of our organisation. This year's work has been as strong as ever. However, the jury has been stirred-up by debate about the increasing use of technology in the craft. For me, that goes to show that D&AD has a role to play in these vital discussions."
The terms explained
D&AD Awards are almost unique in that, if the jurors do not judge a piece of work to be worthy of an In-book, a Nomination or Yellow Pencil in a category, no award for that category is given: jurors are not obliged to award any of the work that see if projects do not meet D&AD's criteria for judging.
In-Book: refers to work that will be included in the Fiftieth D&AD Annual which will be published in September 2012.
Nominations: refers to work that will be included in the D&AD Annual and is also being considered by the Jury for the award of a Yellow Pencil, one of the most prestigious awards for creativity anywhere in the world. The Yellow Pencil results will be announced at an event in London on Thursday, 19 April 2011.
Yellow Pencils: will be awarded to the work that is judged to be the best in the world, selected from projects that receive a Nomination during judging. The Yellow Pencils are one of the most-recognised and coveted awards for creativity anywhere in the world.
Black Pencils: are awarded to work that is not just considered the best in the world in its category, but for pieces of design or advertising
Your Comments