Epson 11880 64" Large Format Printer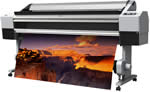 The Epson 11880 is the first ever 64 inch large format printer from Epson. The Sylus Pro 11880 features Epson's UltraChrome K3 ink with Vivid Magenta, Micro Piezo TFP printhead, Gigabit Ethernet and Super Halftone technology, a new screening algorithm. The Epson 11880 costs £9995 excluding VAT, and is available in September 2007.
Epson UK Press Release
Epson® launches the world's first 64" printer to feature a Micro Piezo TFP™ printhead and new UltraChrome™ K3 inkset
The 64" Stylus Pro 11880 is the world's first large format printer to feature Epson's latest printhead technology and UltraChrome K3 ink with Vivid Magenta.  It is designed for professionals in the photography, fine art and proofing markets.
17 July 2007 – The Stylus Pro 11880 is the first 64" large format printer from Epson. It includes the latest Micro Piezo Thin Film Piezo™ (TFP) printhead for superior printing performance and is optimised for pigment ink technology. The eight-colour inkset features a new formulation of UltraChrome K3 with Vivid Magenta, widening the colour gamut and further strengthening Epson's award winning UltraChrome K3 ink as the choice of professionals.  The Stylus Pro 11880 incorporates nine 700ml high capacity individual ink cartridges, with automatic switching between Photo & Matte Black inks, and also ink status LED's for each cartridge.  The new Gigabit Ethernet interface delivers fast data transfer speeds, coupled with the on-board data processing module. Epson Super Halftone technology, a new screening algorithm, further improves image tone and definition. The combination of features and inkset make the Stylus Pro 11880 the most advanced digital large format printer on the market. 
The new Micro Piezo TFP™ printhead fulfils all the requirements of a professional printer – quality, durability and speed. The nozzle density has increased from 180 to 360 dpi for each colour, the world's highest for an inkjet printhead using piezoelectric technology.  Epson has doubled the number of nozzles on the printhead, while maintaining the same size of ink droplet and accelerated print speeds.  Despite the microscopic size of its elements, this next-generation Micro Piezo head retains all the advantages of the current printhead, including Variable-sized Droplet Technology.  Meniscus control helps to produce perfectly spherical dots and manages the degree of droplet impact. It also improves the speed of jetting, further enhancing the print speed.
UltraChrome K3 with Vivid Magenta further expands the already wide colour gamut of UltraChrome K3 and is a breakthrough in pigment chemistry. The full inkset includes nine ink cartridges: photo black, matte black, light black, light light black, cyan, light cyan, yellow, vivid magenta and vivid light magenta. The two magenta inks use new high-density pigments that create more vibrant colour, especially blues and magenta, for example those found in seascapes or landscapes.  Both photo black and matte black cartridges are installed at the same time so there is no need to exchange. The most suitable black ink is automatically chosen depending on the media type used.
The UltraChrome K3 ink with Vivid Magenta, enables superb grey balance and precise colour without any colour cast. It also maintains the superior features of the UltraChrome K3 ink such as great colour accuracy of neutral and dark colours, excellent short-term colour stability and smooth tonal gradation from shadow to light. Metamerism is virtually eliminated with this new inkset. The permanent Epson Micro Piezo printhead also offers unrivalled consistency in each print. Every print will be the same as the first, even if the artwork is printed months apart, making it ideal for studios producing limited edition print runs.
The Stylus Pro 11880 is compatible with a wide range of Epson media up to 1.5mm in thickness, including glossy paper, matte paper, matte board, fine art paper and plain paper. It features an automatic take-up reel to support heavy-duty production for improved usability. It will also support flexible paper handling for cut sheet printing from A3 up to 64". The optional paper basket stores prints cleanly and securely.
Epson is also launching MyEpsonprinter.eu.  The new online portal allows Epson Stylus Pro owners to retrieve up-to-the-minute technical information and monitor the performance of each printer. The secure website allows users to view print job activity, hardware information and historical data, and tracks key performance indicators such as cost of ownership and cost per print. MyEpsonprinter.eu can also be accessed remotely by service contractors to quickly identify the cause and scope of any queries, which saves time and unnecessary call-out fees. 
Martin Johns, Business Manager Pro Graphics, Epson UK, says, "Epson's leading research and development into pigment chemistry has long set its professional printers apart, and along with its high-quality output, Epson has become widely known as the choice of professionals.  The launch of our new 64" inch printer means that as well as going larger with Epson, quality and productivity is also further enhanced for truly vibrant, first-class output."
Epson Stylus Pro 11880 key features summary: 
Professional paper handling up to 64" wide
Consistent output with Epson Micro Piezo TFP™ Printhead Technology
High-density Epson UltraChrome K3™ with Vivid Magenta Ink Technology
Standard USB 2.0, and Gigabit Ethernet interface
Flexible paper handling with roll or cut-sheet media from A3 / tabloid up to 64" wide. BorderFree™ roll printing from 10" up to 64" wide
Accepts media up to 1.5 mm thick poster board
Productive printing with built-in automatic media cutting system and take-up reel system
Record information about paper with media bar code tracking and identification system
Superior image processing with Epson Super Halftone Screening Technology
Easy to use and maintain with Auto Ink Droplet Detection System
High-quality printing with maximum resolution of 2880 x 1440 dpi
Nine individual high-capacity ink cartridges – 700 ml
Automatic change from photo black to matte black
Pressurised ink cartridge technology
High-performance print engine speeds
Large 2.5" back lit LCD control panel
Ink status LED system
MyEpson Printer™ network compatible
Stylus Pro 11880 RRP excluding VAT from £9995 – available September 2007
About the Epson Group
Epson is a global leader in imaging products including printers, 3LCD projectors and small- and medium-sized LCDs. With an innovative and creative culture, Epson is dedicated to exceeding the vision and expectations of customers worldwide with products known for their superior quality, functionality, compactness and energy efficiency.
Epson is a network of 87,626 employees in 117 companies around the world, and is proud of its ongoing contributions to the global environment and to the communities in which it is located. Led by the Japan-based Seiko Epson Corp., the Group had consolidated sales of 1416 billion yen in fiscal 2006.
Epson Europe B.V., based in Amsterdam, is the Group's regional headquarters for Europe, Middle-East, Russia and Africa. With a workforce of 2,400 employees, Epson Europe's sales for fiscal year 2006 were 2,104 million Euros.
US Pricing / Availability
The Epson Stylus Pro 11880 will begin shipping to authorized Epson dealers in October 2007.  A ColorBurst® Edition will also be available in December 2007 which includes a professional PostScript® Language Level 3™ compatible RIP by ColorBurst. The following are estimated street prices:
Epson Stylus Pro 11880                               $14,995
Epson Stylus Pro 11880 ColorBurst Edition             $15,995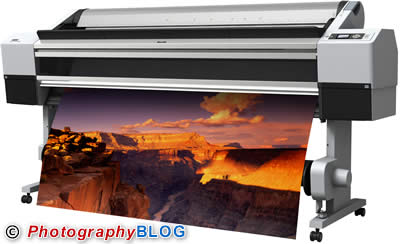 Your Comments