Epson 4880, Epson 7880 and Epson 9880 Large Format Printers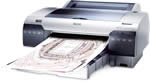 The Epson 4880, Epson 7880 and Epson 9880 are new large format printers featuring Epson's UltraChrome K3 ink with Vivid Magenta and improved image processing. The sizes are - 17" (A2+) Epson Stylus Pro 4880, 24" (A1+) Stylus Pro 7880 and 44" (B0+) Stylus Pro 9880. Each model also has a Ethernet interface as standard, improved printhead and Super Halftone Technology, a new screening algorithm. Pricing excluding VAT - Epson 9880 £4495, Epson 9880 £2395, Epson 9880 £1495, all available September 2007.
Epson UK Press Release
Epson® breakthrough in pigment ink technology features in new large format printer range
The Epson Stylus Pro 4880, 7880 and 9880 feature Epson's breakthrough pigment ink technology, UltraChrome K3™ ink with Vivid Magenta and improved image processing. They provide an enhanced colour gamut and superior tonal gradation, ideal for the professional in the proofing, photography, fine art and graphics markets.
17 July 2007 – Epson launches three new large format, eight-colour professional production printers. They are the 17" (A2+) Epson Stylus Pro 4880, 24" (A1+) Stylus Pro 7880 and 44" (B0+) Stylus Pro 9880. Each features Epson UltraChrome K3 ink with Vivid Magenta technology, the latest development in pigment chemistry, which offers a wide colour gamut and unrivalled image quality from an 8-colour inkset. 
Epson's new large format range provides the highest quality output that is required for the fine art, photography and proofing markets. A new Ethernet interface is included as standard and delivers fast, efficient connectivity and data transfer speeds. The improved printhead further enhances image quality and when combined with Epson's Super Halftone Technology, a new screening algorithm, it delivers sharp detail and accurate colour reproduction. 
The Epson large format printer range offers superior media flexibility and is compatible with a wide range of Epson paper up to 1.5mm in thickness. Glossy paper, matte paper, matte board, fine art paper and plain paper are all supported.  The Epson Stylus Pro 4880,  7880 and Stylus Pro 9880 include a roll holder and cut sheet support, as standard. The Epson Stylus Pro 4880 also features a paper cassette feed mechanism for high-volume production on cut sheet paper from A4 (Letter) to 17" (A2+) wide.  Also new is an enhanced cutting sequence delivering a faster and more productive printing workflow.
The UltraChrome K3 with Vivid Magenta further expands the already wide colour gamut of UltraChrome K3 and is a breakthrough in pigment chemistry. The full inkset includes nine ink cartridges: photo black, matte black, light black, light light black, cyan, light cyan, yellow, vivid magenta and vivid light magenta. The two magenta inks use new high-density pigments that create more vibrant colour, especially blues and magenta, for example those found in seascapes or landscapes. 
The UltraChrome K3 ink with Vivid Magenta, enables superb grey balance and precise colour without any colour cast. It also maintains the superior features of the UltraChrome K3 ink such as great colour accuracy of neutral and dark colours, excellent short-term colour stability and smooth tonal gradation from shadow to light. The issue of metamerism is virtually eliminated with this new inkset. The permanent Epson Micro Piezo™ printhead also offers unrivalled consistency in each print. Every print will be the same as the first, even if the artwork is printed months apart, making it ideal for studios producing limited edition print runs.
Also included is the Epson Super Halftone technology, a new image processing engine for dot mapping.  It enhances the image detail that may be lost in low resolution images.  A new mapping algorithm reduces the graininess at both low and high resolution.  The end result delivers smooth images with more accurate colour representation.
Epson is also launching MyEpsonprinter.eu.  This new online portal allows Epson Stylus Pro owners to retrieve up-to-the-minute technical information and monitor the performance of each printer. The secure website allows users to view print job activity, hardware information and historical data, and tracks key performance indicators such as cost of ownership and cost per print. MyEpsonprinter.eu can also be accessed remotely by service contractors to quickly identify the cause and scope of any queries, which saves time in unnecessary call-out fees. 
Martin Johns, Business Manager Pro Graphics Epson UK, says, "The Stylus Pro series incorporates Epson's latest print production technologies, delivering output that surpasses any other large format inkjet printers on the market. These latest innovations are the result of significant research and development to refine and advance the print production process to provide professionals with the highest quality prints. Epson has established a strong reputation for providing superior products that professionals can rely on to continually perform. This is why we remain the choice of professionals in the proofing, fine art, photography and graphic design markets."
Epson Stylus Pro series key features summary: 
Consistent output with Epson Micro Piezo printhead technology
High-density Epson UltraChrome K3 with Vivid Magenta Ink Technology
Image processing with Epson Super Halftone Screening Technology
Maximum resolution of 2880 x 1440 dpi
Individual high-capacity ink cartridges – 110ml or 220ml
Professional media handling at a width of 44", 24" or 17" in roll and cut sheet mode
BorderFree™ roll printing from 8" up to 44" wide
Print on media up to 1.5 mm thick poster board
Built-in automatic media cutting system
High-performance print engine speeds
Standard USB 2.0 and 10/100 Ethernet interface
User-friendly back lit LCD control panel
MyEpson Printer™ network compatible
Pressurised ink cartridge technology for Stylus Pro 7880 and Stylus Pro 9880
Cassette feed mechanism for Stylus Pro 4880
Optional take-up unit for Stylus Pro 9880
Stylus Pro 9880 (B0+) RRP excluding VAT £4495 – available September 2007
Stylus Pro 7880 (A1+) RRP excluding VAT £2395 – available September 2007
Stylus Pro 4880 (A2+) RRP excluding VAT £1495 – available September 2007
About the Epson Group
Epson is a global leader in imaging products including printers, 3LCD projectors and small- and medium-sized LCDs. With an innovative and creative culture, Epson is dedicated to exceeding the vision and expectations of customers worldwide with products known for their superior quality, functionality, compactness and energy efficiency.
Epson is a network of 87,626 employees in 117 companies around the world, and is proud of its ongoing contributions to the global environment and to the communities in which it is located. Led by the Japan-based Seiko Epson Corp., the Group had consolidated sales of 1416 billion yen in fiscal 2006.
Epson Europe B.V., based in Amsterdam, is the Group's regional headquarters for Europe, Middle-East, Russia and Africa. With a workforce of 2,400 employees, Epson Europe's sales for fiscal year 2006 were 2,104 million Euros.
US Pricing / Availability
All three printers will begin shipping to authorized Epson dealers in October 2007.  A ColorBurst® Edition will also be available in December 2007 for each model which includes a Professional PostScript® Language Level 3™ compatible RIP by ColorBurst. The following are estimated street prices:
Epson Stylus Pro 4880                         $1,995
Epson Stylus Pro 4880 Portrait Edition         $2,195
Epson Stylus Pro 4880 ColorBurst Edition             $2,495
Epson Stylus Pro 7880                         $2,995
Epson Stylus Pro 7880 ColorBurst Edition             $3,995
Epson Stylus Pro 9880                         $4,995
Epson Stylus Pro 9880 ColorBurst Edition             $5,995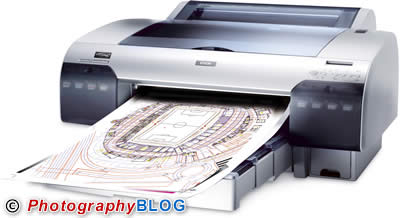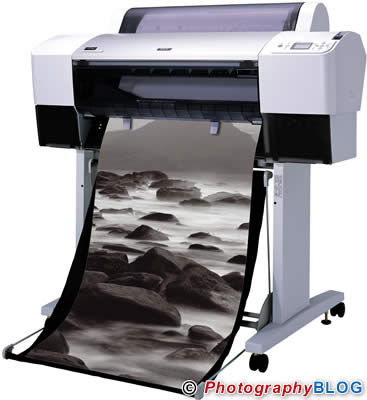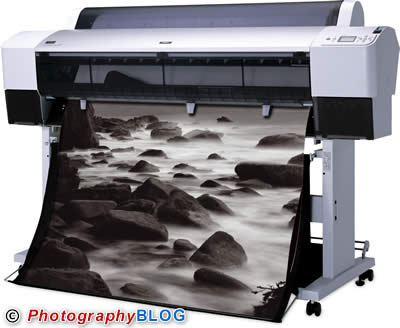 Your Comments