Epson Flatbed Scanners Deliver Superior Optical Density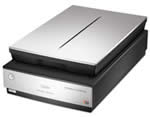 Epson America Press Release

LONG BEACH, Calif. – Nov. 28, 2006 – When it comes to reproducing the highest level of shadow detail and mid-range gray values as quantified by optical density (OD), Epson scanners outperformed competitors in a recent National Software Testing Labs (NSTL) study. "Many people don't realize the importance of optical density when it comes to choosing a flatbed scanner," said Phil Amato, product manager, Consumer and Photo Imaging, Epson. "Optical density is really the true measuring stick for understanding how well a scanner can reproduce varying degrees of shadow and noise detail and a big factor in overall image quality."
The NSTL study followed the methodology described by ISO 21550, an internationally recognized standard that specifies the method for measuring the optical density of a scanner. The methodology uses the 41-step Stouffer transparent step wedge, T4110, as the test chart to evaluate the optical density. Twelve scanners were tested, and included the Epson Perfection 4990 Photo, Epson Perfection 4490 Photo, Epson Perfection 3490 Photo, Epson Perfection V700 Photo, as well as models from other competing brands.
The NSTL independently confirmed that all tested Epson scanners were found to have OD values that were equal to or greater than the values Epson states in its specifications. The results also showed that three of Epson's scanners consistently achieved the highest optical density scores of 4.0 or higher. Competitive scanners achieved scores of 3.1 or below. The NSTL concluded that Epson's scanners consistently outperformed competitive models with respect to OD measurement, and additionally, provided more consistent results over repetitive testing. 
Complete methodology details and results for each individual model can be reviewed by downloading the complete final report at www.nstl.com or www.epson.com
About Epson America, Inc.
Epson offers an extensive array of award-winning image capture and image output products for the consumer, business, photography and graphic arts markets. The company is also a leading supplier of value-added point-of-sale (POS) printers and transactions terminals for the retail market. Founded in 1975, Epson America, Inc. is the U.S. affiliate of Japan-based Seiko Epson Corporation, a global manufacturer and supplier of high-quality technology products that meet customer demands for increased functionality, compactness, systems integration and energy efficiency. Epson America, Inc. is headquartered in Long Beach, Calif.