Epson P3000 Multimedia Storage Viewer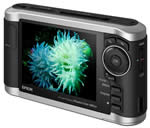 Epson P-3000 Multimedia Storage Viewer - Transform the way you look at photos and movies
Store, manage and share your photos and movies with this sleek, powerful, compact multimedia viewer. It's perfect for sharing memories with friends, or as a portable, professional photo assistant. Experience the benefits of digital photography with the Epson P-3000. This powerful, compact device brings new flexibility and performance to digital photography. Watch movies in various formats, store and view photos through the the new crystal clear 4" Photo Fine Ultra LCD. There's a 40GB internal memory for image storage and back-up, long battery life for true portability and built-in CF and SD memory card slots. You can even listen to music on its built-in audio player.
• The essential photographer's tool – a total digital solution for photos and movies
• Listen to music – built-in audio player with remote control and headphones
• Superb quality viewing – amazing clarity and colour on the 4" Photo Fine Ultra LCD with the world's first 4-colour filter system
• Handles a range of formats – built-in CF/SD memory card slots, and support for a wide range of video formats (including DivX)
• Take control of your images - review, store, and organise images with 40GB hard drive and versatile media transfer and management software
• Performance and power – keep viewing on the move with a long-lasting rechargeable Li-On battery
• Full USB support – for USB host (USB-A) and USB Mass Storage driver
• Hard working, hard wearing – sleek, compact and durable with high quality aluminium casing which allows a secure grip
Epson Press Release
Epson® introduces the multimedia storage viewer P-3000, for premium quality photo viewing
The P-3000 features a 4.0" LCD viewer with Epson Photo Fine Ultra technology ensuring it provides the highest image viewing quality in its class.  With a large memory capacity and wide range of features it is ideal for storing your digital photos and can also store and play videos and music.
Photokina, 25 September – 1 October 2006 - The P-3000 is the latest addition to Epson's award winning multimedia storage viewer range. It features a large 4.0" Epson Photo Fine Ultra LCD viewer and the world's first four-colour filter system for unrivalled image quality and an increased colour gamut. With a 40GB hard drive and long battery life, it is an extremely versatile tool to store and view your photos, listen to your favourite songs and watch the latest movies.  The Epson P-3000 is the ideal storage companion for gadget lovers.
The P-3000 is the first multimedia storage viewer on the market to incorporate a four-colour filter system, for ultra-sharp images. Where standard LCD technology uses red, green and blue (RGB) filters, Epson's Photo Fine Ultra screen uses red, blue, emerald green and yellow green, which enables colours to be reproduced at a more natural level than has ever been seen before. It also extends the colour range of the red and blue filters enabling the Epson P-3000 to register a wider range of red and blue tones. Combined with a screen size of 4.0" and a resolution of 640 x 480 pixels, the Photo Fine Ultra LCD viewer supports the latest ultra-high resolution cameras and marks a new standard of excellence in the storage device market.
A 40GB storage capacity allows you to store up to 2,300 files in RAW format . You can free images from your digital camera by simply inserting your memory card into the card slot and downloading your photos. Back-up speed is incredibly fast with a transfer rate of approximately 155 seconds for 1GB of data from a Compact Flash card. You can also back-up via USB 2.0, transfer images from your P-3000 to an external hard drive and print directly to any Epson USB compatible printer.  A long battery life (up to 3 hours of continuous slide show viewing) means reliable performance, especially important when you do not have access to an electric power source. 
The P-3000 is your photo storage unit with a difference. It also supports JPEG format, MP3, AAC and WMA formats for music and DiVX, MPEG 1/2/4, AVC, WMV9 and Motion JPEG formats for videos. With editing capabilities, you can also change your music order and edit your play lists, all at the touch of a button.
The new Link2 software means it is easy to manage your photos, music and movie files. It has an automatic file convert function for most music and movie formats, which means you don't need to worry about compatibility and file conversion. 
Viewing your files with the P-3000 is easy.  The browser function features three viewing modes: 12 thumbnails, 64 thumbnails or a list of files. It takes just six seconds to view 64 thumbnail images so you can find your image quickly. In addition, the folder protection function allows you to password protect your folders so you can prevent any unauthorised access to your files.
Yasbir Sihan, Senior Product Manager at Epson Europe, says: "The P-3000 is the first multimedia storage device for the consumer market to feature a four-colour filter system for an unrivalled viewing experience. The 4.0" Epson Photo Fine Ultra LCD viewer ensures high-quality, sharp and vivid images, a necessity for viewing your photos or videos. With a large 40GB hard drive, reliable long-life battery and increased multimedia functionality, the P-3000 is ideal for gadget lovers, who require the latest multimedia technology in a sleek and appealing design." 
Epson P-3000 Multimedia Storage Viewer key features summary:
•Back-up, view and share digital photos (JPEG & RAW )
•World's first four-colour filter with Epson's 4.0" Photo Fine Ultra LCD viewer
•Display unparalleled image brightness, colour and detail (640x480 pixels)
•Store up to 2,300 files in RAW format with 40GB storage capacity
Enjoy a wide range of movies and music formats
A wide variety of video colour and music modes
•Built-in CompactFlash® and SD memory card slots for additional back-up
•Incredible reliability with a long battery life of up to 3 hours of continuous slide show viewing
•Print your photos to any compatible Epson photo printer via USB 2.0 direct print
•Sleek and durable, high quality casing
•Folder protection function for guaranteed security
•Rate your photos as you view them for improved file management
•Officially certified DivX product
•Price RRP including VAT €499 - Available October 2006