Epson Perfection V100 Photo and V350 Photo Scanners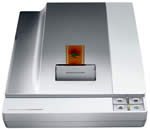 Epson UK Press Release
Digitise your photos and film at home with new slimline scanners from Epson - Epson launches innovative features into a compact and slimline range of Matrix™  CCD scanners that will provide high-quality output whatever your scanning needs
16th August 2006- Epson launches two new A4 scanners, the Epson Perfection V100 Photo is designed to meet the needs of the photo enthusiast and the Epson Perfection V350 Photo is ideally suited to the amateur photographer. Both models incorporate the premium quality scanning that is typically associated with Epson's unique Matrix CCD technology into a new slim design. The modern silver finish will also ensure they look stylish on your desktop. So whether you are seeking a scanner for the home, office, studio or classroom, Epson has the product to suit your needs.
Epson has incorporated several new features into all both scanners.  Each includes an innovative portrait and landscape scanning option, so you can choose which way you prefer to use the scanner and make the most of the space on your desktop.  A new hinge design means that you can fully open the lid to 90º or 180º for scanning books and thicker objects and you can scan documents of up to 25mm thick with the lid closed. 
Epson Easy Photo Fix® software allows you to improve your photos with automatic colour restoration for faded photos and Epson's new Digital Dust Correction technology .  It also includes a new back light correction feature that automatically enhances and corrects the brightness, sharpness, colour saturation and colour balance of your image. 
The Epson Perfection V100 Photo features and impressing optical resolution of 3200 x 9600 dpi for superb quality scanning of documents photos and film.  With the built-in transparency adapter that can scan 35mm film strips (up to six frames per strip) or four 35mm mounted slides for added versatility. This film holder, which has a higher capacity than the predecessor model, allows for a greater number of images to be batch-scanned for increased productivity and ease of use.
The Epson Perfection V350 Photo has a superior resolution of 4800 x 9600 dpi. It also includes an Epson's unique Automatic Film Loader; just place your 35mm film strip in the feeder, press one button and leave the scanner to do the rest. It can scan a film strip of six 35mm frames at one time.
Mark Robinson Product Manager, Epson UK Ltd. says, "Epson has successfully maintained a premium quality reputation in the scanner market thanks to our advanced film scanning capabilities and superior CCD scanning technology.  The latest line-up in our entry level range offer the same superb quality output with ease of use and a compact design to ensure home users can easily digitise their photos and film. Both new scanners offer fantastic value and functionality and reflect Epson's commitment to bringing innovative products to consumers."
Epson Perfection V100 Photo and Perfection V350 Photo key features summary
Superior Matrix™  CCD technology in a new slimline design
Scan up to A4 documents, photos and 35mm film quickly and easily
Create high-quality images with an optical resolution of 3200dpi for the V100 and 4800dpi for V350 and 48-bit colour
Flexible layout with landscape and portrait scanning options
New hinge - 90º and 180º lid opening for easy scanning of books and magazines
Fast scanning with USB 2.0 Hi-Speed
Mac and PC compatible
Software includes Epson Scan, Epson Creativity Suite, ArcSoft PhotoImpression 5, ABBYY FineReader Sprint 6, ABBYY FineReader Sprint 5 for Mac
Epson Perfection V100 Photo features
Scans 35 mm strip film x 6 frames and 35 mm slide x 4 frames with film holder
Keep your film holder safe with film holder storage
Epson Perfection V350 Photo additional features
Superior 4800dpi optical resolution
Brings simplicity to scanning 35mm films with the Auto Film Loader
Scans 35 mm strip film x 3 frames and 35 mm slide x 2 frames with film holder
Keep your film holder safe with film holder storage
Prices and availability
Perfection V100 Photo – RRP including tax £69.99 - available 1st September 2006
Perfection V350 Photo – RRP including tax £99.99 - available 1st September 2006
About Epson
Epson is a global leader in imaging products including printers, 3LCD projectors and small- and medium-sized LCDs. With an innovative and creative culture, Epson is dedicated to exceeding the vision and expectations of customers worldwide with products known for their superior quality, functionality, compactness and energy efficiency. Epson is a network of 90,701 employees in 120 companies around the world, and is proud of its ongoing contributions to the global environment and to the communities in which it is located. Led by the Japan-based Seiko Epson Corp., the Group had consolidated sales of 1549.5 billion yen in fiscal 2005.