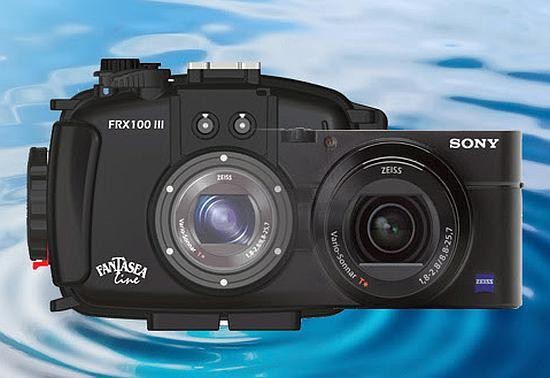 Fantasea Line has announced the upcoming launch of the FRX100 III underwater housing for the Sony RX100 III digital compact camera. Providing full access to all essential camera controls and functions, the Fantasea FRX100 III housing is depth rated to 60 metres, and features a shock-resistant construction, ergonomic design and double O-ring protection. Free extras include a hand-strap, moisture detector and port cover. The Fantasea FRX100 III underwater housing will be available from November.
Fantasea Press Release
Arriving Shortly
FRX100 III HOUSING for Sony RX100 III
The new and stylish FRX100 III Housing, for the recently released Sony Cyber-shot DSC-RX100 III camera, will be available at the end of November 2014, and we are now accepting orders!
The FRX100 III Housing was specifically designed for the Sony RX100 III, thereby providing the most compact, sturdy and ergonomic housing in the market for this camera.
Secure stock of the FRX100 III Housing, ensuring that you receive units as soon as the housing is released, and at the same time - take advantage of a special introductory offer. Please contact us about pricing, ordering and other information.
FRX100 III System Highlights
Pros consider the Sony Cyber-shot RX100 III to be the best compact camera ever made!
Advanced and high quality - the RX100 IIIfeatures a new 20.1 megapixel BSI-CMOS sensor , 24-70mm F1.8-2.8 Zeiss lens, 1080/60p video with full sensor readout , customizable front lens ring, 3-stop neutral density filter and 920 shots per charge – all so very important to underwater photographers!
The FRX100 III Housing introduces the highest and most professional standards of function, style and durability
Full access to all essential camera controls & functions with clearly marked buttons
Depth rated to 60 meters / 200 feet
Shock resistant construction
Ergonomic design
Double O-ring protection for a perfect watertight seal
BONUS - Moisture Detector installed in every FRX100 III Housing at no additional cost!
FREE Hand Strap and Port Cover
Best value-for-money deal
A complete accessory system available, including wide angle and macro lenses, color correction filters, flashes, video lights and all necessary adaptors and connectors
Manufacturer's warranty
Your Comments