Fantasea Line FG16 Underwater Housing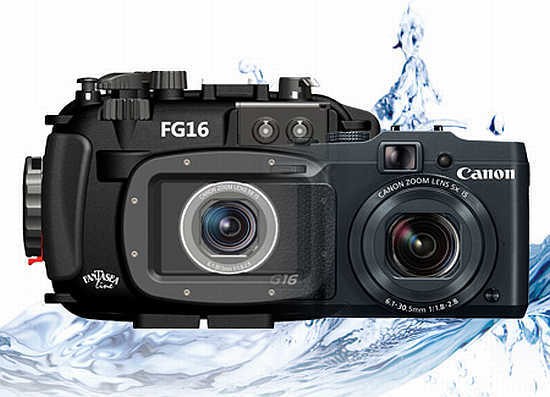 The Fantasea FG16 underwater housing is now available in a bundle with the Canon PowerShot G16 digital compact camera. The Fantasea FG16 maintains full access to all camera controls and functions while providing waterproofing down to depths of 60 metres / 200 feet. The Fantasea FG16 is available now for $575 / €530. The camera+housing bundle retails for $999.95.
Fantasea Press Release
Fantasea Line proudly announces the release of a new and stylish waterproof housing for the Canon PowerShot G16 camera.
The FG16 Housing, specially designed for the Canon G16, meets the same high and professional standards of function, style and durability as previously found in popular and successful Fantasea F series Housings (FG15, FP7100 and FP7000). It is ergonomically designed, fully functional and features easy-to-use, clearly labeled controls. This shock resistant housing protects your G16 camera from damaging elements including water, sand, dust, snow, ice and pollutants.
The FG16 has been successfully depth tested to 80 meters (240 ft.) and is certified to a maximum depth of 60 meters (200 ft.), which is well beyond the 40 meter (130 ft.) dive limit of most compact housings.
The FG16 Housing is supported by a complete accessory line, including wide angle and macro lenses. Additional accessories include a variety of color correction filters and lighting sets, which enable photographers to further enhance the quality of their images and videos.
With performance and creative expression approaching that of an SLR camera, the new PowerShot G16delivers amazing image and video quality. A new DIGIC 5 image processor delivers 45% faster auto focus, shorter shutter lag, increased continuous shooting speed and better performance in low light conditions. New built-in Wi-Fi allows to wirelessly transfer those most impressive files to social networking sites, including Facebook, YouTube and Twitter.
FG16 Housing Feature Highlights
Depth rated to 60m/200 feet
Ergonomic design
Full access to all camera controls & functions 
with clearly marked controls
Shock resistant
Double O-ring seal
Special mount for lighting accessories
Removable double fiber optic cable connection
Removable flash diffuser
Easy and secure installation of camera
Removable anti-glare hood for the LCD screen
Built-in moisture detector for increased confidence
Dedicated video control button for easy video filming in any shooting mode
Compatible with a wide range of underwater 
photo accessories
Manufacturer's warranty included
Housing retail price starts as low as $499.95/530 Euro and may vary based on location and warranty program.
Housing with Canon G16 Bundle prices begin at $999.95 and vary based on location and warranty program.
Your Comments