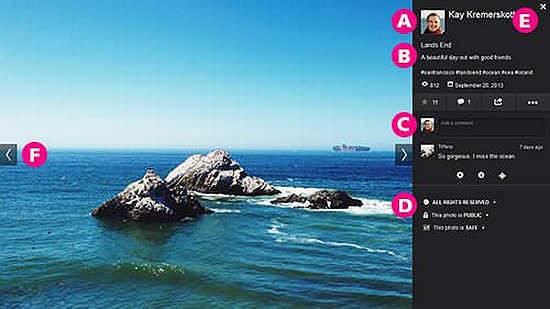 Yahoo is previewing a new Flickr photo page to some of its customers. Changes versus the current layout include a bigger photo, a redesigned sidebar (marked with an A in the image above), more intuitive controls (B), relocated and rearranged comments (C), optional extra information on the photo (D), and a couple of new navigation tools (E & F). The changes are being rolled out gradually, with the company saying that "if you haven't seen a button allowing you to opt-into the new experience yet, stay tuned."
Yahoo Press Release
We are currently previewing a new Flickr photo page to some of you. If you haven't seen a button allowing you to opt-into the new experience yet, stay tuned! We're rolling it out to more members every day.
We've made quite a few changes also based on the feedback you have given us to make it a better viewing experience and make all the functionality of the photopage more accessible. Let's go over some of the main changes:
It's Bigger!
The photo: Your photos are the main actors on Flickr, so we've removed everything from the page that we could to be able to continue displaying your photos as big as possible.

Improved Page Layout
Redesigned sidebar: We heard you loud and clear on this one! We've brought much more information above the fold, so you won't have to scroll to see comments or other information about a photo.
More intuitive controls: From this bar you can fave a photo, share it to your social networks, or perform other actions in the "dot dot dot" menu.

Comments: Comments are now in reverse-chronological order (newest comment at the top) to make it easy to keep track of the latest comments on a photo. You can easily enter a new comment in the comment field and submit it by pressing Enter or Return.

Information about the photo: If enabled by the photo owner, you can see the camera that took the photo and other EXIF data here. In addition, we are showing information about the photo settings, e.g. license, privacy, used. This is also where you can change the context you view your photo in, whether it's a photostream, a set, a group, or other exciting areas on Flickr.

New Navigation
Returning to the Justified view: You can click on the "x" in the upper right-hand corner and return to the Justified view you came from at any point.

Navigating between photos: Clicking on the right half of a photo now takes you to the next photo. Clicking on the left half returns you to the previous photo.
Your Comments