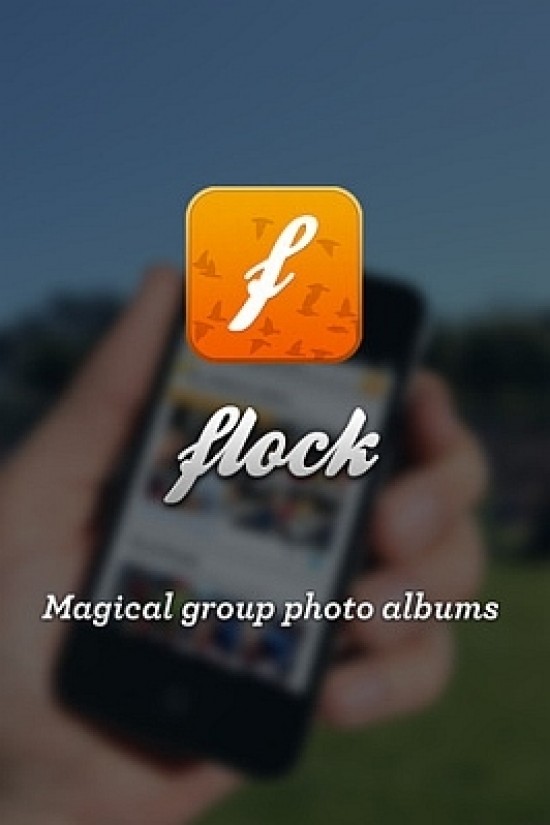 Flock is a new iPhone app that addresses the common problem we all face when taking pictures with our phones: remembering to share the photos with the people who were actually with you when the photos were taken. Whenever Flock finds photos you've taken while with your Facebook friends, it will ask you if you want to share those images with them – and when your friends choose to share their photos from the same event or hangout, they'll be added to the same group album. Note: this requires that all of your friends and family have the app too. Flock is available as a free download from the iTunes App Store. Click through / scroll down for a promotional video illustrating the app.
Introducing Flock - A new way to share photos from Bump Technologies on Vimeo.
Bump Press Release
Introducing Flock

Our mission at Bump is to help people create simple connections in the real world using mobile devices.  We've seen first-hand the power of simplicity—what started as a side project to solve a personal frustration with manually typing new friends' phone numbers into our phones has become an all-time top 10 app in almost every country in the world, facilitating millions of contact and photo transfers each day.  Later this summer, the 100 millionth person will download Bump.

But recently, another frustration finally caught up with us:  distributing photos taken together with friends and family among the people who were actually there.  It's a problem that we all face.  While there are lots of great ways to publish photos taken on our mobile phones, we still find ourselves nagging our friends to email or upload their photos.  We still take the same group photo on four different phones.  And despite our best intentions, we often get caught up in other distractions and forget to share the memories we capture on our devices with the people who care the most.  As mobile continues its explosive growth, we are taking more and more photos together everyday, and yet the vast majority of these photos stay locked away on other people's phones.  It's archaic.

We think we've finally solved this problem the right way.  We call it Flock, and it's launching today.

Flock finds the photos you take together with family and friends and magically brings all the photos from each person's phone together into a single shared album.

Here's how you use it:  Install Flock along with your friends and family.  And then forget about it.  Full stop.  Whenever it finds photos you've taken while with your Facebook friends, it will send you a push notification with a one-touch way to share those photos with them.  When your friends choose to share their photos from the same event, you'll get a notification taking you straight to the combined group album.

Flock is not just a brand new app; we see it as a brand new *kind* of app.  While most apps today jockey for our ever-dwindling time and attention, attempting to become one of the apps that we think about the most, Flock is different.  We designed Flock so you don't have to think about it at all.  You just live your life like you already do.  Spend time with your friends and family; take photos with whatever camera app you prefer.  There's no work for you at all, really.  Flock uses new battery-friendly location technology and sophisticated algorithms to magically know which of your Facebook friends you are with when photos are taken.  After you leave your group hike, or the night out on the town, or Thanksgiving dinner, Flock will check if anyone wants to share the photos they took and then bring those photos together into a single group album for everyone to enjoy.  And because most photos taken by iOS devices are geotagged, Flock can even work backwards in time from before you installed the app!  So if you and your friends and family install the app today, you'll likely unlock lost memories that were trapped on each other's phones for years.

We've been using Flock internally for a while now, and we're excited to share it with the world today.  We hope it helps you better experience shared memories and simplifies your life just a bit more.

We made a short video that we think shows off the power and simplicity of Flock.  Flock is free and available exclusively on the App Store for iPhone and iPod touch at http://itunes.apple.com/us/app/flock-photos-together/id543421080?ls=1&mt=8.
Your Comments