Footprint Travel Photography - Second Edition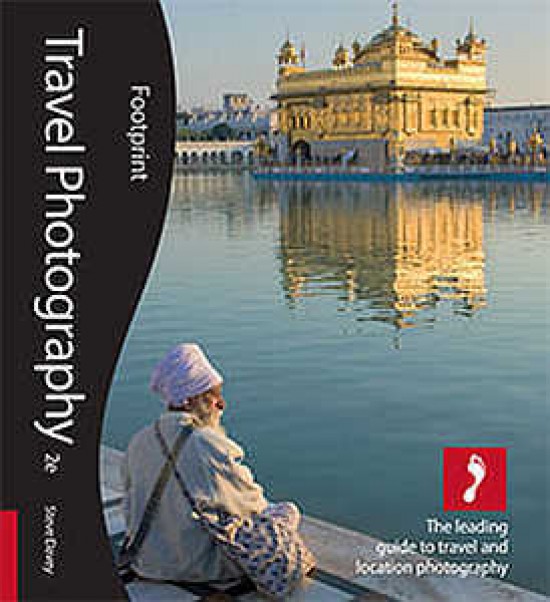 The second edition of Steve Davey's book, Footprint Travel Photography, will go on sale in the United States on 1st February. "I am really proud of this book and how it has turned out," Steve says. "The first edition was very well received, and I can confidently say that the second edition is a vast improvement in every way." The book is already available in the iBookstore and a Kindle edition is coming soon. The 320-page volume will retail for $29.95 in the US and is priced at £19.99 in the UK.
Press Release
Footprint Travel Photography - Second Edition
"The author is a great travel photographer, and this book is loaded with beautiful images... [He] writes in a very conversational style, and gives lots of detail without getting overly techie, or trying to sound like he's smarter than you (he is smarter than me, but he doesn't rub it in your face)."
Scott Kelby, Editor and Publisher of Photoshop User Magazine
Steve Davey has tried to make Footprint Travel Photography all that you will ever need to improve your travel photography. Drawing on his experience as a travel photographer, it takes you from the vital preparation, research and selecting of equipment, to the ins and outs of being on the road. It exhaustively covers the technical and practical aspects of travel photography, before looking at how to tweak and improve your pictures on a computer. There is even a section for those who would like to make some money from their hobby.
For Steve, travel photography is about more than just technicalities, and this guide has an extensive inspiration section, giving hints and tips for the different picture-taking scenarios you will encounter.
It is not all hard work: this book will also show you how travel photography can enhance your travel experience. As a keen travel photographer you will see more sunrises, try more bizarre food, see more things and most of all talk to far more local people than you ever would as a traveller. Rather than just hanging back and observing, a travel photographer has to see, feel and experience to put life and creativity into their pictures. Packed with inspirational pictures and anecdotes from his years on the road, Steve has made this book a call to get out and explore this wonderful world and the people in it!
This second edition has been comprehensively updated and revised to reflect new technology and software, and much of what Steve have learned and experienced in the intervening years. There are extensively updated sections on composition, exposure, shooting portraits and post-processing using Adobe Photoshop Creative Cloud, Photoshop Elements 11 and Lightroom 5. It features over 100 new photographs and over 50 revised illustrations.
A digital version of this title is currently available from the Apple iBookstore, and it will be available as an ebook in other formats, including Kindle, in the next few weeks.
The author, Steve Davey, (www.stevedavey.com) is a writer and photographer based in London. He is the author and photographer of Unforgettable Places to See Before You Die and Unforgettable Islands to Escape To Before You Die both published by BBC Books. These books have been translated into over 40 languages worldwide. Steve has travelled to almost 90 countries in the course of his work, and contributes to a wealth of agencies and publications around the world; including writing a regular story on photography for Wanderlust Magazine in the UK and Get Lost Magazine in Australia. To complement the first edition of Travel Photography, Steve launched his own unique range of travel photography tours to some of the most exotic and photogenic parts of the world. Forthcoming destinations include Jordan, Uzbekistan and the Arctic. More information on www.bettertravelphotography.com
Footprint Travel Guides have been at the forefront of travel literature for almost 100 years. The South American Handbook is their flagship title, and with 90 annual editions, is the longest established travel guide in the English language. Footprint publish an exciting range of lifestyle guides that fuse travel information with an activity.www.footprinttravelguides.com
Footprint Travel Photography 2e
ISBN 978 1 90726384 2
Extent 320 pages full colour photography throughout
UK edition published November 2013. Price £19.99
US edition published 18 February 2014. Price $29.95
Your Comments