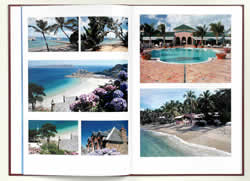 FotoInsight Press Release
FotoInsight.co.uk Launches New Photobook in the UK

The innovative photo book featuring 26 glossy satin finish pages takes up to 312 pictures and can be ordered online without any special software
In time for the holiday gift shopping season, FotoInsight of Cambridge launches an innovative 26 page photo book displaying up to 312 images through its online photo processing service. Presenting someone with a personalised, hardbound photo book, complete with the details of an adventure illustrated with own photographs is arguably the greatest gift idea this year. The new photo book can be ordered from FotoInsight.com online without need for any special digital photo album software. The lay-out tool allows for text and various picture formats and sizes. The photobook is the latest addition to Europe's most innovative range of photo gifts at http://www.fotoinsight.co.uk/.
FotoInsight Ltd Managing Director Klaas Brumann comments: "Pictures of weddings, births, holidays and parties are fading away in shoeboxes and even more on hard drives of aging computers. Digital camera users are finding out that ever bigger hard disks are no safe place for the growing number of images accumulating over time. FotoInsight's mission is to prevent photographic memories from fading. A printed album, like the new protective photo book, helps families to preserve all these memories in order, crisp colours and accessible now and to future generations.
All those digital photos languishing on hard drives could finally see the light of day with the time-saving innovation. This latest addition to FotoInsight's digital photo service is delivered in the UK and 20 European countries within one week of ordering online. Getting luxurious, hardbound, coffee-table style photo books is easy and set to become the latest must-have innovation in photo albums. Once the user has arrived at FotoInsight's website and has clicked on the photobook icon displayed along side the attractive photo calendars icon, a window appears in the familiar file tree style with text and animated illustrations explaining the upload. The user selects pictures selected through drag & drop directly from the computer. The order of the pictures can be changed after the upload through a range of interactive photobook editing tools. The cost of £19.99 per printed photobook (plus p&p) also includes the option to use online storage for photo sharing in FotoInsight's online photo album facility one month free.
The A4 size photobook features 26 glossy satin finish pages hardbound in a high quality cover. The format allows for two to twelve images per page, with either two photos (landscape, 5"x9.5" / 12.5x17.5cm), four images (portrait, 5"x3.5" / 12x8.5cm), six images (landscape, 2.5"x3.5" / 6.3x8.5cm) or even twelve smaller pictures (landscape) per page (measures indicated can be marginally smaller, depending on the image format). The online service offers an intuitive menu with easy-to-use controls and drag-and-drop selection of images, enabling users to author a personalised photobook with own images and subtitles. The user can adjust the position and format of each photo as well as crop and rotate pictures after the initial upload.
Any event in life that has a memory attached and photos to share is an excellent project for a printed photobook. At birthdays a family photo book is great to hand out to guests. After the party, a special version just for the guest of honour with birthday wishes captioned under each photo of the party guests makes the event unforgettable. Photo books will be popular to preserve memories of a special vacation. These portable memories are also ideal for weddings, anniversaries, holidays and even just everyday memories. "We have done a number of trials to optimize the website upload. The user response to the final results has been phenomenal" comments FotoInsight Ltd. Managing Director Klaas Brumann and ads: "FotoInsight's photobook is set to resolve the headaches over presents for aunties and grannies."
Convenience and flexibility
FotoInsight offers a PC and Mac compatible independent online photo service, fully flexible to be used with images from any digital camera. According to FotoInsight's management the online service offers superior quality at lower costs when compared to inkjet printing. FotoInsight offers an extensive array of award-winning photo printing and photographic gift items for the consumer, business, photography, and graphic arts markets. From Cambridge, Mr Brumann comments: "Photographic memories must never fade. Our technology is smarter, providing long lasting photo book printing in superior quality."
http://www.FotoInsight.co.uk and http://www.fotoinsight.com
Photo processing, digital photo printing, poster printing, personalised calendar with own photos, photobook, digital photo book, photobook, digital photo album, photo mug, photo puzzle, photo gifts, digital photo album
Information about FotoInsight Ltd
FotoInsight Ltd of Cambridge runs a custom made and easy to use print processing service. Customers benefit from patented development processes and the experience of Europe's largest independent photo lab with an installed capacity of 18 million prints per day. Photos ordered through www.fotoinsight.co.uk are developed in one of 20 strategically located, state of the art photo labs, employing 4000 staff, with an output of over 3 billion prints per year.