Fotolog.book: A Global Snapshot for a Digital Age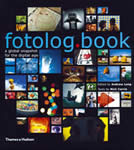 Fotolog Press Release
"Fotolog.book: A Global Snapshot for a Digital Age" Introduces Readers To The Fascinating and Addictive World of Photo Blogging - www.fotolog.com/fotologbook
New York, NY – (April 12, 2006) – Capturing the rise of photo blogging from underground hobby to runaway pop culture phenomenon, Fotolog (www.fotolog.com), the world's largest photo blogging community, will be the centerpiece of a fascinating new book hitting bookshelves later this month.  The largest collection, in a book, of photographs originally published on the web, Fotolog.book: A Global Snapshot of Digital Age (Thames & Hudson, April 24, 2006, $34.95, 344 pages) reveals how the combination of digital cameras and the web have made it possible for millions of people to document their daily lives, communicate and interact through the power of photographs.
Founded in 2002 as a way for a few friends to share photos online, Fotolog today is one of the web's fastest-growing sites boasting more than 3 million members and 100 million photos. Each day people from 200 countries post more than 300,000 photos and 3 million messages, making Fotolog an extraordinary community where people receive constant – and often instant – reaction to their photos and ideas.
Named Best Photo site by BusinessWeek's Best of the Web (2005), Fotolog allows anyone to easily create and publish a photo blog and share it with a global audience.
According to Fotolog co-founder and chief product officer Adam Seifer, the book reveals why Fotolog is at the forefront of a new generation of web sites allowing people to create their own content, build communities, and stay connected.
"Fotolog.book captures how digital cameras and sites like Fotolog are changing photography and the web as we know it," says Seifer, whose own photo blog of his every meal (www.fotolog.com/cypher) is featured in the book. "Cameras used to come out of the drawer once a year for weddings and birthdays. Now, they are being used to record the fleeting and quirky moments of every day life. The results are far more personal and intriguing, especially when you are able to share and discuss those photos with people from all walks of life."
Edited by Andrew Long, a former photography critic for The New Yorker and one of Fotolog's earliest and most active members (www.fotolog.com/along), Fotolog.book showcases more than 1,000 photos, as well as thousands of funny, strange and fascinating messages that have been posted on Fotolog since its debut in 2002. 
Organized into themes like family, food, portraits and pets, Fotolog.book reveals how photo blogging is one of the few medium's that transcends languages, borders, and age groups, enabling people from around the world – businessmen in Rio, families in Tucson, hipsters in Brooklyn – to bond and engage in a welcoming, fun, and supportive environment.
"These are the kinds of pictures that communicate, instantly, to understanding eyes halfway around the world," writes Long in the book's introduction. "They are the photos that can make me think it's not such a lonely planet we're living on." 
To celebrate the publication of Fotolog.book, Fotolog has created a special group photo blog (www.fotolog.com/fotologbook) where visitors can find links to the photo blogs of all Fotolog members featured in the book. The group blog also features photos of the book itself being read, displayed, hugged, and enjoyed by Fotolog members around the world.
Product detals
Title: Fotolog.book: A Global Snapshot of a Digital Age
Hardcover: 344 pages
Publisher: Thames & Hudson (April 24, 2006)
ISBN: 0500512515
Price: $34.95
Available at:
Amazon.com: http://www.amazon.com/gp/product/0500512515/
BarnesandNoble.com:
http://search.barnesandnoble.com/booksearch/isbninquiry.asp?ISBN=9780500512517&pdf=y
About Fotolog
The world's largest photo blogging community, Fotolog is an ever-evolving global network where members communicate and connect through photographs. A simple and fun way for anyone to visually express themselves on a daily basis, Fotolog allows anyone to easily publish an online photo journal, or photo blog, and share it worldwide. Enthusiasts from 200 countries post over 300,000 photos and three million messages each day, making Fotolog an extraordinary community where members receive constant – and often instant – reaction to their photographs and ideas.