FotoNation Dust Removal Technology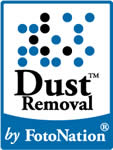 FotoNation Press Release
September 21, 2006, Galway, Ireland—FotoNation®  (www.fotonation.com), one of the world's leading embedded imaging and connectivity companies, announced today that it will demonstrate its new patented FotoNation Dust Removal Technology at Photokina 2006, held in Cologne, Germany from September 26 - October 1st, 2006. The FotoNation Dust Removal Technology completely and automatically removes dust from digital images. FotoNation has been awarded a U.S. patent for this technology and has 10 additional patents pending in the U.S., Europe, and Japan.  FotoNation eliminates dust from images using in-camera software which distinguishes between dust and real detail in the photo.  The software dynamically builds a map of every dust-spec and then tracks changes and movement of the dust particles to distinguish dust from the details of the photograph.  The technology has been designed to scale across multiple platforms is optimized to run as embedded software in digital cameras and mobile phone cameras as part of image acquisition.
Dust is a major problem with digital cameras and mobile phones.  In Digital SLR cameras, dust is caused by a variety of factors including changing lenses and the electrostatic nature of digital cameras.  Dust particles will typically remain on the sensor unless physically removed by a technician.  Alternatively, photographers remove dust artifacts from their images by manually retouching each image in software on a computer—a very time-consuming activity.  FotoNation solves this problem by automatically removing dust blemishes from photos in-camera, so no tedious software retouching is necessary. 
Dust is also a significant problem in the production of camera modules for mobile phones. Mobile phone camera modules typically consist of an image sensor hermetically sealed inside a plastic package with a lens and image processor. Dust contamination on the image sensor during assembly of the camera module is a costly source of reduced manufacturing yield. The FotoNation Dust Removal Technology can increase manufacturing yield and image quality for these products.
Dust Removal: Built-in Mapping Intelligence and Optical Characterization
For DSLR implementations, FotoNation is able to accurately eliminate dust artifacts by tracking incremental changes to the dust map as well as integrating sophisticated optical lens modeling. The optical modeling accounts for how the appearance of dust specs on the sensor change based on lens' focal length, aperture and exit pupil. In addition, the software has built-in intelligence to determine when the situation calls for user intervention
"FotoNation's highly innovative, automated, and patent protected dust removal algorithm was designed with the professional photographer's needs in mind, eliminating the hind-sight case whereby the time the photographer realizes there is a problem, it is too late to fix," said Eran Steinberg, CEO, FotoNation.
For more information, see http://www.fotonation.com or http://www.fotonation.com/index.php?module=products&id=50.
About FotoNation
FotoNation is a world-leading independent provider of embedded imaging and communication solutions for the digital camera industry. The company's extensive portfolio of patented innovations includes in-camera red-eye removal technology, wireless connectivity, and face-recognition software.  FotoNation develops innovative solutions, patents, and products to enhance, extend, and simplify the picture taking and sharing experience. Clients include AOL, Canon, Hewlett-Packard, Kodak, Microsoft, Nikon, Olympus, Pentax, Samsung, Sanyo, and Sony, among others.
FotoNation has won numerous awards, including the DIMA 2006 Innovative Product Award and the prestigious 2006 European IST award for its Red-Eye Detection and Correction Technology. The company makes important industry-wide contributions to the advancement of digital imaging. In 2005, FotoNation authored the industry-adopted PTP-IP Specification, which is the basis of the international camera connectivity CIPA-005/2005 standard.