Fotospeed Photosmooth Pearl 290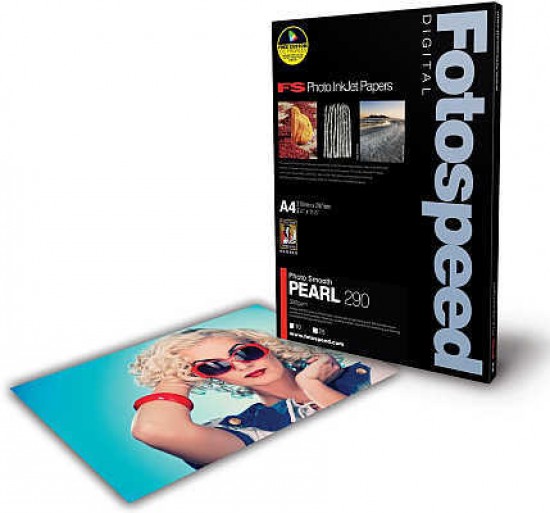 Fotospeed has announced the PhotoSmooth Pearl 290, a natural white, instant-dry 290gsm inkjet paper. This resin coated, heavyweight paper is offered as a replacement for the widely acclaimed, and now discontinued, Ilford Galerie Smooth Pearl paper; with free sample packs available to current Ilford cutomers in the United Kingdom.
Fotospeed Press Release
Replacement paper for ILFORD Galerie Smooth Pearl
Fotospeed PHOTO SMOOTH PEARL 290GSM
FREE sample packs are available to current UK Ilford customers*
PRODUCT DESCRIPTION
Fotospeed PHOTOSMOOTH PEARL 290 is a natural white, heavyweight and instant dry, resin coated, inkjet paper. The beautiful pearl finish & white point matches that of the widely acclaimed, and now discontinued, Ilford Galerie Smooth Pearl paper; a crisp finish with a superb colour gamut.
It has a unique ink receiving layer giving an instant dry result straight from the printer.
Compatible with both Dye and Pigment ink.
Fotospeed are pleased to release the closest equivalent on the market along with like-for-like pricing to help all existing Ilford customers make the transition from the now discontinued Ilford Galerie Smooth Pearl 290. Added to this, the paper has been developed to ensure that existing Ilford profiles work seamlessly.
There will be many thousands of Ilford Galerie users in a difficult situation as stocks of this iconic paper dwindle. It is a matter of public record now that the Swiss courts have ordered Ilford Imaging to find a short or medium term investor following adverse trading conditions. During August it became apparent that no such investor was available and Ilford has now declared itself in liquidation and production has ceased in its Swiss facility. There are now only limited stocks of the Ilford Galerie range of papers which will shortly run out.
''With personal experience of working for Ilford, over 18 years and being associated with their many iconic market leading products both in the UK and World markets, it is a great shame to witness their demise. Ilford products have been the photographic bench mark since the earliest days of photography"
John Herlinger - Fotospeed MD
''Since it became apparent in 2012 that there were financial difficulties and with a strong desire to maintain such excellent products we have been working on providing an almost silent swap for the many Ilford Galerie users and I am pleased to announce that we have achieved our goal. The new Photo Smooth Pearl has a white point, texture, surface finish, weight and most importantly price to satisfy the Ilford Galerie user.''
"FREE sample packs are available to current Ilford customers* which is our way to help make sure customers will not have any gaps in their printing workflow. Whilst we are very confident in the ability of customers to use their existing profiles we will of course offer FREE custom ICC profiles as we do with all Fotospeed papers"
Toby Herlinger - Sales Director of Fotospeed
FEATURES
• Natural white finish
• Professional Pearl surface
• HDR precision coated
• Heavy-weight look and feel
• Available in Sheets & Rolls
• Instant dry
• Pigment and Dye ink compatible
• Excellent colour gamut for colour photography
• Exceptional D-max
* Terms & conditions apply, subject to availability.
Your Comments