Fujfilm X-A20 Mirrorless Camera Announced, Only Available in China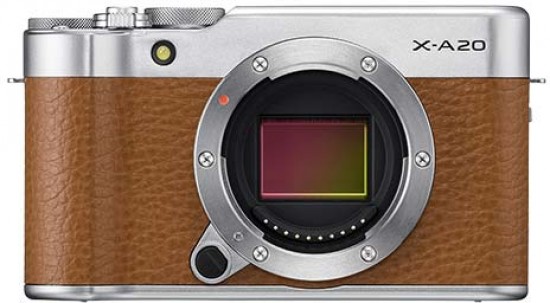 The Fujfilm X-A20 is a new mirrorless camera aimed at beginners. The 16.3 megapixel Fuji XA20 has a 3.0-inch, 180-degree flip-up "Selfie" screen with touch control and interestingly Eye AF, built-in pop-up flash, Wi-Fi function, shooting mode dial, electronic shutter with a top speed of 1/32000 seconds, and a small and lightweight retro design that weighs just 494 grams with the XC 15-45mm F3.5-5.6 OIS PZ kit lens. 
Fujifilm China Press Release (translated)
New entry-level camera choice: Fujifilm launched compact and lightweight digital camera "FUJIFILM X-A20"
Fujifilm Honors to Introduce FUJIFILM X-A20, a Non-Intrue Digital Camera, New Member of this X-Series Digital Camera to Deliver Superior Image Quality.
X-A20 uses a compact and lightweight design, 16.3 million pixel sensor with more than 80 years of Fuji color reproduction technology, to show the X series of high-quality image quality. In addition, X-A20 is also equipped with a 3.0-inch Selfie screen, you can touch control, is ideal for entry-level anti-camera.
(1) Fujifilm color reproduction technology with more than 80 years combined with 16.3 million pixel sensor, showing excellent image quality
Featuring a 16.3-megapixel APS-C sensor and Fuji image processing engine, the X-A20 incorporates the ultimate sharpness of Fujifilm's lens and Fujifilm's more than 80 years of color reproduction technology to enable users to display superior quality under a variety of shooting conditions high-definition. Known all over the world for its ability to reproduce skin tones accurately, the X-A20 also features advanced skin tone reproduction capabilities to create amazing portraits. 6 film simulation mode and 10 creative filter mode to help you capture creative artistic effects.

(2) equipped with 180-degree flip self-timer screen to achieve 100% of the display range, shooting a high-quality "selfie"
Body LCD screen with flip design, up 180 degrees flip, to achieve 100% of the display range. Pressing the rear command dial with the index finger releases the shutter to achieve one-handed shooting for self-photography, minimizing camera shake. When the display is flipped 180 ° up, the camera automatically activates Eye AF, automatically locking the focus at the eye. X-A20 also has beautiful figure mode, shooting a delicate rosy natural complexion.

(3) compact and lightweight body with a stylish shape and intuitive control
Small and lightweight X-A20 retro design. 3.0-inch touch screen for easy finger control: (1) shutter release, (2) focus selection, (3) AF area selection, (4) zooming (5) playback, slide during playback. Use two command dials for one-handed control, thumb for quick aperture, shutter speed, and exposure settings. Common functions such as white balance, continuous shooting, and Selfie can be assigned to independent function buttons without having to go to the menu to change settings.

(4) inherit a number of X series of practical functions
Energy-saving design to achieve a charge shooting 410 photos. The built-in pop-up flash uses a smart flash system that precisely controls light output based on various scenarios. Shooting a backlit scene or shooting a face under intense sunlight also gives you the natural color and brightness to avoid darkening your face with backlighting.

(5) Wireless transmission enables remote shooting of the camera from smartphones and tablets *
Install the free FUJIFILM Camera Remote app on your smartphone or tablet and use the Wi-Fi function to transfer photos and videos to your mobile device with a simple one-click operation. You can view and select photos and videos on your camera or smartphone and easily import them into your device. You can also synchronize your data with your smartphone to get the GPS location information attached to the image.

* AndroidTM smartphones and smart settings like iPhones and iPads
Specifications
Model Name
FUJIFILM X-A20
Effective number of pixels
16.3 million pixels
Image Sensor
23.6mm x 15.6mm (APS-C) CMOS with primary color filter

Sensor cleaning system

Ultrasonic vibration

Storage media
SD Memory Card (-2G) / SDHC Memory Card (-32G) / SDXC Memory Card (-256G) UHS-I * 1
file format

Still image

JPEG (Exif version 2.3) * 2 / RAW (RAF format) / RAW + JPEG (Compatible with camera file system design rules / compatible digital print command format)

video

Video File Format: MOV
Video Compression: H.264
Audio: Linear PCM Stereo

The number of image pixels
L: (3: 2) 4896 × 3264 / (16: 9) 4896 × 2760 / (1: 1) 3264 × 3264
M: (3: 2) 3456 × 2304 / (16: 9) 3456 × 1944 / (1: 1) 2304 × 2304
S: (3: 2) 2496x1664 / (16: 9) 2496x1408 / (1: 1) 1664x1664

<Sports Panorama>

180 °: Vertical: 2160 x 9600 / Horizontal: 9600 x 1440
120 °: Vertical: 2160 x 6400 / Horizontal: 6400 x 1440

Lens mount
Fuji X bayonet
Sensitivity
Standard output sensitivity: AUTO1 / AUTO2 / AUTO3 (up to ISO6400) / ISO200-6400 (1/3 step)
Extended output sensitivity: ISO 100/12800/25600
Exposure control
TTL 256 area metering, multiple metering / spot metering / average
Exposure mode
P (program AE) / A (aperture priority AE) / S (shutter speed priority AE) / M (manual exposure)
Exposure compensation
-3.0EV - + 3.0EV, 1/3 EV steps
(video recording: -2.0EV - + 2.0EV)
Optical image stabilization
Support OIS type lens
Face Detection
Yes
Human eye detection
Yes
Shutter type
Focal plane shutter
Shutter speed


Mechanical shutter

4 seconds to 1/4000 seconds (P mode), 30 seconds to 1/4000 seconds (other modes)
B door (up to 60 minutes), T door: 30 seconds to 1/4000 seconds.

Electronic shutter * 3

1 second to 1/32000 second (P / S / A / M mode)
T Door: 1 second to 1/32000 second

Mechanical + electronic shutter

4 seconds to 1/32000 seconds (P mode), 30 seconds to 1/32000 seconds (other modes)
B door mode (up to 60 minutes), T door: 30 seconds to 1/32000 seconds.

Flash sync shutter speed

1/180 seconds or slower

Continuous shooting
Approx. 6.0 fps (JPEG: Up to approximately 20 frames)
Approx. 3.0 fps (JPEG: Limited by memory card capacity)


* The number of recordable frames may differ depending on the type of memory card used.
* The number of frames varies depending on the recording conditions and the number of recorded pictures.

Auto bracketing
Auto Bracketing (± 1 / 3EV, ± 2 / 3EV, ± 1EV)
Film Simulation Bracketing (any 3 film simulations available)
Dynamic Range Bracket (100% · 200% · 400%)
ISO Sensing Exposure (± 1 / 3EV, ± 2 / 3EV, ± 1EV)
White Balance Bracketing (± 1, ± 2, ± 3)
focal length

mode

Manual Focus / Multiple AF / Area AF / Continuous AF / Tracking AF

Types of

TTL contrast autofocus, AF-assist lamp available

AF frame selection

Area AF (7x7 total 49 areas), variable AF screen size


White balance
Auto Scene Recognition / Custom / Color Temperature Selection (2500K-10000K) / Preset: Sunny, Cloudy, Fluorescent (Warm White), Incandescent, Diving
Selfie
2sec./ 10sec./ Smile / Friends (LV.1 - LV.3) / Group (1-4 subjects)
flash
Manual Pop-up Flash (Smart Flash)
Flash Index: Approx. 5 (ISO100 · m) / approx. 7 (ISO200 · m)
Flash mode

Eliminate red-eye closure

Auto / Forced Flash / Forbidden Flash / Slow Sync / Rear-curtain Sync / Command

Remove red-eye open

Auto Red-Eye Reduction / Red-Eye Reduction and Forced Flash / Flash Suppression / Red-Eye reduction and Slow Sync / Red-eye Reduction and Rear-curtain Sync / Instruction

* Red-eye reduction is enabled when Face Detection is set to On.

Hot shoe socket
-
LCD monitor
3.0 inches, aspect ratio of 3: 2, about 1.04 million pixel folding, TFT color LCD screen
Video shooting
Full HD 1920 x 1080 30p / 25p / 24p , Continuous recording: about 14 minutes, most
high-definition 1280 x 720 60p / 50p / 24p , Continuous recording: a maximum of about 27 (minutes)

* Use SD Speed Class, memory card with or faster speed.

Mode dial
Advanced SR AUTO / Night / Sports / Landscape / Portrait / SP (Scene Position) / Advanced
Film simulation mode
6 types (PROVIA / standard, Velvia / vivid, ASTIA / soft, classic positive, black and white, nostalgic brown)
Dynamic Range Settings
Auto, 100%, 200%, 400%
ISO limits (DR100%: unlimited, DR200%: ISO400 or above, DR400%: ISO800 or above)
Advanced filter
Toy Camera / Miniature Landscape / Pop Color / High / Low / Dynamic / Fisheye / Soft Focus / Sparkling / Local Colors (Red / Orange / Yellow / Green / Blue / Purple)
touch screen

Shooting mode

Shooting, autofocus, focus area, digital zoom

Display mode

Slide, zoom, pinch / expand, double click, drag

Other photography functions
Automatic Advanced Smart Scene Recognition, Eye Detection AF, Face Detection, Interval Time Lapse, Auto Red-Eye Reduction, Custom Settings, Sports Panorama, Color Space, Settings (Color, Sharpness, Dynamic Range, Shading), Film Simulation, Creative Filters, Framing Line, Frame Number Memory, Histogram Display, Preview Depth, Focus Check, Peak Focus, Multiple Exposure, Function Key Button Settings, ISO Auto Control, Lock AE and Focus Area, Edit / Save Shortcut Menu , Manual mode preview exposure / white balance, shutter type
Playback function
RAW format conversion, image rotation, automatic image rotation, face detection, red-eye reduction, photo album assistant, delete selected picture, multi-picture playback with miniature thumbnails, slideshow, protection, cropping, resizing, , Collection
Wireless transmitter

standard

IEEE 802.11b / g / n (standard wireless protocol)

Access mode

Architecture

wireless function
Geotag Settings, Image Transfer (Single Image / Selected Multiple Images), View and Get Images, Computer Saves Once, Imaging Printer Prints
Other functions
35 languages, date / time, jet lag, sound and flash off, quick start mode, high performance, manual mode preview exposure, LCD brightness, LCD color, preview image. Effect, show. Custom settings
terminal

Video output

-

Digital interface

USB 2.0 high-speed / micro USB port
* Remote shutter cable RR-90 (sold separately)

HDMI output

HDMI Micro Interface (Type D)

power supply
NP-W126S Li-Ion Battery (included)
Dimensions
116.9 (W) mm × 67.4 (H) mm × 40.4 (D) mm
(Minimum depth: 32.1 mm)
weight
About 348g (including battery and memory card)
about 299g (accessories, battery and memory card not included)
Operating temperature
0 - 40 ° C
Working humidity
10 - 80% (non-condensing)
A static photo can be shot a few times the number of * 4
About 410 shots (using the XF35mmF1.4R lens)
boot time
When the high-performance mode is set to ON about 0.7 seconds
when a high performance mode is set about 1.3 seconds OFF
Contains attachments
Lithium Ion Battery NP-W126S
AC Adapter
Plug Adapter
USB Cable (Micro-B Type)
Strap
User's Manual
Image Gallery
Click on a thumbnail to see the full version.
Your Comments