Fuji USA Announces Pricing for X-Pro1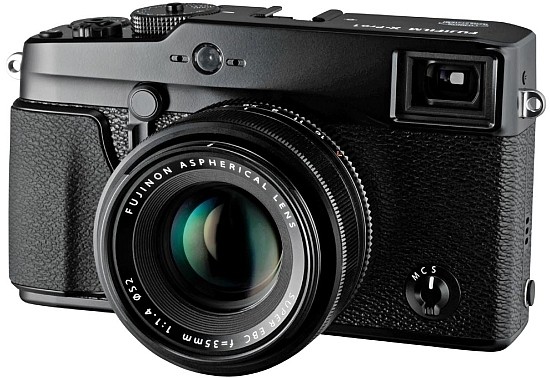 Fujifilm USA has announced the recommended retail price of the new Fujifilm X-Pro1 compact system camera and three Fujinon XF lenses. The body-only price of the X.Pro1 camera is $1,699.95, the Fujinon XF 18mm f2 and 35mm f/1.4 lenses will cost $599.95 each, while the Fujinon XF 60mm f/2.4 Macro will set you back $649.95. The Fujifilm X-Pro1 camera body and lenses will be available at the end of February.
Fujifilm Press Release
FUJIFILM ANNOUNCES PRICING FOR REVOLUTIONARY X-PRO1 INTERCHANGEABLE LENS DIGITAL CAMERA SYSTEM INTRODUCED AT CES 2012
Valhalla, N.Y., February 2, 2012 – Following the introduction of its newest and most advanced addition to its X-Series line-up during the 2012 International CES in Las Vegas last month – the revolutionary FUJIFILM X-Pro1 interchangeable lens digital camera system – FUJIFILM North America Corporation today confirmed its pricing.
The FUJIFILM X-Pro1 has a brand new, custom developed 16MP APS-C X-Trans CMOS sensorTM that incorporates a newly developed filter array and Fujifilm's proprietary EXR Processor technology that delivers extraordinary image resolution, clarity and beauty that will rival currently available mid and high-end DSLR models. The FUJIFILM X-Pro1 also features a New 2nd Generation Hybrid Multi Viewfinder and three prime interchangeable FUJINON lenses.
Pricing for the FUJIFILM X-Pro1 interchangeable lens digital camera system is as follows:
Product MSRP                                                 Price
FUJIFILM X-Pro1 (body only)                                  $1,699.95
FUJIFILM XF 18mm (27mm equivalent) F2.0 lens               $599.95
FUJIFILM XF 35mm (53mm equivalent) F1.4 lens               $599.95
FUJIFILM XF 60mm (90mm equivalent) F2.4 lens               $649.95
The FUJIFILM X-Pro1 body and lenses will be available at the end of February.
About Fujifilm
FUJIFILM North America Corporation, a marketing subsidiary of FUJIFILM Holdings America Corporation, consists of five operating divisions and one subsidiary company. The Imaging Division sells consumer and commercial photographic products and services including film, one-time-use cameras, online photo services and fulfillment, digital printing equipment and service. The Electronic Imaging Division markets consumer digital cameras. The Motion Picture Division provides motion picture film, and the Graphic Systems Division supplies products and services to the printing industry. The Optical Devices Division provides binoculars, and optical lenses for closed circuit television, videography, cinematography, broadcast and industrial markets. FUJIFILM Canada Inc. markets a range of Fujifilm products and services. For more information, please visit www.fujifilm.com/northamerica, or go to www.twitter.com/fujifilmus to follow Fujifilm on Twitter. To receive news and information direct from Fujifilm via RSS, subscribe at www.fujifilmusa.com/rss.
FUJIFILM Holdings Corporation, Tokyo, Japan, brings continuous innovation and leading-edge products to a broad spectrum of industries, including electronic imaging, digital printing equipment, medical systems, life sciences, graphic arts, flat panel display materials, and office products, based on a vast portfolio of digital, optical, fine chemical and thin film coating technologies. The company was among the top 16 companies around the world granted U.S. patents in 2010, and in the year ended March 31, 2011, had global revenues of $25.8 billion*. Fujifilm is committed to environmental stewardship and good corporate citizenship. For more information, please visit www.fujifilmholdings.com.
* At an exchange rate of 86 yen to the dollar.
Your Comments