Fujifilm Adds XF 18mm F1.4 and XF 70-300mm F4-5.6 OIS to Lens Roadmap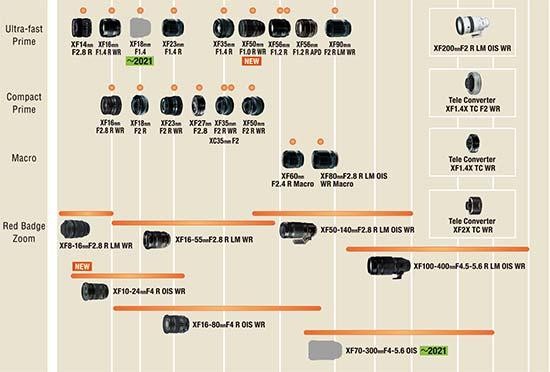 Fujifilm has just unveiled the latest lens roadmap for its X-Series mirrorless camera range, adding the XF 18mm F1.4 and XF 70-300mm F4-5.6 OIS lenses.
Both new lenses are due to be released in 2021.
Fujifilm UK Press Release
Fujifilm unveils the latest lens roadmap for X Series
Two more additions expand Fujifilm's iconic lineup to 37 X Mount lenses, providing excellent coverage for a wider range of shooting situations

FUJIFILM Corporation (President: Kenji Sukeno) has unveiled its latest interchangeable lens roadmap for the X Series range mirrorless digital cameras. Renowned for its impeccable range of lenses, the lineup has been expanded further, providing extensive coverage in focal lengths from ultra-wide-angle to ultra-telephoto.
The first lens to be added to the roadmap is the XF 18mm F1.4, which has a highly versatile angle of view. The XF 18mm F1.4 joins the collection of professional large-diameter prime lenses which are renowned for their creamy bokeh and advanced performance. The second lens to be added is the XF 70-300mm F4-5.6 OIS, a compact and lightweight telephoto zoom designed for the demands of the photo enthusiast. Finally, Fujifilm has also announced the launch of the XF 10-24mm F4 R OIS WR, an ultra-wide zoom lens – ideal for a variety of shooting situations.
These announcements expand the lineup of interchangeable lenses for the X Series to 37. Fujifilm will continue to cater to users' diverse photographic needs with a total of 49 lenses in a comprehensive lineup for the GFX and X Series combined.

Image Gallery
Click on a thumbnail to see the full version.
Your Comments