Fujifilm Announces the Fujinon GF 30mm F3.5 R WR Medium-Format Lens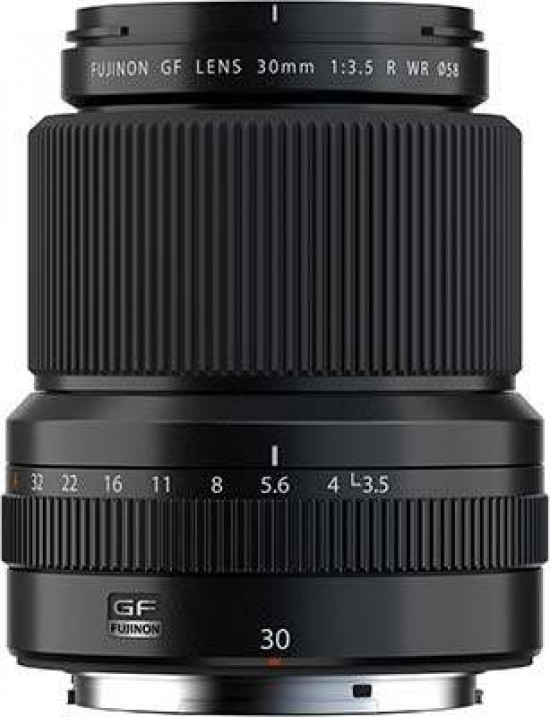 The Fujifilm GF 30mm F3.5 R WR is a portable, high resolution prime lens that's ideally suited for landscape and everyday adventure. It's compact, lightweight and has a weather-proof design that's resistant to dust and moisture.
The GF 30mm F3.5 R WR will be available in in late July 2020 priced at £1649 in the UK and $1695 in the US.
Fujifilm UK Press Release

Astonishing detail in a compact, portable design
FUJIFILM Corporation (President: Kenji Sukeno) is pleased to announce the launch of the prime lens FUJINON GF 30mm F3.5 R WR in late July 2020.
The GF 30mm F3.5 R WR is a wide-angle prime lens with a focal length equivalent to 24mm (in the 35mm film format) and joins the family of interchangeable GF lenses, designed for the GFX Large Format*1 camera system, which uses a sensor that is 70% larger than a 35mm full-frame sensor. This premium lens has been designed using Fujifilm's advanced optical technologies, and delivers an astonishing amount of detail as well as excellent portability.
The GF 30mm F3.5 R WR is compact, lightweight and has a weather-proof design, resistant to dust and moisture. This wide-angle prime lens joins Fujifilm's GF lens lineup that caters to a variety of shooting styles. The use of the internal focus system enables fast and silent autofocusing and minimizes focus breathing down to just 0.05%, making it a great lens for videography.
Main product features
(1) Image quality
The lens consists of 13 lens elements in ten groups, including two aspherical elements and two ED elements. The high-performance lens groups are positioned to control various aberrations, especially distortion that wide-angle lenses are prone to, to achieve excellent edge-to-edge sharpness. The lens is able to resolve an impressive amount of detail, compatible with 100MP sensors. This enables the photographer to capture the atmosphere of each scene with a sense of reality. This level of detail provides enhanced clarity for landscapes, architecture, as well as casual snapshots on the move.
(2) Portability
This compact lens weighs just 510g and measures 99.4mm with a maximum diameter of 84mm. In addition, the slimline design balances well on a GFX camera, making it a perfect lens to carry and walk around with. The hood that comes with the lens can be also be reverse-attached to the lens to reduce any unnecessary bulk.
(3) Performance
The lens uses an internal focusing system, offering fast and silent AF. Photographers won't miss a photo opportunity, thanks to the autofocus performance. Focus breathing has been reduced to just 0.05%, making it a great lens for shooting video. The AF system can track subjects in constant angle of view even when the focusing position shifts.
(4) Durability
The lens is weather-sealed at nine locations to make it dust and weather resistant and can be used in temperatures as low as -10°C. This offers photographers with peace of mind when shooting in inclement weather or dusty environments.
Pricing and availability
The GF 30mm F3.5 R WR will be available on the 30th July with an SRP of £1649.

Image Gallery
Click on a thumbnail to see the full version.
Your Comments