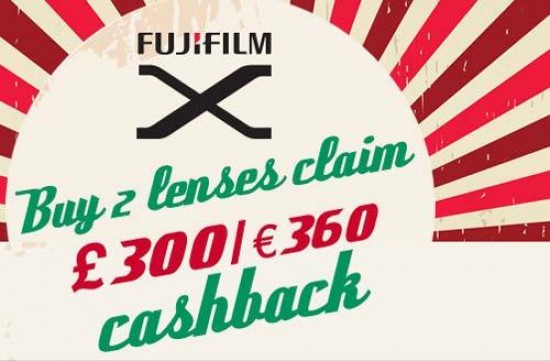 Digital photography specialist Fujifilm, well known for its affordable yet powerful lenses, is currently offering brilliant deals on a number of products in its popular XF range.
Buyers of one XF lens can claim a cool £100 (or €120) cashback, while those who purchase a pair of lenses will get a bonus £100 cashback, making for a whopping total of £300 (€360) cashback.
The XF lenses featured as part of the promotion are the XF14mm, XF18mm, XF18-55mm, XF23mm, XF27mm, XF35mm, XF55-200mm, and XF60mm.
All of the lenses on offer are of the highest quality, but a couple of our personal favourites are the compact XF27mm and the ultra wide-angle XF14mm.
The XF27mm is a highly portable pancake lens with a maximum aperture of f/2.8 that's compatible with all Fujifilm's compact system cameras (CSCs). Offering speedy focus and sharp image rendition, the XF27mm can be nabbed for a very affordable £350 via retailers like WEX photographic.com and Park cameras and comes particularly recommended for street photographers due to its manageable size.
The larger Fujifilm XF14mm also has an aperture of f/2.8 and will again fit the manufacturer's CSC cameras including the X-T1 and X-Pro1. This lens boasts an angle-of-view range comparable to a 21mm lens in a 35mm system and retails for £669 via Jessops and WEX photographic.com. 
Want to take advantage of this awesome offer? Follow the link below to go to Fujifilm's cashback deal portal and you'll be well on your way to owning a great new lens or two and saving some serious money!
http://www.fujifilm.eu/uk/products/digital-cameras/promotions/
Please remember to retain your original till receipt (or a printed copy of your order confirmation if purchasing online) to send off with your claim for a cashback cheque. 
Purchases must be made by 31 March, 2014 to be eligible for the offer. The deal is open to residents of the UK and Republic of Ireland.
Your Comments