Fujifilm FinePix F30 Wins DIWA Gold Award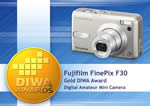 DIWA Press Release
Photography is all about light and the Fujifilm FinePix F30 masters any lighting conditions with brilliance. Its low-noise images at high ISO speeds, incredible flash range and fast, precise auto focus even in dim light distinguish the F30 from the crowd. The ultra-compact and robust metal body in a versatile and user friendly design, high performance lens and powerful rechargeable battery make the F30 a worthy winner of a DIWA Gold Award.
Amsterdam, 24 November 2006, 15:00 CET : DIWA (Digital Imaging Websites Association), a world-wide organisation of collaborating websites within digital imaging, today announces a DIWA Gold Award to the palm-sized 6.3 Megapixel Fujifilm FinePix F30 digital camera. The FinePix F30 outperforms any competitor in low light situations thanks to its amazing 1/1.7" Fujifilm Super CCD HR VI image sensor with 6.3 Megapixel resolution. Its light sensitivity up to an incredible ISO 3200 is not just a marketing term, but a truly useful feature, delivering low image noise comparable to ISO 400-800 in most other compact cameras. This expands the camera's shooting capability both with and without flash; therefore the F30 is equipped with an option to shoot two images almost simultaneously, one with and one without flash. Furthermore, Fujifilm have developed a highly responsive auto focus function and a powerful AF lamp to permit accurate and fast photography also in low light situations.
Many cameras use high sensitivity to combat blurred images from camera and subject movement, but image quality often suffers from excessive image noise. In the F30, however, degraded image quality from this feature is barely noticeable.
Kai Thon, DIWA's test manager says: "With the predecessor, the FinePix F10, Fujifilm paved the way for low-noise photography even at high ISO speeds. With the F30, Fujifilm have proven that the F10 was merely the beginning of this process. Quality images at high ISO speeds make compact cameras more versatile by improving flash performance, reducing the risk of blurred images and allowing photography where flash is forbidden or spectacular night sceneries. DIWA experts praised the FinePix F30 for its excellent combination of vital camera details and functions."
The F30 has an appealing compact design in a quality handcrafted exterior made of metal. A sharp 3x Fujinon zoom lens supports the high quality image sensor, and a bright, high resolution 2.5" LCD screen makes viewing both easy and comfortable. It also provides an instant full brightness function to make the screen even more useful in bright sunlight. Although the F30 is targeted at family photographers, it offers numerous advanced features, such as continuous shooting with 2.2 fps, high quality VGA movies with 30 fps, voice narration to still images, continuous auto focus, grid display for composition ease, 15 shooting modes and three metering modes, manual white balance control, shutter speeds to 15 seconds, USB 2.0 High Speed interface, and a powerful rechargeable battery with 500 images shooting capacity.
The Fujifilm FinePix F30 is a pocketable compact camera providing reasonably good ergonomic design and handling ease, aided by many user friendly functions. Yet, its strongest point is indisputably its excellent image quality with natural colours. DIWA experts from Europe and America are unanimously honouring the Fujifilm FinePix F30 with a Gold award.
About DIWA
A fast growing independent, authoritative, industry organization
The Digital Imaging Websites Association (DIWA) is a fast growing group of independent Web-based specialist publications dedicated to digital imaging. DIWA harnesses the collective talent and expertise of its members, resulting in industry awards that command unparalleled confidence and value, both for consumers and the industry, alike. DIWA awards come in the form of bronze, silver and gold medals for various product categories.
Unique bullet-proof test scoring procedure
DIWA product test awards are exclusively decided through the analysis of multiple test scores from different DIWA testers, testing different samples of the same product. A very detailed and comprehensive standardized scoring procedure is employed, tailored carefully for each category of product. Multiple testing eliminates the chance of an isolated, unrepresentative product sample or test error, or even hidden bias, from affecting the trustworthiness of the overall result.
Awards throughout the year
DIWA is also unique in its policy in issuing awards for deserving products throughout the year, culminating in annual best of the year Platinum medal awards in all product categories.
DIWA Awards members:
- Canada: www.photoxels.com
- Czech Republic:  www.fotoaparat.cz
- Denmark:  www.digitalmagasinet.dk
- Germany:  www.digitalkamera.de
- Netherlands:  www.letsgodigital.org
- Norway:  www.digit.no
- Poland:  www.fotopolis.pl
- Slovenia:  www.e-fotografija.com
- Spain:  www.nuevafotografia.com
- Turkey:  www.diginorm.com.tr
- United Kingdom:  www.photographyblog.com
The DIWA multi-lingual Web site
At the heart of the DIWA organisation is its multi-lingual Web site, www.diwa-awards.com, where you can find links to the latest reviews published by DIWA member publications. The site also archives DIWA awards and is designed to aid consumers in their choice of imaging products.
For further information about DIWA please visit our Web site - http://www.diwa-awards.com - or email us at [email protected]