Fujifilm FinePix F30 Zoom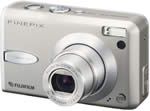 PMA 2006: The Fujifilm FinePix F30 Zoom is announced today. ISO 3200, 6 megapixels, 3x optical zoom lens, 2.5 inch LCD.

Fujifilm UK Press Release
Fujifilm FinePix F30 Zoom: a low light landmark - Fujifilm's revolutionary Fujifilm F30 compact works in the light conditions that other cameras hate
After almost a decade of obsession with pixel counts, Fujifilm is proud to announce the launch of the Fujifilm FinePix F30 Zoom, a camera which confirms a new stage in the evolution of digital camera technology.  Breaking away from the tired and irrelevant practice of pixel counting, the FinePix F30 Zoom is the world's first digital compact camera to deliver ISO 3200 sensitivity at full resolution. Fujifilm has identified sensitivity as one of the major photographic benchmarks for the digital age, and this camera makes it possible to capture images of unrivalled quality, even in very dark conditions.
Building on the success of the award-winning FinePix F10 Zoom, the Fujifilm FinePix F30 Zoom pulls away from the pack with a sensitivity setting that is eight times as effective in low light as a conventional compact with ISO 400.  The product of many years of accumulated expertise in sensor technology, this is the closest that any digital compact camera has come to approximating the remarkable sensitivity of the human eye. In practical terms, it is a breakthrough in delivering crisp images, even at night-time, or with fast-moving subjects.
Beneath its sleek exterior, the FinePix F30 Zoom boasts powerful technology that puts simple 'style' compacts to shame, with newly developed sixth generation Super CCD and Fujifilm's groundbreaking Real Photo Processor II.  Users are able to produce sharp images with minimal noise, no subject blurring and atmospheric lighting in dark conditions. While traditional film is no longer top of the agenda for some photographers, it is good to see that Fujifilm is maintaining the same forward-thinking attitude to its digital photographic quality.
The FinePix F30 Zoom showcases a new 'intelligent flash' system which uses the camera's exceptional sensitivity to combine natural foreground illumination with balanced exposure in the background.  Avoiding both the messy background blur of 'slow-sync' flash, and the stark contrast of conventional flash, this will bring your after-hours photography to life.
Thanks to its 500-shot battery life, the FinePix F30 is an indispensable compact for when photographers are out and about, with enough power to make sure you never miss out on capturing the action. The camera also uses xD-Picture Cards ™ which provide large storage capacity, fast write speeds and lower power consumption, further enhancing speed and efficiency for users.
The camera's 2.5-inch LCD screen is coated with Fujifilm's proprietary CV film, minimizing glare and reflections for enhanced ease of viewing.  In addition, the FinePix F30 Zoom has 15 new scene positions from underwater, beach and snow, to sunset, party and fireworks.  These make it easier than ever for users to experiment with photography in a range of lighting conditions.
FinePix F30 Zoom features at a glance:
• Real Photo Processor and new Super CCD HR VI
• ISO 3200 sensitivity at full resolution
• 6.3 million pixels
• 3.0x optical zoom
• Long-life battery (up to 500 shots)
• VGA movie capture of 30 frames per second with sound
• PictBridge ™ compatible for direct printing without a PC
• Quick response times (0.01 second shutter lag and 1.4 second start-up)
Adrian Clarke, Fujifilm's Director of Photo Products, said, "The FinePix F30 Zoom is quite simply a landmark digital camera. In the past, compacts could only really achieve good image quality in ideal light conditions – however the F30 Zoom is in its element in all light conditions.  On top of that, our Real Photo Technology gives the camera the image quality that people associate with Fujifilm, as well as brisk performance, all wrapped in a design that is possibly our best yet."
Availability & pricing
The FinePix F30 Zoom will be available from UK retailers in May 2006.  Pricing and stockists will be announced nearer to the date of retail launch.*
For information about Fujifilm and its products, please visit: www.fujifilm.co.uk or call 0870 084 1310.
About Fujifilm
Fujifilm is a global leader in imaging technology, products and services including digital cameras, photofinishing, digital storage and recording media, consumer and professional film, motion picture film, professional video, printing systems, medical imaging, office technology, flat panel displays and graphic arts. The company employs more than 70,000 people worldwide, with 178 subsidiaries stretching across four continents.
Uniquely placed to be a market leader in digital imaging, Fujifilm develops and manufactures its own sensors, lenses and processing technology.  In addition to its production plants and R&D operations in Japan, the company has key manufacturing facilities in Europe and the USA for core products such as colour film, colour paper, single use cameras and CTP printing plates, and has further factories in Brazil and China. It has a global turnover in excess of £13 billion.
In the UK, Fujifilm has been supplying the imaging, printing and graphics industries, as well as consumers, professional and enthusiast photographers, with high quality, innovative products and services for over 25 years.  Fujifilm UK currently employs more than 450 people and has become one of the country's most popular photographic and imaging brands.
Fujifilm FinePix F30 Zoom Specifications and features
Number of effective pixels 6.3 million pixels
CCD sensor 1 / 1.7 inch Super CCD HR
Number of recorded pixels Still image : 2,848×2,136( 6.1million ) / 3,024 X 2,016 ( 3:2 format ) / 2,048 X 1,536 / 1,600 × 1,200 /640 X 480 pixels
File formats Still image :  JPEG (Exif Ver 2.2 ),  Movie : AVI (Motion JPEG ),  (Design rule for Camera File system compliant / DPOF-compatible)
Storage media Internal memory (approx. 10MB), and xD-Picture Card™ (capacities currently up to 1GB – available to buy separately)
Number of images / recording time Please refer to below chart
Lens Fujinon 3x optical zoom lens with 2 aspherical elements, F2.8 – F8 in 1/3 EV increments
Lens focal length Equivalent to 36 - 108mm on a 35mm camera
Focus Auto focus with Macro
Focus distance Normal:  Approx. 60cm to infinity
Macro:  Approx. 5cm (at wide angle)
Shutter speed 15 sec to 1/2,000 sec. (exposure mode dependant)
Aperture F2.8 to F8
Sensitivity Auto / equivalent to ISO 100/200/400/800/1600/3200
Start-up time Approx 1.4 sec
Shutter lag 1/100 sec (with AE/AF locked)
Exposure control Programmed AE (AUTO/SP), Aperture Priority AE, Shutter Priority AE
Exposure metering TTL 256 zones metering
White balance Automatic, Preset (Fine, Shade, Fluorescent light (Daylight), Fluorescent light (Warm White), Fluorescent light (Cool White), Incandescent light)
LCD monitor 2.5"  with Anti-glare/Low reflection CV film (FUJIFILM Original)
Approx.  230,0000 pixels
Flash Auto, Intelligent flash mode, Red-eye reduction, Forced flash, Suppressed Flash, Slow synchro, Red-eye reduction + Slow synchro
Self-timer Approx. 2 / 10 sec.
Video out NTSC / PAL selectable
Printing PictBridge, DPOF and Exif Print 2.2 compatible
Digital input/output USB 2.0 High-speed
Video output NTSC/PAL selectable
Power source Rechargeable NP-95 Li-ion Battery, AC Power Adapter AC-5VC(included), additional NP-95 Li-ion battery and AC-5VX AC Adapter available (optional)
Pictures/batt charge Battery NP-95(1800mAh):  approx. 500 frames
Dimensions 92.7mmW x 56.7mmH x 27.8mmD / 3.6"W x 2.2"H x 1.1"D
Weight approx. 155g / 5.5 oz (not including accessories)
Camera Functions
Digital zoom 6.2x
Shooting modes Auto, Preprogrammed Scene Position (SP),  Macro, Movie, Burst/Continuous, Aperture or Shutter Priority AE
Preprogrammed scene modes (SP) Natural Light/Natural Light & with Flash
/Portrait/Landscape/Sport/Night/Fireworks/Sunset/Snow/Beach/Underwater/Museum/Party/Flower Close-Up/Text
Continuous shooting modes 1.Top-3 ( max.2.2 frames/sec., up to 3 frames,        2.Final-3 ( max. 2.2 frames/sec., up to 3 frames ),        3.Long-period (min. 1.5 sec.intervals at 6M(N) up to memory card size)
Movie recording Movie Recording:  640 x 480 pixels ( 30 frames/sec.),  320 x 240 pixels ( 30 frames/sec.) w/ Monaural sound.  Zoom cannot be used during movie recording.
Playback Trimming, Image Rotate, Automatic Playback, Multi-Frame Playback, Sort by Date, Voice Memo
Accessories included • NP-95 Li-ion battery
• AC Power adapter AC-5VC
• Hand strap
• A/V cable
• USB cable
• Owner's manual
• CD-ROM
FinePix Viewer +  ImageMixer VCD2 for FinePix
?FinePix Viewer
Optional accessories
• xD-Picture Card™: 16, 32, 64, 128, 256, 512MB, 1GB capacities currently available
• AC-5VX power adaptor
• Battery charger BC-65S (BC65 cannot be used)
• NP-95 Li-ion battery
• PC card adaptor (DPC-AD)
• CompactFlash™ Card Adaptor (DPC-CF)
• DCR2-161 multi-format card reader/USB 2.0 hub
• DCR2-xD memory card reader for xD-Picture Card™
• World Adaptor
• Waterproof case WP-FXF30
• Soft case SC-FXF30

Number of images / recording time on xD-Picture Card™ :
Mode Still image
Image quality mode displayed 6M(Fine) 6M(Normal) 6M(3:2)
3M 2M 0.3M
16MB 5 10 10 19 25 122
32MB 10 20 20 40 50 247
64MB 21 42 42 81 101 497
128MB 42 84 84 162 204 997
256MB 85 169 169 325 409 1997
512MB 170 339 339 651 818 3993
1GB (M1GB) 341 680 680 1305 1639 7995
Mode / Quality Movie
640 x 480 320 x 240
Frame rate (fps) 30 30
16MB Approx. 13 sec. Approx. 26 sec.
32MB Approx. 27 sec. Approx. 54 sec.
64MB Approx. 55 sec. Approx. 109 sec.
128MB Approx. 111 sec. Approx. 219 sec.
256MB Approx. 223 sec Approx. 7.3min.
512MB Approx.  7.4min. Approx. 14.6min.
1GB (M1GB) Approx. 14.9min. Approx. 29.3min.
© 2006, Fuji Photo Film (UK) Ltd.  Specifications are subject to change.