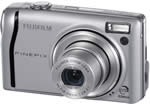 CES 2007: The new Fujifilm FinePix F40fd camera offers 8.3 megapixels, 3x zoom lens, 300 shot battery life, Face Detection technology and support for both xD-Picture Card and SD card formats. The Fujifilm F40fd will be available from March 2007. In the UK, pricing and stockists will be announced nearer to the date of retail launch. In the USA, price will be $299.
Fujifilm UK Press Release
Fujifilm is pleased to announce the launch of the FinePix F40fd, the latest in its flagship range of F series compact digital cameras. Featuring Fujifilm's proprietary Real Photo Processor II, Super CCD HR VI and hardware-based Face Detection, the new model continues the F series tradition of delivering sophisticated technology and compact, straightforward design. Added to this, ISO 2000 sensitivity at full 8.3 megapixel resolution, 3.0x optical zoom lens and 300 shot battery life make it perfect for prolific snappers or enthusiast photographers who need a high-performance take-anywhere digital camera. In a first for FinePix cameras the FinePix F40fd features a dual memory card slot, which accepts not only Fujifilm's traditional xD-Picture Card(tm) but also the popular Secure Digital (SD) card format.
The new camera also debuts a redesigned outer-shell and Graphical User Interface (GUI) system for Fujifilm's F series. More slim line than its predecessor, at just 23.3mm deep, and available in three colours; silver, gunmetal and blue, the FinePix F40fd is even more pocketable and has a design that reflects the sophisticated technology within. Enhanced 2.5" LCD screen with Fujifilm's wide view filter expands viewing angle by up to 25 degrees compared to earlier models. Furthermore, a new mode dial, for faster access to popular settings, improved button layout and intuitive GUI system, with pop-up prompts to guide the user through the menu, make the camera easier than ever to use.
Real Photo Technology
Fujifilm's Real Photo Technology brings together CCD, processor and lens to deliver images of optimum quality that are rich in colour, detail and sharpness and low in noise. Fujifilm's proprietary Super CCD HR VI is a unique octagonal shape, which means it has a larger surface area than traditional sensors, making it more sensitive to light. This gives Fujifilm's FinePix cameras their unique High ISO sensitivity ratings. It also means faster shutter speeds can be used to capture images; combating image blur. The design of the Super CCD also makes it less prone to noise; the grainy, speckled effect that can occur, especially at higher ISO settings. The FinePix F40fd achieves ISO 2000 (1600 selectable) at full resolution, which means there is no trade off between ISO setting and image sharpness, or the size of the print that can be made.
The RP Processor II featured on the FinePix F40fd features double noise reduction. It has proven capability of delivering images with significantly less noise than some competing models at a lower ISO. Furthermore, Fujifilm's Fujinon lenses are the product of over seven decades of R&D into lens technology; completing the triangle of lens, CCD and processor all optimised to work in harmony together. The result is photographs of unrivalled quality no matter what the subject or level of light.
Face Detection
The FinePix F40fd is Fujifilm's fourth digital camera to feature hard-wired Face Detection technology, joining the FinePix S6500fd, F31fd and Z5fd in Fujifilm's current range. It is the result of Fujifilm research demonstrating that most photos are taken of people in low light conditions; and that these situations are also when most photos go wrong. Face Detection ensures the camera prioritises faces in the frame above other details; even if those details are a more obvious focus point. For example, when subjects are off centre or standing with the light behind them. Because the technology is hard-wired to the camera's processor, it is capable of detecting faces and taking a photo in an industry-leading 0.05 seconds.
Face Detection works by triangulating eyes and mouth, using an algorithm to optimise focus and exposure for up to ten faces in a single frame. A green square surrounds the face of the primary subject on the camera's LCD screen, whilst white squares identify up to nine other subjects. Movement tracking keeps the camera 'locked on' to its subjects until they move out of the picture. The technology works irrespective of the subject's position in the frame, and is not confused by spectacles.
In Playback mode, Face Detection will automatically zoom in to subjects' faces and trim the shot for optimum portraits.
Making light work of photography
Fujifilm's Super CCD ensures that, in the majority of cases, photographers can choose to take photographs without any use of flash. However, when flash is needed or preferred, Fujifilm's Intelligent Flash system analyses the subject of the photo and sets power output accordingly. The result is much more natural looking images, with true-to-life colour reproduction and balanced background and foreground exposure. When combined with Face Detection, the system prioritises flash settings for reproduction of the best possible skin-tones, avoiding the ghostly, white-faced effect of traditional on-camera flash.
Natural Light & Flash mode goes one step further, taking two photos in quick succession - one without flash, and one with. Both photos are then displayed side by side for easy comparison.
With 14 special scene position modes, including Underwater, Snow, Night and Close-up, the FinePix F40fd is ideally suited to any photo opportunity. When a still image isn't sufficient, the camera's movie mode, at 30 frames per second, captures movie clips with sound that are limited in length only by the size of memory card used.
Adrian Clarke, Fujifilm's Director of Photo Products, says: "Fujifilm's F series cameras lead the way in low light photography. The FinePix F40fd further establishes the series as champions of our proven Real Photo Technology. Face Detection, Intelligent Flash and class-leading sensitivity combine to achieve the high image quality that people have come to associate with Fujifilm cameras."
FinePix F40fd features at a glance:
*Face Detection Technology built-in to the camera's processor *Real Photo Processor II and new Super CCD HR VI *ISO 2000 sensitivity at full resolution (1600 selectable)
*8.3 million pixels
*3.0x optical zoom
*Long-life battery (up to 300 shots)
*IR Communication (IR simple *)
*VGA movie capture of 30 frames per second with sound *PictBridge (tm) compatible for direct printing without a PC
For information about Fujifilm and its products, please visit: www.fujifilm.co.uk or call 0870 084 1310
About Fujifilm
Fujifilm is a global leader in imaging technology, products and services including digital cameras, photofinishing, digital storage and recording media, consumer and professional film, motion picture film, professional video, printing systems, medical imaging, office technology, flat panel displays and graphic arts. The company employs more than 73,000 people worldwide, with 178 subsidiaries stretching across four continents.
Uniquely placed to be a market leader in digital imaging, Fujifilm develops and manufactures its own sensors, lenses and processing technology.  In addition to its production plants and R&D operations in Japan, the company has key manufacturing facilities in Europe and the USA for core products such as colour film, colour paper, single use cameras and CTP printing plates, and has further factories in Brazil and China. It has a global turnover in excess of £13 billion.
In the UK, Fujifilm has been supplying the imaging, printing and graphics industries, as well as consumers, professional and enthusiast photographers, with high quality, innovative products and services for over 25 years.  Fujifilm UK currently employs more than 450 people and has become one of the country's most popular photographic and imaging brands.
© 2007, Fujifilm (UK) Ltd.  Specifications are subject to change.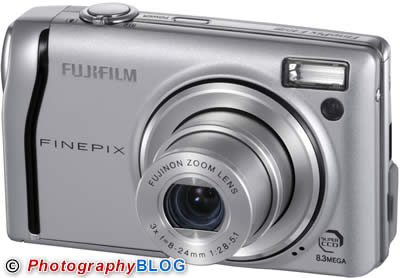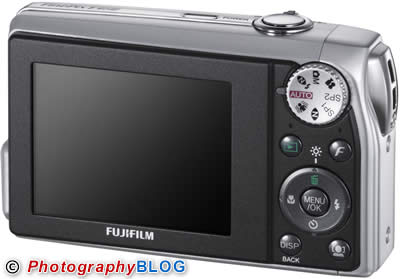 Your Comments